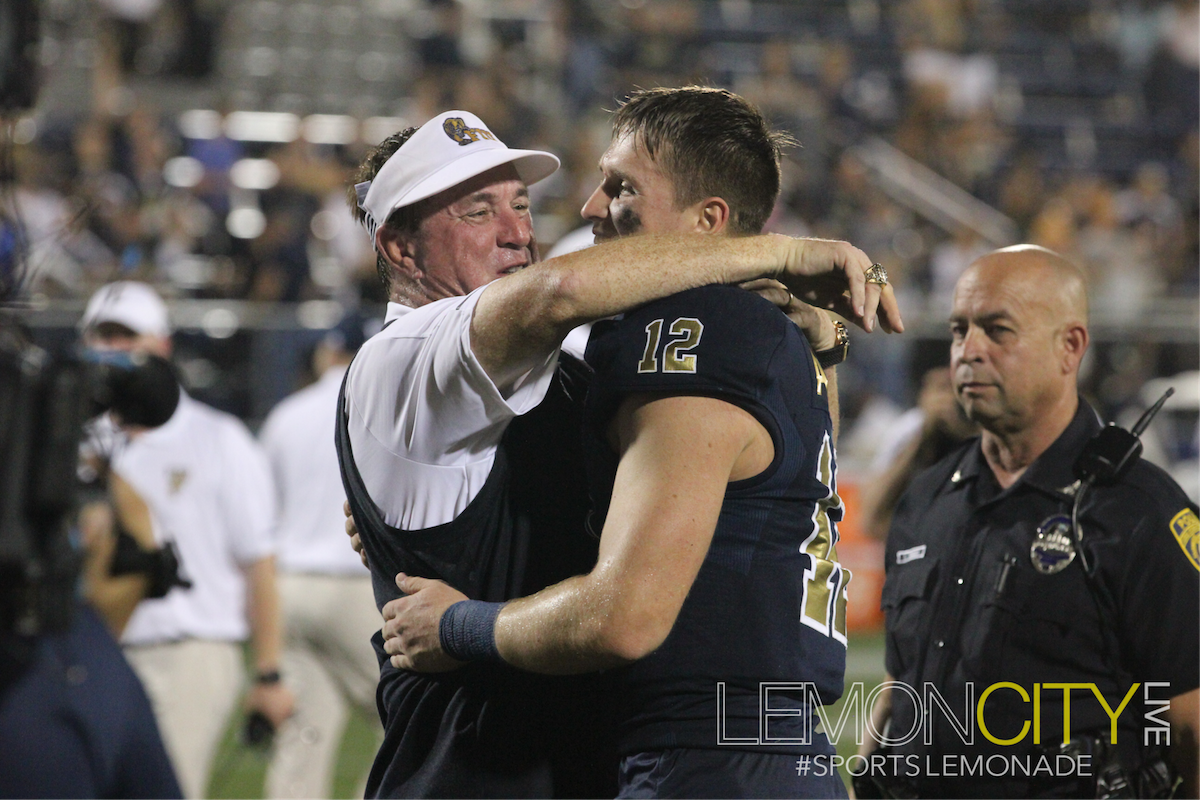 This game had all the makings of an instant classic. It was Butch Davis's first home game at FIU, his first time coaching at home, in Miami, since he coached at the University of Miami, and a chance for FIU to start 3-1 for only the second time in school history. However, the Charlotte 49ers didn't care about FIU's possible historic start to a new era in Panther Football.
Charlotte came out ready to play. They quickly went up 12-0, scoring two touchdowns, but failing to score a two-point conversion, and failing to convert an extra-point field goal. Things were looking bleak for the Panthers, as the Niners were running the ball at will. Yards-After-Contact is a stat I'm sure our boy Butchy Mane (Butch Davis) is going to take a close look at after tonight's game.
By the looks of it, #ButchyMane's gonna drill @FIUFootball on some tackling. Way too many yards after contact for Charlotte. #PawsUp

— Lemon City Live (@LemonCityLive) September 30, 2017
The Panthers weren't about to let history slip away though. They went 76 yards in seven plays; scoring on some ole trickery, with a reverse 35-yard TD pass by Thomas Owens to Julian Williams, bringing the score to 7-12.
✨ RAZZLE ✨

🐇 DAZZLE 🎩 pic.twitter.com/Qtm8DfID4z

— Conference USA (@ConferenceUSA) September 30, 2017
Now, let me tell you about a young man named Hasaan. Not Whiteside; he actually does right by South Florida. No, I'm talking about Charlotte quarterback, Hasaan Klugh. This cat was straight Milly Rockin' into the end zone like he was Playboi Carti! He ended the game having thrown for 155 yards and one touchdown, but more impressively, rushing for 107 yards and three touchdowns! Two TD's came in the second quarter, putting Charlotte up 26-7, but before the half ended, FIU marched 75 yards in 13 plays for a 6-yard touchdown pass from Alex McGough to Thomas Owens, giving the Panthers a much needed momentum boost going into the half. Panthers trailed 14-26.
Hasaan Klugh is putting @Charlotte49erFB on his back!

2 Rush TD ➕ 1 Pass TD = 3 total TD (AT THE HALF) 😳 pic.twitter.com/7nSozxx77D

— Conference USA (@ConferenceUSA) October 1, 2017
Now, let me tell you about a young man with an "S" on his chest. After the Niners kicked a field goal, putting them up 29-14, Alex McGough was seen flying all over the place. He would finish the game with 206 passing yards and one touchdown, but also rushing for 46 yards and two touchdowns! If you didn't see him leap a linebacker with a single bound and dive into the end zone, don't worry; we've got you covered. Superman came to save the day! This brought FIU all the way back to within 2 points, 27-29 in the end of the third quarter!
Okay, who changed @McgoughAlex's video game rating to 99 OVR?!?!

Helloooo SUPERMAN! 😳 pic.twitter.com/zsLOjJoT64

— Conference USA (@ConferenceUSA) October 1, 2017
The fourth quarter was battle to the finish line, with the Panthers having scored 13 unanswered points in the third. They had all the momentum, but Charlotte still had their run game. Too bad for the Niners that the Panther's defense decided to step up to the challenge. It was a different take on the "For the D" challenge, but FIU made Charlotte punt twice. In between Charlotte's two failed drives, the Panthers took a 30-29 lead on a field goal! In Charlotte's last drive, they moved the ball 67 yards in 12 plays to get into position to make a game-winning field goal from FIU's 31-yard line, but missed wide-right to end the game! History made. The FIU Panthers are now 3-1 for only the second time in school history. Who's Milly Rockin' now, Charlotte?
And the @Charlotte49erFB kick is… WIDE RIGHT!!! @FIUFootball is going to come away with the victory! #ComeBack #PawsUp 😼 pic.twitter.com/yitG88XCfX

— Lemon City Live (@LemonCityLive) October 1, 2017
For a complete photo gallery of this game, please CLICK HERE.
Don't forget to follow us on Twitter, Facebook, and Instagram.
(Visited 74 times, 1 visits today)