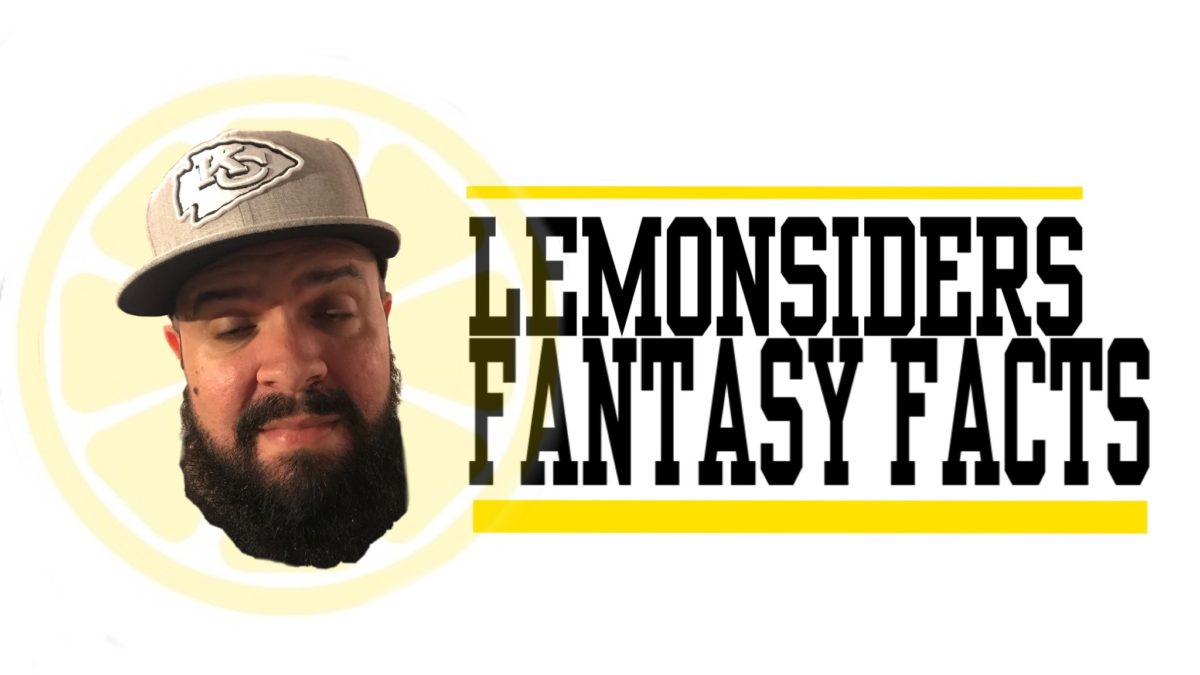 It's October and the US Men's National Soccer team missed out on qualifying for the World Cup and the New York Jets are in first place. People who are on a full tilt are desperately waiting for their pumpkin spice lattes to lift them up. You know what else is tilting? When we recommend to sit a player who has done NOTHING all year but then they go on to score 2 TD's; thanks Cole Beasley. We hit on some start and sits and we whiffed on some too but hey, we know nothing about football right? (Deep sigh) Let's get into the Week 6 Lemonsiders Fantasy Facts for your Starts, Bust Alerts and Sleepers. (We're always going to avoid obvious starts like Tom Brady and Antonio Brown but if we feel like a high profile player is going to be a bust, we will NOT hold back and let you know whats up!)
Quarterbacks
Rivers is a prime example of real life football being different than fantasy football. After watching the Giants game, Rivers had some plays that made him look like Junior Floyd from the Little Giants. Yet, when you look at the fantasy score Rivers finished with 20 fantasy points. He's hit at least 17 fantasy points in every game this year except one. The Raiders secondary should be on TMZ since they get exposed so often. With Derek Carr coming back, this could be a shootout and I expect Rivers to score at least 17 fantasy points yet again.

Marshawn Lynch Crushin' Cars in Army Tank for New Reality Show https://t.co/Olrq9QnMoc

— TMZ Sports (@TMZ_Sports) October 9, 2017
When a defense picks off Big Ben 5 times when he plays AT home, that should strike fear into opposing offenses right? Goff last week had as many TD's as any of us sitting at home watching the RedZone channel did and now faces an extremely tough pass defense who will be playing at home. Rams would be wise to do opposite of what the Steelers did Week 5 and attack with the run not the pass so I'd keep Jared Goff on ice and not start him this week.
Sleepers: Jacoby Brissett @ TEN , Brian Hoyer @ WAS

Well then… #BigBen #Steelers pic.twitter.com/ApdWrkR6jy

— Benstonium (@Benstonium) October 8, 2017
Running Backs
AP is gone so this opens the door even more for the rookie out of Tennessee. Kamara was already seeing an increased rate in touches and snaps but now is solidified to receive steady work in the Saints backfield. After coming off a bye week, expect the Saints offense to be in full stride against the Lions. Feel confident in starting your boy Kamara.

Over the last three seasons, the #Saints have targeted running backs 23.7, 22.3 and 23.5 percent of the time. #Kamara pic.twitter.com/UX0KtFTGA3

— Adam Pfeifer (@APfeifer24) October 10, 2017
After being out touched by Jerick McKinnon 22 to 14, Murray owners definitely felt deflated. McKinnon looked more explosive in both the run and passing game which left Murray watching on the sideline most of the second half. If Vikings are smart, they continue to ride McKinnon which limits the opportunities for Murray.
Sleepers: Elijah McGuire vs NE, Shane Vereen @ DEN

Don't be scared, Orko! It's just a #DeadViking on a #DemonicDinosaur. pic.twitter.com/ssdV0TLt9I

— He-Man (@HeMan) September 8, 2015
Wide Receivers
Before the season started, I wrote an article previewing Panthers rookie Curtis Samuel and in that article, we made the call that Devin Funchess will be their best WR this year. So far, I'm looking really good on that call eh? Funchess has received 17 targets the past 2 games and has produced with his opportunities. The Eagles are ranked 30th in pass offense and Cam is back to slinging it like the Cam we've grown to love. Funchess is in line to be a top 15 WR this week.

Say it again y'all #FUNGETSITDONE #FUNCHESS #carolina #keeppounding #touchdown pic.twitter.com/VZ43909SL6

— NOLA Riot (@NOLA_RIOT) October 8, 2017
I wanted to suggest sitting ALL New York Giants receivers but that's stating the obvious. Lemonheads, in case you haven't noticed, the Bears defense is actually pretty good. They are ranked in the top 15 in pass defense and with the Ravens being ranked 31 in pass offense, all signs point to Maclin being more disappointing than when McDonalds forgets to give you the sweet and sour sauce when you order nuggets.
Sleepers: Taylor Gabriel vs MIA , Ricardo Louis @ HOU

i had a lot of #mcnuggets just to create this
realistic #fake #replica of #szechuansauce#rickandmorty #sauce#mcdonalds #facsimile pic.twitter.com/sKUDYn8wxH

— aicar (@aicarsilog) October 8, 2017
Tight Ends
If you don't know about my boy Kittle, you should. Any TE in a Shanahan run offense is set up for top 15 potential at the position. Coming off a game with 9 targets, 7 rec, 83 yards and a TD while now playing against a team who gives up more points to opposing TE's than his previous opponent, start Kittle.

We are pleased to present the October 2017 Edition of our #Shanahan Insider Newsletter. https://t.co/A4SJikolYB pic.twitter.com/rsh3tg8813

— Shanahan Ford (@ShanahanFord) October 10, 2017
Looks like Hunter Henry is going to be the lead dog here on out. Gates has only reached 6 fantasy points once in his first 5 weeks. It's time to move on from the all time TD leader for tight ends.

#CloseTheGate pic.twitter.com/djLGYW3av7

— Greenbelt (@_greenbelt) August 6, 2017
Defenses
Dolphins have only scored 1 TD in the last 3 games. This one is an easy plug and play.

That #Dolphins OL coach prob walked into the office like: pic.twitter.com/gRmJJ2WkMs

— Robert Flores (@RoFlo) October 9, 2017
If you drafted Minnesota's defense and are still holding on to them, you're doing it all wrong. Last year they were ranked 1st overall and now they are 19th according to Yahoo scoring system. This week against Aaron Rodgers makes them an unsafe play this week.

Live look at Rodgers after his post game shower #GoPackGo #Cowboys #Rodgers pic.twitter.com/fbTMhoVszW

— IKE Sport Report (@IKE_SportReport) October 9, 2017
Kickers
The Redskins are a 10 point favorite at home and the Raiders are second in the most FG attempts allowed to kickers.
Chiefs haven't allowed a kicker to score over 10 fantasy points and after Big Ben's performance in Heinz field in Week 5, we can't feel too comfortable with the Steelers offense.
Be sure to check with us each week where we will discuss not only start, bust alerts, and sleepers for that particular week, but also who you should be adding to your roster and who you should be dropping.
Don't forget to follow us on Twitter, Facebook, and Instagram.
(Visited 45 times, 1 visits today)