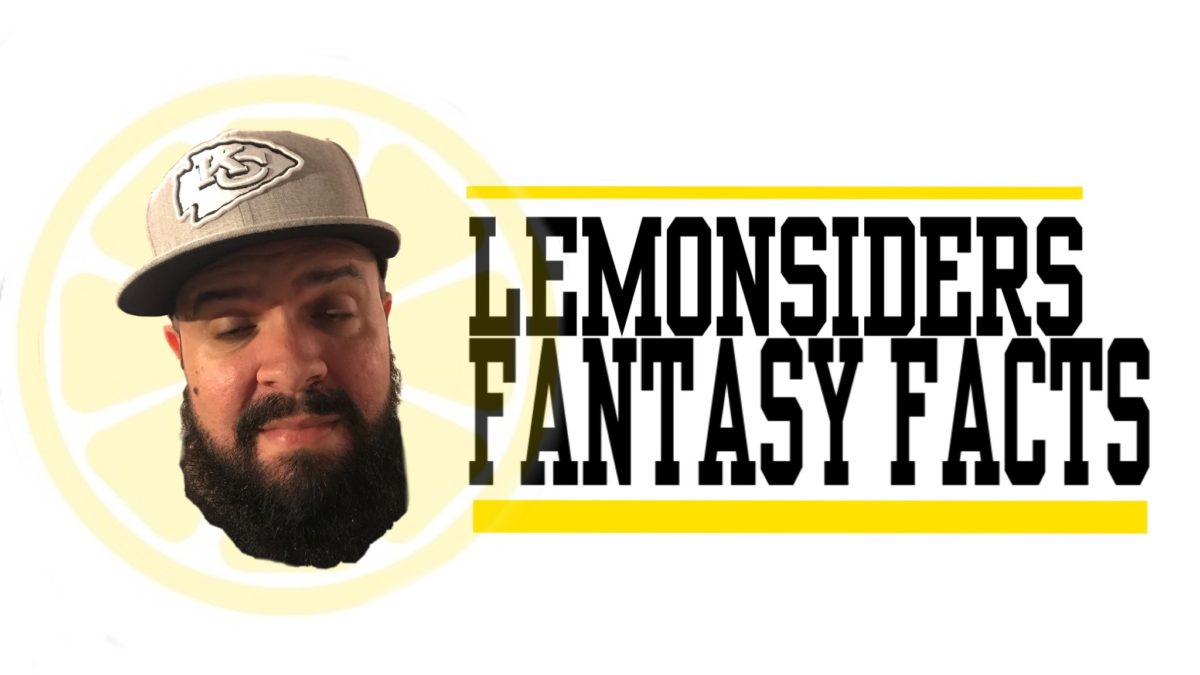 You know how you feel when you plan a vacation and as the days get closer to your departure your excitement builds up? You've spent time planning out the perfect trip, strategizing things out and looking ahead and are simply ready to kick back and enjoy it all. It's a great feeling right? Plan ahead and then kick back and enjoy but then what happens is THINGS GO WRONG. The beach day you had planned gets rained out, you leave your wallet back at the hotel or you completely forgot where you parked the rental car. Things you can't control just go bad. This is EXACTLY what fantasy football feels like. You set your lineups, feel good about it and then it goes from 100 to 0 real quick. It's part of the game and part of the love/hate relationship of fantasy football. We're here to help plan out your roster for Week 7 and let's hope it all goes well for all of us. Grab your pimp cup and lets get ready for Lemonsiders Fantasy Facts for your Starts, Bust Alerts and Sleepers. (We're always going to avoid obvious starts like Tom Brady and Antonio Brown but if we feel like a high profile player is going to be a bust, we will NOT hold back and let you know whats up!)
Quarterbacks
The 49ers are giving up on average 20.5 fantasy points to opposing QB's through the first 6 weeks and every QB the past 3 weeks has thrown for at least 300 yards. Dak has thrown multiple TD's in every week but one and should continue that trend this week.
"There's definitely no pacic" Dak Prescott #CowboysNation pic.twitter.com/GePGaUxfhk

— Karolyne Brum (@karolynebrum) October 19, 2017
He's lost his last 5 starts against KC and the Chiefs defense should be fired up after a lackluster performance against the Steelers in Week 6. People still feel hopeful on Carr because of his play last year and I hate to burst their bubble but Carr has a been a BUST this year. Deal with it and move on.
When Derek Carr is your starting QB in multiple fantasy football leagues and you're trying to replace him. pic.twitter.com/wLV3EmR82f

— Matt Day (@mattdaymedia) October 3, 2017
Sleepers: Tyrod Taylor vs. TB & C.J. Beathard vs. DAL
Running Backs
Can the Bengals finally unleash Joe Mixon please? No idea why Bengals are still trying to force feed Jeremy Hill who's taking touches away from their best RB in Mixon. The Steelers run defense is ranked in the bottom half in the league in yards allowed and this puts the rookie from Oklahoma in a nice spot as a solid RB2 this week.
last week to acquire joe mixon before that window closes. pic.twitter.com/5kzOwHnCKv

— jerick mctruther (@Fantasy_Mansion) October 17, 2017
Murray did not practice Wednesday with a tight hamstring and with a bye week next week, the rumor is the Titans may hold him out. Derrick Henry had his best game of the year in Week 6 against the Colts with 19 rushes and a 131 yards. On paper, either RB looks like they are in a great matchup BUT you gotta dig deeper. The Browns haven't allowed any RB to rush more than 66 yards and that was Buck Allen in Week 2. They are ranked top 10 in yards allowed on the run. I myself may have to start Henry in a league this week but don't feel great about it. Only positive side is volume but i'm on HIGH bust alert with both of these RB's.
ESPN FFB app: "Marcus Mariota out this week, expect Titans to rely heavily on Derrick Henry"
*subs Henry in*
…..nice pic.twitter.com/WrqmGJLyA5

— Drew Moore (@drew_moore6) October 9, 2017
Wide Receivers
You're not sitting your studs to start Robert Woods but if you're in a pinch with a bye week or injuries, plug him in quicker than you do your new gaming console. Cardinals CB Justin Bethel has been one of the most fantasy friendly matchups this year. He's been torched in nearly every game and with Patrick Peterson more than likely shadowing Sammy Watkins, this should free up Woods. Players like Torrey Smith, Marquise Goodwin and Brice Butler have good games against Bethel, nuff said.
#Rams WR @RobertWoods: It's an explosive offense with McVay-Gurley-Goff. I don't even think we are at our expectations on offense yet. We feel like we can be unstoppable and score on every drive. pic.twitter.com/noBW23rFrl

— SiriusXM NFL Radio (@SiriusXMNFL) October 19, 2017
This will be Hilton's toughest matchup of the season against the league's best CB duo in Jalen Ramsey and A.J. Bouye. After coming off a game with only 1 reception and 19 yards, can't feel too excited about Hilton this week. Truth is, if you have him you're going to play him but be on bust alert.
Makes sense.#WinToday pic.twitter.com/GhYybj5maU

— Jacksonville Jaguars (@Jaguars) October 15, 2017
Sleepers: Marquise Goodwin vs DAL @ Laquon Treadwell vs BAL ( if Diggs is out again)
Tight Ends
After having 0 catches twice in his first 3 games, Hunter Henry's production has picked up as of late. The Broncos no fly zone apparently doesn't apply to tight ends since they give up the 5th most points to tight ends. Hunter Henry's snap rate percentage has exceeded Antonio Gates past few games so he's in line for another solid game. He should have a safe floor and a decent ceiling.
.@Hunter_Henry84 was fired up after Sunday's victory over the Raiders🔥 pic.twitter.com/AOggxhwMiN

— Los Angeles Chargers (@Chargers) October 16, 2017
Without Aaron Rodgers, all Green Bay Packers pass catchers take a hit. Bennett hasn't hit double digit points all year so maybe this isn't a surprising bust alert but with the tight end landscape being rough, some people may be deciding between Bennett and streaming a tight end. If you have to start Martellus, have pepto nearby with a few cups of your favorite alcoholic beverage and get ready for a long day.
Defenses
Mitch Trubisky hasn't scored 20 fantasy points combined in his first two starts and the Panthers are ranked top 15 in passing yards allowed this season. The Bears have become more of a running team and Carolina's run defense is stronger than their passing game and the Bears have given up the top 5 most fantasy points to defenses. Panthers are easily one of the best streamers of the week.
What we imagined @kk_mr93 and @juliuspeppers_ text convos are like. pic.twitter.com/QeO8mq7HyM

— Carolina Panthers (@Panthers) October 19, 2017
Bust Alert:

Rams

vs ARI
The only thing worse about this matchup for the Rams is their uniforms. LA surprisingly is ranked in the top 5 in fantasy scoring according to ESPN's scoring system but Arizona's passing attack is real. Palmer hasn't thrown under 260 yards all year and has at least one TD per game. I'm not buying AP's Week 6 performance just yet but if that was real, Rams DST might have too much to handle this week.
BREAKING: Ankles (via @AdrianPeterson) pic.twitter.com/oA7318RuLM

— Arizona Cardinals (@AZCardinals) October 15, 2017
Kickers
In case you or someone else dropped Bailey after the Cowboys Week 6 bye week, be sure to scoop him back up. The Boys are strong favorites against the 0-6 Niners and I fully expect Dan Bailey to score more than 10 fantasy points easy, book it!
I dropped Dan Bailey (99.9% owned) for you (2%) in Fantasy. That's how good of a year you're having 🙌🙏👌

— Joshua (@joshyfong) October 9, 2017
Two sides of the coin here: Either Mason Crosby thrives due to the Packers red zone offense taking a hit without Rodgers or if the offense struggles, so will his production. Truth is, we really don't know what to expect out of Brett Hundley behind center but time starting against the Saints could be rough.
Be sure to check with us each week where we will discuss not only start, bust alerts, and sleepers for that particular week, but also who you should be adding to your roster and who you should be dropping.
Don't forget to follow us on Twitter, Facebook, and Instagram.
(Visited 67 times, 1 visits today)