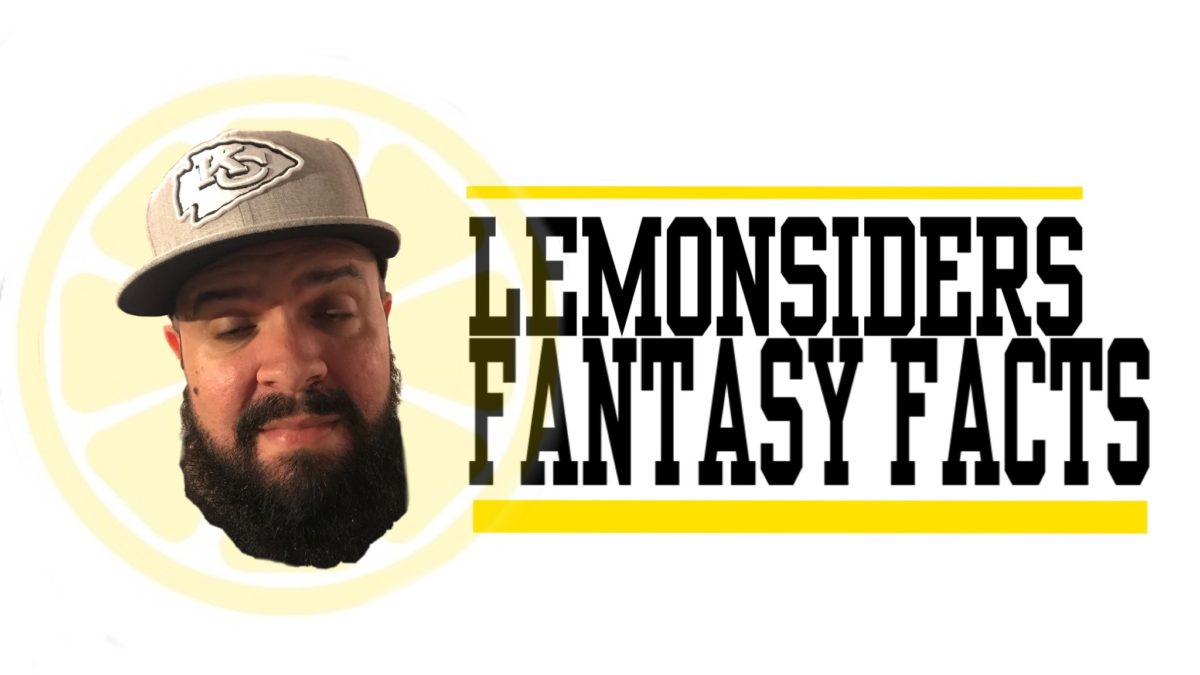 Another week goes by and yet another BIG name player goes down. Aaron Rodgers was carted off and not only did that suck out all the air out of Wisconsin but of MANY fantasy owners as well. Reports are Rodgers broke his collarbone and may be out for the season. That's a YUGE loss for many, especially those who drafted Rodgers with a high pick and gambled without having a QB on their bench. The Dolphins go into Atlanta and pick up a win, the Saints put up 52 points and Brees only ended up with 11 fantasy points and maybe, just maybe the Saints defense is finally good. So now we're heading into Week 7 and for fantasy football, we're past the half way point for teams whose playoffs begin in Week 13. If you're in the playoff race, from here on out you have to make really smart decisions when it comes to your roster/depth. We're here to help you out so get your cups ready for the Lemonsiders Fantasy Facts heading into Week 7.
Hold
This is the time where people who are battling for playoff spots panic or make drastic decisions without thinking like cutting a player after one bad game. With the departure of AP, everyone was expecting a split backfield in New Orleans with Mark Ingram and Alvin Kamara. Week 6 however, Ingram out touched Kamara 30 to 14. Don't panic Kamara owners, he's still in a great spot. He'll continue to get steady work and Saints have a very favorable schedule against run defenses rest of season. Get your finger off the trigger and don't hit the drop button after one bad game.
Toss Out
Yes, we're here to tell you to get rid of ANY Chicago WR right now. This isn't the time to try to get cute and HOPE something good happens with one of these guys. The Bears receivers the last two weeks have only caught 8 receptions and their passing offense has only thrown it 41 times. This has become a running offense, and it seems like the way the Jaguars are running their offense is the same way the Bears are too. Jordan Howard carried the ball 36 times Week 6, and unless you're a gambling man, I'd stay away from this passing offense all together.
Chicago Bears wide receivers showing some speed and finesse pic.twitter.com/YWj81LIFmk

— Schewe (@kschewe35) September 29, 2017
This was one of my favorite players coming into the season and due to Andrew Luck's injury, he's been a major disappointment. Fact is, Doyle without Luck is like Ross without Rachel. We honestly have NO clue when Andrew Luck will return so holding on to Jack Doyle any longer isn't a good idea.
After the shocking trade that had the Bills ship over Watkins, months later we're left scratching our head as to what were the Rams thinking in this trade. Aside from a big game in Week 3, he's only produced: 9 receptions,  116 yards, and 0 TD's. Those numbers are NOT what you'd want from a supposed number 1 WR. Even if I was struggling with WR depth, I would be hard pressed to keep Sammy Watkins on my team.
Add
Can't even lie, I had no interest in Agholor this season and I completely admit I was wrong for that. He's filled in the slot position nicely after Jordan Matthews was traded to the Bills, and he's done quite well. The Eagles passing attack has gone through him, Zach Ertz, and with Alshon Jeffrey still not hitting full stride, Agholor is a great add this week. Next two opponents are WAS & SF and both games are at home.
Nelson Agholor like… pic.twitter.com/k0lC3Igxxx

— Gayle Saunders (@EagleSessions) October 8, 2017
Yes folks, this is real. The Saints actually have a defense. They put up 30+ fantasy points Week 6 against the Lions and their next two games look VERY appealing. Week 7 they go against the Packers without Aaron Rodgers and Week 8 they face Mitchell Trubisky who has yet to score 20 fantasy points combined in two games.
Saints defense about to drop the hottest album of 2017 pic.twitter.com/b5n8NFFzMS

— Chris Boseman (@ItsBoseman) October 15, 2017
The past few weeks we've given you backup RB's to start stashing on your benches and here's another one. This week there were reports that the Colts wanted to increase the workload of the rookie out of South Florida. Whether he gets the immediate increase of volume or not, he's someone I'm trying to stash in my leagues. This explosive catching back is the only other dynamic offensive player the Colts have aside from T.Y. Hilton so add him to your team but don't expect immediate results.
#MackAttack for #USF fans to enjoy today. Marlon Mack looks so good for the #Colts pic.twitter.com/2V4zYGvhQF

— Chris Torello (@TorelloSports) October 8, 2017
Sell
Here me out here. The QB situation, especially in 12 team leagues, isn't good with injuries and bye weeks. Matt Ryan has been one of the biggest fantasy busts, especially at the quarterback position but I'd only sell if I had another quality quarterback on my bench. If you're an owner who has 2 quality QB's, I'd pounce all over the Aaron Rodgers owner or someone who is still streaming QB's. Package him if need be, but Ryan has been a disappointment. In 4 point per TD leagues, he's only scored 20 points once. His next opponent is VERY favorable, but if you could somehow package him in a trade, I'd do it unless you want to wait and see if he'll turn it around.
C.J. Beathard scored more fantasy points than Drew Brees and Matt Ryan. pic.twitter.com/dVYKzs6oFu

— Michael Fabiano (@Michael_Fabiano) October 15, 2017
Be sure to check with us each week where we will discuss not only start, bust alerts, and sleepers for that particular week, but also who you should be adding to your roster and who you should be dropping.
Don't forget to follow us on Twitter, Facebook, and Instagram.
(Visited 51 times, 1 visits today)