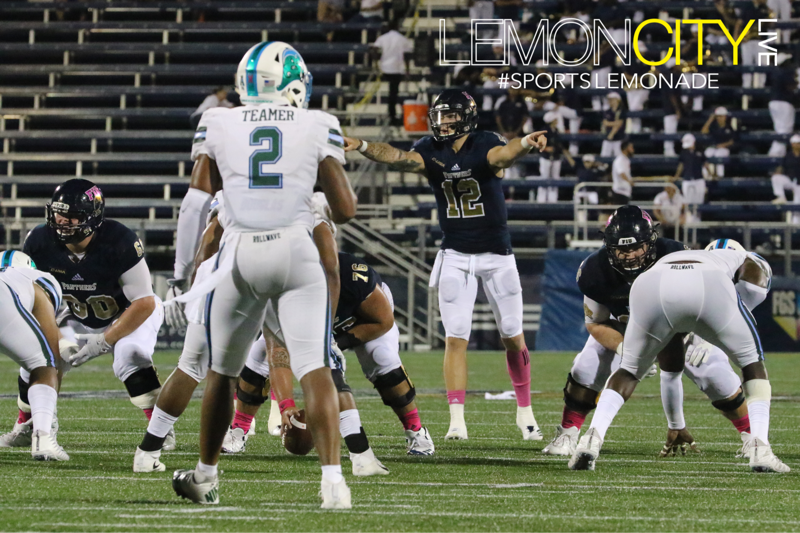 'Twas a beautiful Saturday night in Miami, one that merited beautiful football of similar proportions. Earlier today, the Miami Hurricanes beat the Georgia Tech Yellow Jackets in a game that came down to the wire. We were off to a good start. In other words, we didn't need any bullshit bringing us down and bumming us out. The Florida International Panthers hosted the Tulane Green Wave in FIU's second appearance of the season at Riccardo Silva Stadium for what was supposed to be their third home game; thanks, Hurricane Irma… You bitch!
Tulane comes from the American Athletic Conference with a 3-2 record. However, the Green Wave just came off a ridiculous 62-28 spanking they laid on the Tulsa Golden Hurricane. So, if you subscribe to the theory of momentum and how hot a team is coming in, then you were ready for a good match-up. This very same Tulane team took the leaders in their conference division (West) and currently-top-25-ranked Navy Midshipmen down to the wire in a game earlier this year. My point is: this Green Wave team is no slouch.
The Panthers' last home game was a nail-biter and an exciting victory for the team against the Charlotte 49ers. In fact, all three of their victories came from "home" games, including the one that wasn't actually played at home. It was a tough 37-17 loss at the Middle Tennessee Blue Raiders that brought FIU to this out-of-conference showdown – a little added motivation – seeking to get back on the win column.
Well, back on the win column they got by taking this baby 23-10. It wasn't the best of starts for the Panthers' as a long drive ended in an interception for Alex McGough deep in Tulane territory. No harm no foul, though. The FIU defense got the ball right back in their offense's hands and them boys got back on track. A drive punctuated by a touchdown featured a 58 yard hook-up between McGough and star Wide Receiver Thomas Owens. The senior stud is the real deal for FIU and the go-to playmaker in this offense. He would end the game with 6 catches for 152 yards; have a day, kid! As for McGough, his stat line was a little weird; allow me to explain myself. He wasn't exactly awful, but also not particularly good. The two interceptions cannot be erased, and of his 220 yards, 58 came on the aforementioned play. However, his team never trailed in this game and there is something to be said for a Quarterback that manages his offense through the game while his team holds a lead. He spread the ball well and kept his running game involved with 44 rushes for 218 yards.
It was no easy task for the FIU defense while they faced the somewhat gimmicky offense of Tulane. Quarterback Jonathan Banks holds that position more in title than by the way he plays. Just as a point of reference, he had 55 attempts – yeah, you read that right – all year coming into tonight. He would finish with 16 passing attempts in this game but a miserable 5 completions, and most of those came towards the end of the game in their feeble efforts to get back in it. Banks is much more of a rusher as the Green Wave offense loves to run the option. As another point of reference, this offense rushed for 237 yards against the then-3rd-ranked Oklahoma Sooners earlier in the season. While their rushing total yards in this game might seem impressive (203), it did shit in the way of getting them on the scoreboard. The defense was very bend-don't-break in this one and received all the praise from Coach Butch Davis following the game.
All's well that ends well for the Panthers. The team is now 4-2 going into the BYE week before their trip up to face the Marshall Thundering Herd. I'm not in the business of stressing expectations or even predictions for teams. However, a Coach Davis led FIU football team was something we were all looking forward to this season. A good start to what we all believe is a pivotal year for this program has not been disappointing. We can only hope to keep it going.
Heading into the bye week with W 🙌 pic.twitter.com/eEiHIe8Pvz

— FIU Football (@FIUFootball) October 15, 2017
For a complete photo gallery of this game, please CLICK HERE.
Don't forget to follow us on Twitter, Facebook, and Instagram.
(Visited 126 times, 1 visits today)