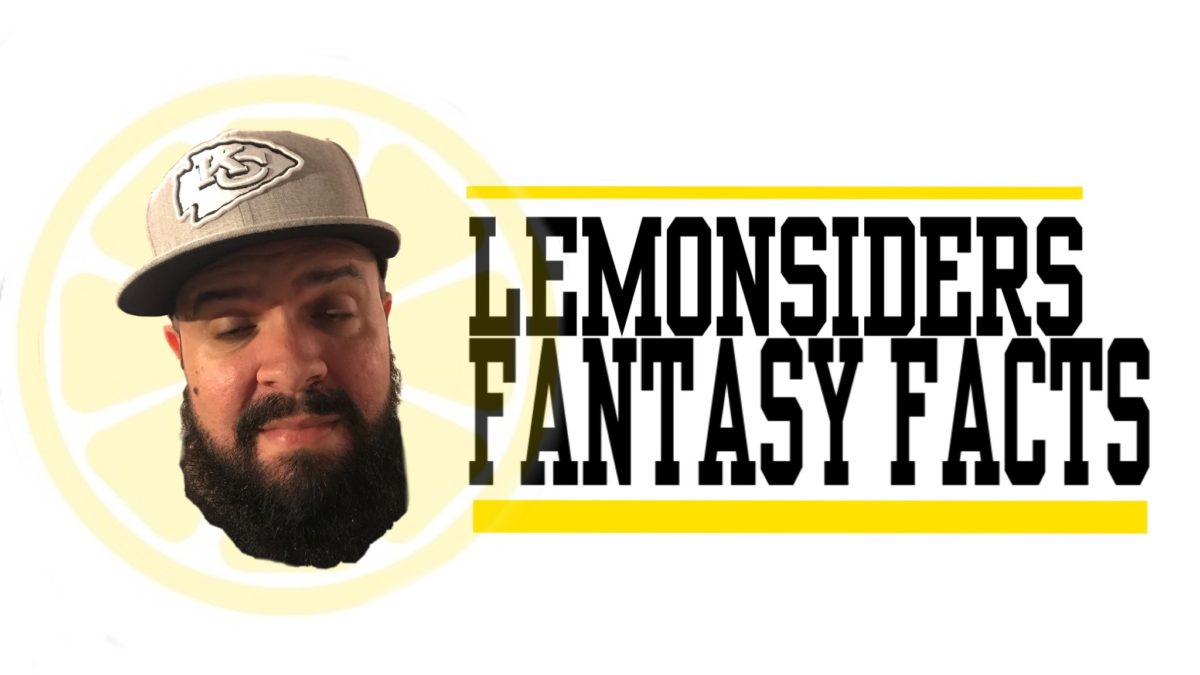 Believe it or not, yet another starting quarterback goes down (Carson Palmer) and the depth at QB throughout fantasy football gets even thinner now. In the same week, there was a Matt Moore and Cody Kessler sighting and Mitch Trubisky only completed 4 passes yet the Bears won the game. In case you were wondering how the loss of Aaron Rodgers would affect the Packers offense, it was ugly; uglier than Wanda from In Living Color. The Packers leading receiver was Martellus Bennett with a whopping 17 yards. Like every week, there was highs and lows and we had moments of celebration and more moments of frustration. This is fantasy football and it's definitely not for the faint at heart. We're here to do our best to help you out for either your playoff run or to play the spoiler role if your fantasy team has been a hot mess. Get your shot cup glasses ready as we pour out some Lemonsiders Fantasy Facts shots for everyone for Week 8's version of Hold, Toss Out, Add & Sell.
Hold
With Carson Palmer injuring his wrist and reports showing he will be out for 8 weeks, the entire Cardinals offense gets downgraded. Larry Fitz has been a top 10 receiver all year but now with Drew Stanton behind center, that may change but he should still receive volume. This isn't a guy you bench or just drop but be aware, his production should take a significant hit without Palmer. Unless you could somehow trade him for something, hold him but know the Fitz you've grown to love all year probably won't be the same.
A pic of Carson Palmer, Adrian Peterson, and Larry Fitzgerald warming up before going out and lighting up the Bucs: pic.twitter.com/0um2ejV9ee

— NOTSportsCenter (@NOTSportsCenter) October 15, 2017
Toss out
After missing the first three games of the year due to a DUI suspension, Snead has only played one game due to injuries and missed yet another game this week with a nagging hamstring. With the Saints having plenty of mouths to feed plus Snead's nagging injury, it may be time to move on.
when Willie Snead hit inactive at the last second #MountOliveFF pic.twitter.com/DoLKUTLffs

— Chris (@chris_commish) October 22, 2017
Always known to be a red zone monster but this year aside from his Week 6 performance, he's been anything but that. He's only caught for more than 50 yards once this season and he's yet to reach the end zone so it's time to throw up the peace sign to Decker.
Eric Decker playing? pic.twitter.com/bQnOi6zSZq

— Kevin (@the_FF_engineer) October 22, 2017
Even with Rodgers, Bennett has been a disappointment this season. Many in the fantasy football world had high hopes when the Packers signed Bennett this offseason but he's yet to score a single TD through the first 7 weeks of the season. Now with rookie Brett Hundley as the starter, things will get worse before they get better. Find yourself another TE or just stream week to week based on matchups. You'll thank me later, I promise.
Martellus Bennett's hands continue to protest footballs.

— SportsPickle (@sportspickle) October 15, 2017
Add
Delanie Walker left the game early with an ankle injury and it didn't look good. Next week the Titans have a bye week but have a very favorable matchup against Baltimore in Week 9. We definitely have to monitor Walker's situation but if the injury is serious, the rookie out of Florida International University, a hometown favorite for us, NEEDS to be picked up in all leagues.
Legendary 🐐🐐@Easymoney_81 @DieugotJoseph 🤙🏾🤙🏾 pic.twitter.com/TD0HVPl9O7

— Ace Boogie (@Big_Glant24) August 27, 2017
With QB's dropping quicker than me trying to do a crossfit class, might be a good idea to pick up a backup QB to have on your bench if possible. Tyrod by far has the easiest fantasy football remaining schedule for quarterbacks. Despite the Bills WR corps being questionable, he will still provide you with a safe floor and his mobility will also provide some upside.
Tyrod Taylor is a gosh darn wizard with his agility. pic.twitter.com/Ly1rcP5b3o

— Sung Min Kim (@sung_minkim) October 22, 2017
Woods has scored double digit fantasy points in 4 of his 7 games and believe it or not, the Rams offense has been fun to watch. The Rams do have a bye week coming up and a tough matchup right after against the G-men but their remaining schedule is one of the most friendliest in fantasy for wide receivers. He's not going to give you 25+ points per game in that passing offense but a solid floor of 10-15 is almost a given week in and week out.
Sell
Might be too late now but the window is still slightly open for a sell high when it comes to AP. After this week's lackluster performance, owners may have wished they would have sold him directly after his big game last week. Without Palmer, it would be smart for teams to stack the box against AP and force Stanton to beat them with his arm. Cardinals offensive line is one of the worse in the league so unless you feel like AP can carry the offensive load week in and week out, you might want to try to sell him before that window closes.
Adrian Peterson after putting on a Cardinals uniform… pic.twitter.com/ostGeDLMa0

— ESPN FantasyFauxball (@ESPNFauxball) October 15, 2017
Be sure to check with us each week where will discuss not only start, bust alerts and sleepers for that particular week, but also who you should be adding to your roster and who you should be dropping. Until then, enjoy your week Lemon Heads!
Don't forget to follow us on Twitter, Facebook, and Instagram.
(Visited 63 times, 1 visits today)