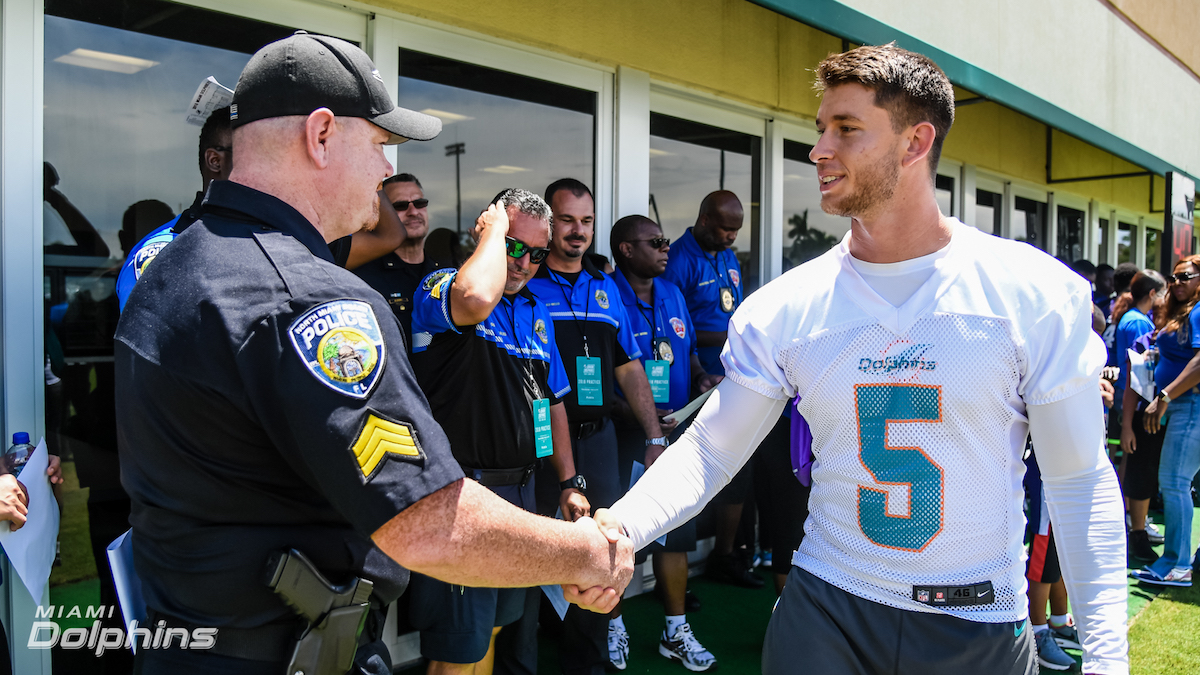 Miami Dolphins Press Release
---
Davie, FL – The Miami Dolphins today hosted the North Miami Beach Police Athletic/Activities League (PAL) chapter at their Organized Team Activity (OTA) practice. The athletes and officers were given a tour of the Baptist Health Training Facility at Nova Southeastern University and heard from Miami Dolphins Executive Vice President of Football Operations Mike Tannenbaum on the importance of being a good teammate.
The North Miami Beach PAL chapter also had the opportunity to watch the Dolphins practice and meet with current players on the field, including Dolphins safety and National PAL spokesperson Walt Aikens. Following practice, the group had lunch provided by Publix.
"Jeff called me a few months back over the break and asked me if I wanted to become a part of the PAL system again. I felt like it was the best way to give back, me going back to these local communities and showing these kids that no matter where you are or where you're from, you can always make it and there's a positive way out of every situation," Miami Dolphins safety and National PAL spokesperson Walt Aikens said.
We loved having the @myNMBPolice PAL league join us at OTAs this morning.#TeamworkAtWork pic.twitter.com/fJhnTcOhD7

— Miami Dolphins (@MiamiDolphins) June 12, 2018
"It takes key and strategic partnerships for any organization to be successful. We've been very fortunate and blessed and thankful to be able to have the Miami Dolphins step up in this way and in this manner and realize and recognize that to whom much is given, much is required," National Police Athletic League CEO Jeff Hood said. "The Dolphins have gained so much throughout their history of football and to be able to give some of that back to help some of our young kids, to help them have a better life and give them this level of exposure is awesome."
The North Miami Beach PAL chapter is one of 11 Miami Dolphins Football Unites grant recipients for the 2018 season. Created in November 2017 by Owner Stephen Ross and Dolphins players, these grants will provide funds for South Florida-based groups to strengthen and expand their impact around community engagement, education and justice reform.
The Junior Dolphins program encourages youth players and coaches to teach, learn and play football in a fun and safe environment. The Junior Dolphins program is designed to give kids access to learn the fundamentals of football using the NFL's top resources. To grow the game, the Junior Dolphins program will work to educate coaches, parents and youth on the health and safety of football with a strong emphasis on character development. Junior Dolphins is building the next generation of Dolphins Fans.
–Miami Dolphins
[foogallery id="12787″]
📷Credit: Miami Dolphins
(Visited 233 times, 1 visits today)