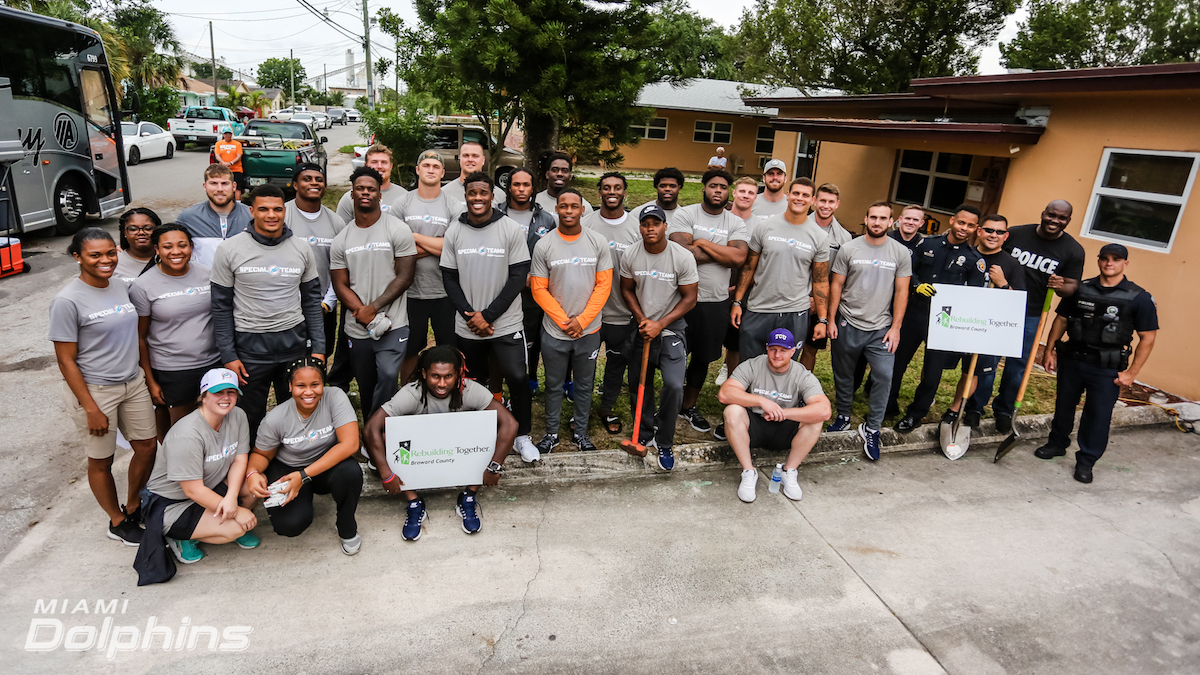 Miami Dolphins Press Release
---
Fort Lauderdale, FL – The Miami Dolphins 2018 rookies participated in a Rebuilding Together Broward event at Archways. Archways is an Avon Manor Group Home that provides behavioral healthcare to individuals and families.
The entire Miami Dolphins rookie class participated in the event, including Johnathan Alston, Cornell Armstrong, Jerome Baker, Kalen Ballage, Cayson Collins, Jalen Davis, Minkah Fitzpatrick, Mike Gesicki, Lucas Gravelle, Connor Hilland, Buddy Howell, Greg Joseph, Claudy Mathieu, Mike McCray, Anthony Moten, Jamiyus Pittman, Quentin Poling, Quincy Redmon, Jason Sanders, Durham Smythe and David Steinmetz.
The rookies worked alongside Fort Lauderdale police officers to beautify the Archways facility. Tasks included mulching, planting and removing a brick wall at the residence.
Yesterday afternoon, the rookie class today participated in a Rebuilding Together Broward event at Archways.#TeamworkAtWork pic.twitter.com/y4qiI523SU

— Miami Dolphins (@MiamiDolphins) June 13, 2018
"We're out here in the community helping out. It's a lot of fun. Spending time with my teammates has been the most memorable moment of the day," Dolphins fourth-round draft pick Kalen Ballage said. "It's a great atmosphere that I've been in since I've been down here. Being in the community behind these guys and being able to help in any way possible is great for me."
This marks the fourth time the 2018 rookie class has been active in the South Florida community since arriving in early May. Today's project with Rebuilding Together Broward also marks the fourth time a Dolphins rookie class has worked with the nonprofit over the years and is part of a multi-year relationship with the Dolphins and Rebuilding Together.
"We want to thank the Dolphins organization and the players today for helping us make such in impact at Archways," Rebuilding Together Operations Manager Jason Mann said. "One of the great pleasures we have here at Rebuilding Together Broward is the opportunity to work alongside organizations such as Dolphins to make an impact in our community. We've enjoyed our working relationship with the Dolphins over the years and look forward to working with them in the future."
–Miami Dolphins
[foogallery id="12863″]
(Visited 117 times, 1 visits today)