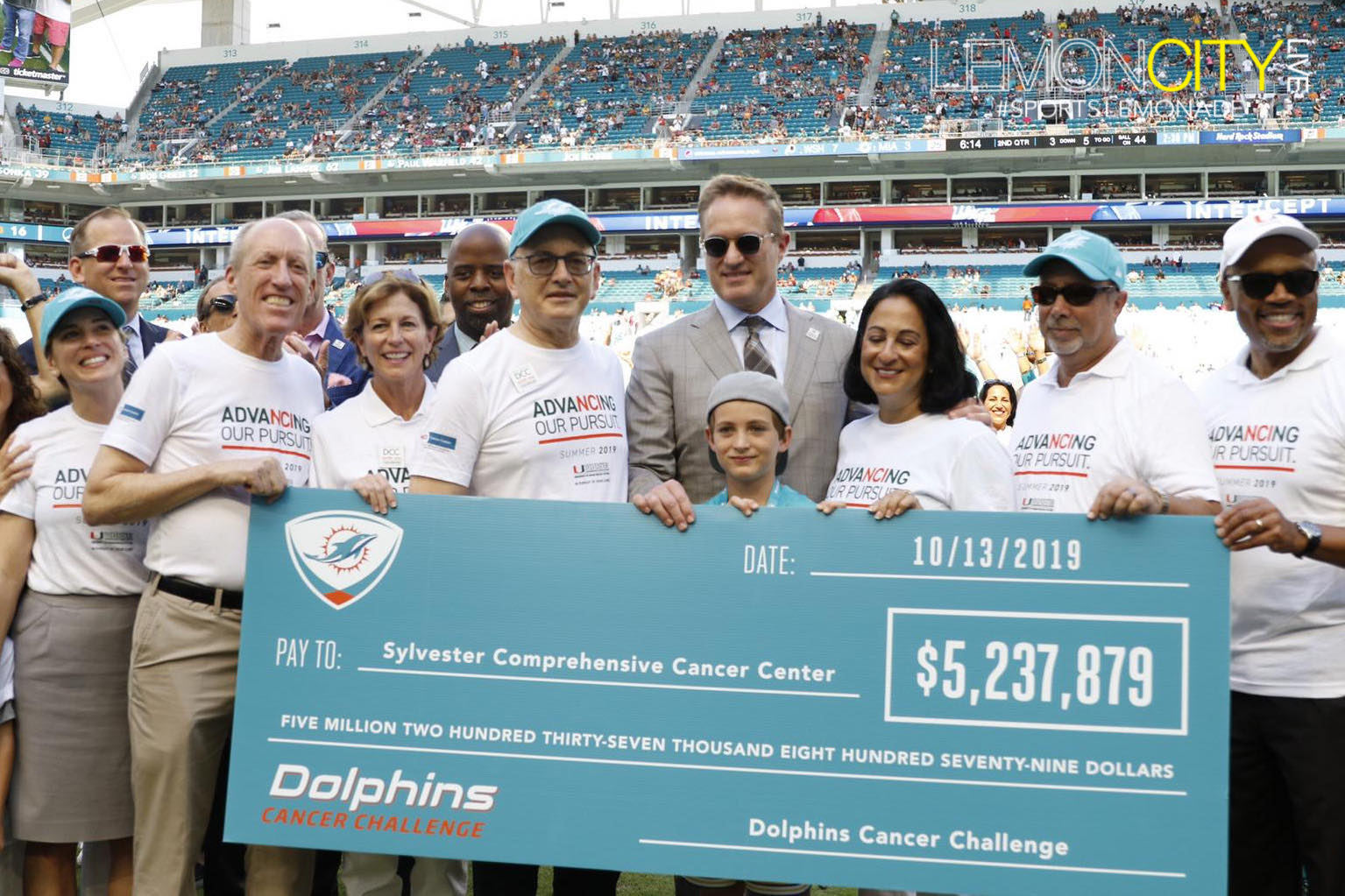 Miami Gardens, FL – The Miami Dolphins and the Dolphins Cancer Challenge have taken the NFL's Crucial Catch initiative and ran with it, benefiting the Sylvester Comprehensive Cancer Center. Just after the Fins bye week, Miami Dolphins players Doug Middleton and Christian Wilkins, cheerleaders and mascot T.D. visited Alex's place at Sylvester Comprehensive Cancer Center to distribute gifts and brighten the spirits of young cancer fighters and their families.
The following weekend, the Fins celebrated the Dolphins Cancer Challenge in support of the NFL's Crucial Catch campaign at their home game vs. Washington. The Miami Dolphins held a halftime presentation to honor the journey of cancer survivors treated at Sylvester. In addition, all 300 cancer survivors who participated in last year's Dolphins Cycle Challenge were invited to the game and were celebrated on the field as well as the doctors who receive critical funding from the money raised. During the celebration, the Dolphins Cancer Challenge also presented the Sylvester Comprehensive Cancer Center with a check for $5,237,879. That should go a long way towards needed research.
Following the celebration, we spoke with Sylvester Comprehensive Cancer Center Director Dr. Stephen D. Nimer:
Started in 2010 by the Miami Dolphins as the signature initiative of the Miami Dolphins Foundation's health impact area, the DCC is dedicated to improving people's lives through the financial support of innovative cancer at Sylvester, South Florida's only NCI-designated Cancer Center. With this recent recognition from the National Cancer Institute (NCI), Sylvester is now among the top cancer centers in the United States and joins a highly select group as one of only two NCI-designated cancer centers in the state of Florida, and one of just 71 across the nation. Since its inception, the DCC has raised more than $32.5 million, donating 100 percent of participant-raised funds to Sylvester. DCC 10 is scheduled to take place Feb. 29, 2020 and will include five bike routes throughout South Florida, a run/walk 5K and a Finish Line Festival presented by Moss Construction. These initiatives align with the Miami Dolphins Foundation's commitment towards leveling the playing field through the power of teamwork to inspire a healthier, more educated and united South Florida Community.
📸Credit: Chris Perez
(Visited 64 times, 1 visits today)