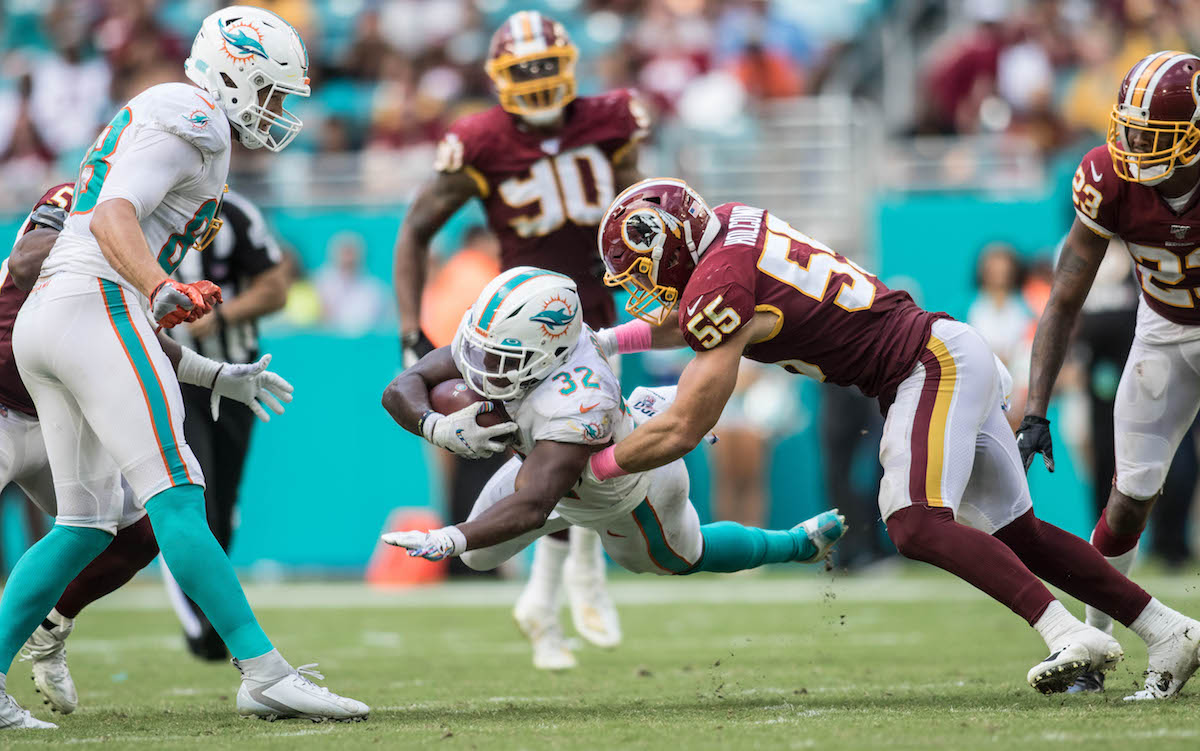 ---
Miami Gardens, FL – There's a first time for everything. Both the Miami Dolphins and the Washington Redskins were winless coming into today's game. I can't say without a shadow of a doubt that either Miami or Washington were destined to get their 1st win of the season today because ties happen (Just don't tell Donovan McNabb). What I can say is that coming into this game, both squads knew that one of them was going to walk out of Hard Rock Stadium without another loss. The question is, who'll win in their quest to Tank for Tua?
The Miami Dolphins players and coaching staff are well documented in that they are not tanking. However, that doesn't mean the front office didn't make sure to put this team in a position to obtain that #1 overall draft pick. The team has been accumulating early-round draft picks by trading some of their better players and cutting contracts to ensure they have +$100 million in cap space available next season. Last time Miami had the #1 overall pick was 2008 when they took OT, Jake Long out of Michigan.
Miami has never lost at home to Washington, and they've also never gone winless for an entire season, but there's a 1st time for everything. Since 1944, only five teams have had winless seasons in the NFL: the 1960 Dallas Cowboys (0–11–1), the 1976 Tampa Bay Buccaneers (0–14), the 1982 Baltimore Colts (0–8–1), the 2008 Detroit Lions (0–16), and the 2017 Cleveland Browns (0–16). The Dolphins came close in 2007, going 1-15; Their lone win coming against the Baltimore Ravens at home in week 15.
This guy gets it.
We're underway from #TheRock!@MiamiDolphins 🆚 @Redskins #FinsUp #MIAvsWAS pic.twitter.com/wmBp9XfsMr

— Lemon City Live (@LemonCityLive) October 13, 2019
This season, Miami is once again flirting with the dark side of football stats history. After today's 17-16 loss to the Washington Redskins, Miami sits at 0-5. Washington was regarded as Miami's best shot at getting a win this season. They recently fired their coach, Jay Gruden and refuse to start recent 1st round draft pick, Dwayne Haskins.
For the first time all season, Miami had a chance to win it in the end. As expected, it was low scoring game. Washington scored 1st off a Case Keenum to Terry McLaurin 25-yard TD catch. The kid became the first player in NFL history with a touchdown catch in each of his 1st three career games. He had two touchdowns today, so even though he didn't put one up on the Patriots last week, he's still averaging a touchdown per game. He's 100% a silver lining to an otherwise abysmal season for Washington. If he's available in your fantasy league for whatever reason, pick him up.
Don't look now, but the @MiamiDolphins are one possession away from pulling even after Kalen Ballage scores the #Fins' 1st rushing #touchdown of the season!
Miami trails 17-10.#FinsUp #MIAvsWAS pic.twitter.com/Yi7sa7oV3L

— Lemon City Live (@LemonCityLive) October 13, 2019
Miami entered the 4th quarter down 17-3. Ryan Fitzpatrick replaced Josh Rosen (Two INT's) at the beginning of the 4th quarter. After a missed Washington field goal, Miami had good field positioning, allowing Mark Walton, who got his 1st start of the season, to put the Fins in a position to score. Fitzpatrick tried to get some Fitzmagic going, finding Walton for an 18-yard gain, which eventually led to a Kalen Ballage 1-yard rushing touchdown. The two teams then exchanged a series of five punts until the two-minute warning. From Miami's own 25-yard line, Mike Gesicki busted out a 30-yard reception. Fitzmagic executed that two-minute offense to perfection, culminating with an 11-yard touchdown pass to Devante Parker. Now, only down by one point, instead of kicking a game-tying field goal, Brian Flores decides to go for two. But maybe, just maybe he was really going to Tua. Instead of coming away with a one-point victory, salvaging an obvious Tank for Tua season to avoid joining the aforementioned teams above, the Fins botched the two-point conversion.
The team looked confused on that last play, but coach Flores claimed in his press conference that that was the play they had practiced for this scenario. "We were trying to win the game, pretty much. We talked about it. We felt good about the play. It's something we worked on all week. We thought we had an opportunity to win the game, and that was the thought process there. They made a good play. They were ready to go on it; but we're going to try to win the game in that situation with the amount of time left."
The @MiamiDolphins made in interesting at the end, but fall to the @Redskins by one point (17-16) after a botched 2-point conversion.#FinsUp #MIAvsWSH pic.twitter.com/0ms4BZSYnE

— Lemon City Live (@LemonCityLive) October 13, 2019
Today's game doesn't fare well for Josh Rosen, who was seen with his hands on his head in frustration heading back to the locker room post-game. But coach Flores is sticking with him. "I think Josh (Rosen) has done a good job. I think today he wasn't having a good day, and I think we're always going to do what we feel is best for the team and today that was 'Fitz' (Ryan Fitzpatrick) going in in the fourth quarter. Josh is the starter, I would say. But as this thing – as we continue to move along – there's always competition."
All that being said, it's nice to see some guys get opportunities and flourish. Mark Walton got his 1st career start, in the same stadium where he played his college ball, in the same city where he grew up. Earlier this year, Walton was waived by Cincinnati after his third arrest during the offseason. Miami picked him up, and he feels blessed to be home in the position to start and succeed. He had 75 all-purpose yards today. Not bad when you're starting your first game in a running back by committee system.
Miami might've lost today's game 17-16, but they're playing the long game; #1 overall pick Tank for Tua kind of long (not #1 for an OT Jake kind of Long though). They're still #1 in that Tank for Tua race. Fans are obviously frustrated. No one wants to see their team go winless for an entire season. Even if you fully support the tanking, at least win one game, right? No one wants a reverse 1972 season.
📸Credit: Chris Perez
(Visited 87 times, 1 visits today)