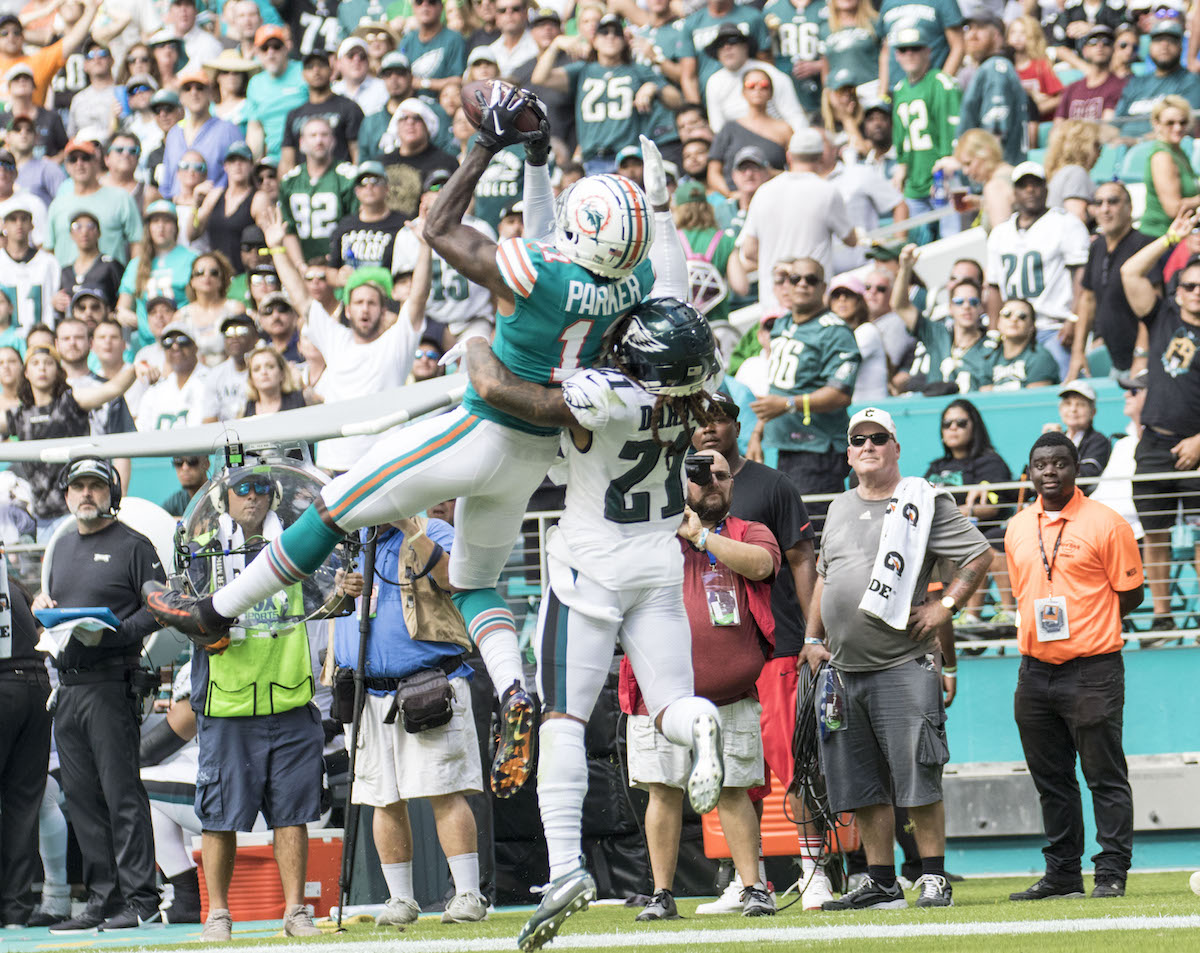 ---
Miami Gardens, FL – The Miami Dolphins haven't beaten the Philadelphia Eagles in Miami since October 24th, 1999. That sounds like a long time. 20 years and change, but still no change with the Fins. Here's some perspective. The #1 Billboard song back then was Smooth by Carlos Santana. Here's some more perspective. That only accounts for two losses. Nevertheless, it's time to reset that clock. The Fins beat the Eagles 37-31, earning their 3rd win of the season in a manner no one would've predicted. However, this season isn't about how many wins the team can get. It's about who steps up and earns the right to stay as the team rebuilds. It's about which player can prove that they are a professional worthy of playing in the National Football League.
Did you want to see the team air it out? They did that. Ryan Fitzpatrick brought out the Fitzmagic tonight. The 15-year veteran, now playing for his 8th NFL franchise, reached into his beard and pulled out some bombs. He won't be a long term solution for the Fins, but who might be are the men that brought down those bombs.
The @MiamiDolphins pulled off an unlikely victory, bringing out their bag of tricks in order to sneak out a 37-31 W past the @Eagles. @DeVanteParker11 secured 7 catches for 159 yards and 2 TD's! #FinsUp pic.twitter.com/Yf7y4tLyuS

— Lemon City Live (@LemonCityLive) December 1, 2019
DeVante Parker came into today's game with 695 receiving yards thus far, needing 50 yards for a new career-high. The man went off for the best game of his career. He tripled what he needed, pulling in 159 yards on seven receptions and two touchdowns, bringing him to 854 yards for the season. I'd bet on him breaking the 1,000-yard barrier this season. He also surpassed 3,000 yards for his career with today's performance.
Mike Gesicki is in his sophomore year as the Miami Dolphins tight end, but there's no sophomore slump slowing him down. Last season, he brought in 202 yards and no touchdowns. This season, with today's 79-yard game, he's already at 401 yards and still picking up steam. He scored his 1st NFL touchdown last week against Cleveland and today he scored his 1st home NFL TD.
What a game!@mikegesicki adds another @MiamiDolphins touchdown. The #Fins trail 28-26. pic.twitter.com/WulawFFlt8

— Lemon City Live (@LemonCityLive) December 1, 2019
But in my opinion, the one man that's earning his stay more than anyone else is coach Brian Flores. This Miami Dolphins team has been competitive in games that they have no business competing in, given the amount of depth that they have. Today, THE Patrick Laird scored a rushing touchdown and then converted the 2-point conversion! You might be asking yourself, "Who's Patrick Laird?" First of all, how dare you? He's the pride of Cal Football in UC Berkeley! I obviously had to Google the guy, because I had no idea who he was, but he definitely made his presence known today.
The Lead, ladies and gentlefins…@PatrickMLaird rushes in for a 4-yard TD, then he scored the 2-pt conversion!

The @MiamiDolphins are on top 34-28 with 10 minutes remaining.#FinsUp pic.twitter.com/zppyz9Jqdf

— Lemon City Live (@LemonCityLive) December 1, 2019
Brian Flores has done a great job of putting these somewhat unknown players in a relatively good position to succeed, something he probably picked up from Belicheck during his tenure in New England. The team was gutted and they got off to a terrible start, but you've been able to see the progression and improvement of the squad every week since week one. Miami might've ruined their chances for tanking for Tua, but seeing the Fins beat the Eagles in the manner in which they did shows that maybe the "steal" free agent they acquired wasn't a player at all, but instead head coach Brian Flores.
📸 Credit: Chris Perez
(Visited 195 times, 1 visits today)