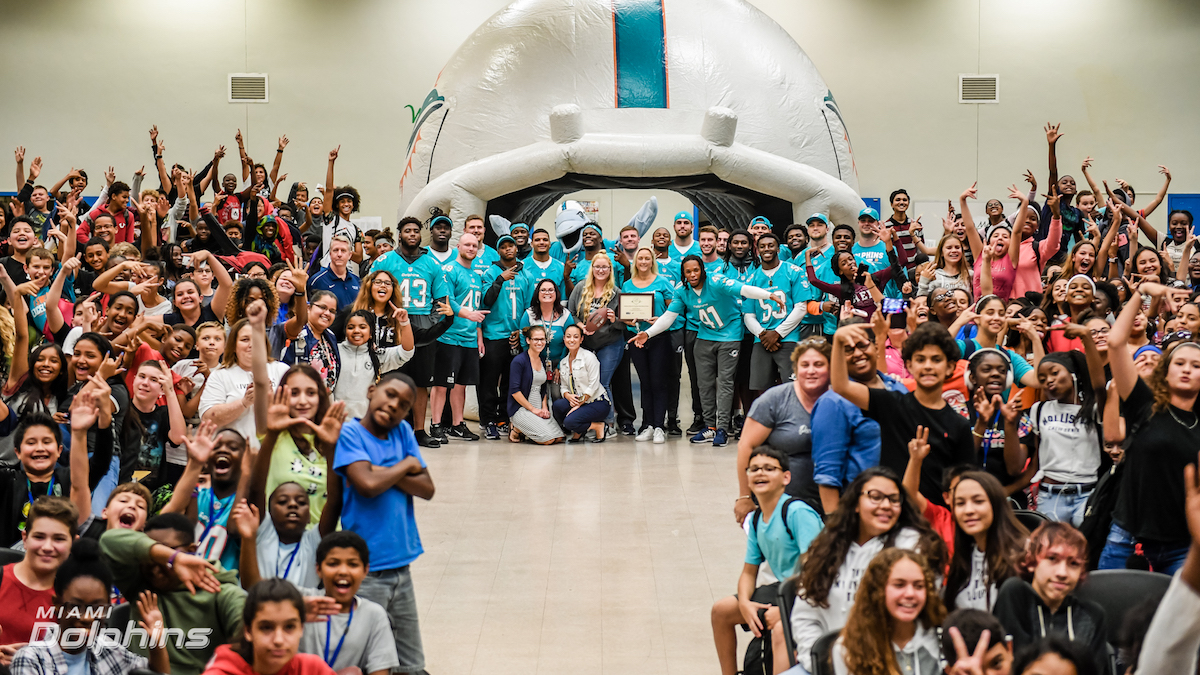 Miami Dolphins Press Release
---
 – The Miami Dolphins rookies, United Way of Broward County and educators from Forest Glen Middle School recognized middle school students active in the Character PlaybookTM program, an education initiative focused on youth character development and building healthy relationships. Character PlaybookTM is the latest innovation in the more than 40-year partnership between the NFL and United Way. The Miami Dolphins and United Way of Broward County bring this web-based program to schools throughout Broward County, and have reached more than 2,700 students in almost 50 schools since the program's inception in spring 2016.
Today, the rookie class and @UnitedWayBC stopped by Forest Glen Middle School to recognize students who are participating in the Character Playbook program! pic.twitter.com/i6Ud7FlHGc

— Miami Dolphins (@MiamiDolphins) May 16, 2018
Students at Forest Glen Middle School received certificates today for their outstanding work within the program. The event featured remarks from students, administration and United Way of Broward County Director of Educational Initiatives Robin Molan. Students also enjoyed a panel led by Miami Dolphins players Johnathan Alston, Cornell Armstrong, Jerome Baker, Kaylen Ballage, Cayson Collins, Jalen Davis, Minkah Fitzpatrick, Mike Gesicki, Lucas Gravelle, Connor Hilland, Buddy Howell, Greg Joseph, Claudy Mathieu, Mike McCray, Anthony Moten, Jamiyus Pittman, Quentin Poling, Quincy Redmon, Jason Sanders, Durham Smythe and David Steinmetz to discuss character development and decision-making.
"United Way of Broward County is proud to partner with the NFL for the Character Playbook program," said Kathleen Cannon, President and CEO United Way of Broward County. "This initiative is vital for children in our community to develop applicable life skills as well as provide them with the tools needed to establish healthy relationships during an important time in their life."
"Community is important because community helped me get through what I went through when I was younger, when I was these kids' age – when I was exactly these kids' age," Miami Dolphins first-round draft pick and S Minkah Fitzpatrick said. "Just teaching them about community, about character. They can take something real small from me and just apply it."
The Character PlaybookTM initiative was launched nationally during the 2016 NFL Draft and is powered by education technology leader EverFi, which works with more than 20,000 K-12 schools. Character PlaybookTM modules are designed to help students develop healthy relationships and social norms. The program will be evaluated by measuring student knowledge gains as well as attitude and behavioral change.
Miami Dolphins Recognize Forest Glen Middle School Students in Coral Springs https://t.co/A2C3u2SrVI @browardschools @MiamiDolphins @UnitedWayMiami pic.twitter.com/6NUnFTI0C2

— Coral Springs Talk (@Coralspringsfla) May 16, 2018
"I am so proud of the work that Mrs. Meyer and the students put into learning and applying the Character Playbook program. This course aided our teachers in developing their Peer Counseling curriculum," said Ronald Forsman, Forest Glen Middle School Principal. "Character Playbook is instrumental in the Social and Emotional Learning of the students who completed the program, and as a result has impacted their peers as well. On behalf of everyone at Forest Glen, we are grateful for the partnership with the Miami Dolphins and United Way of Broward County. A winning collaboration making a difference in the lives our students."
– Miami Dolphins
[foogallery id="12329″]
(Visited 234 times, 1 visits today)