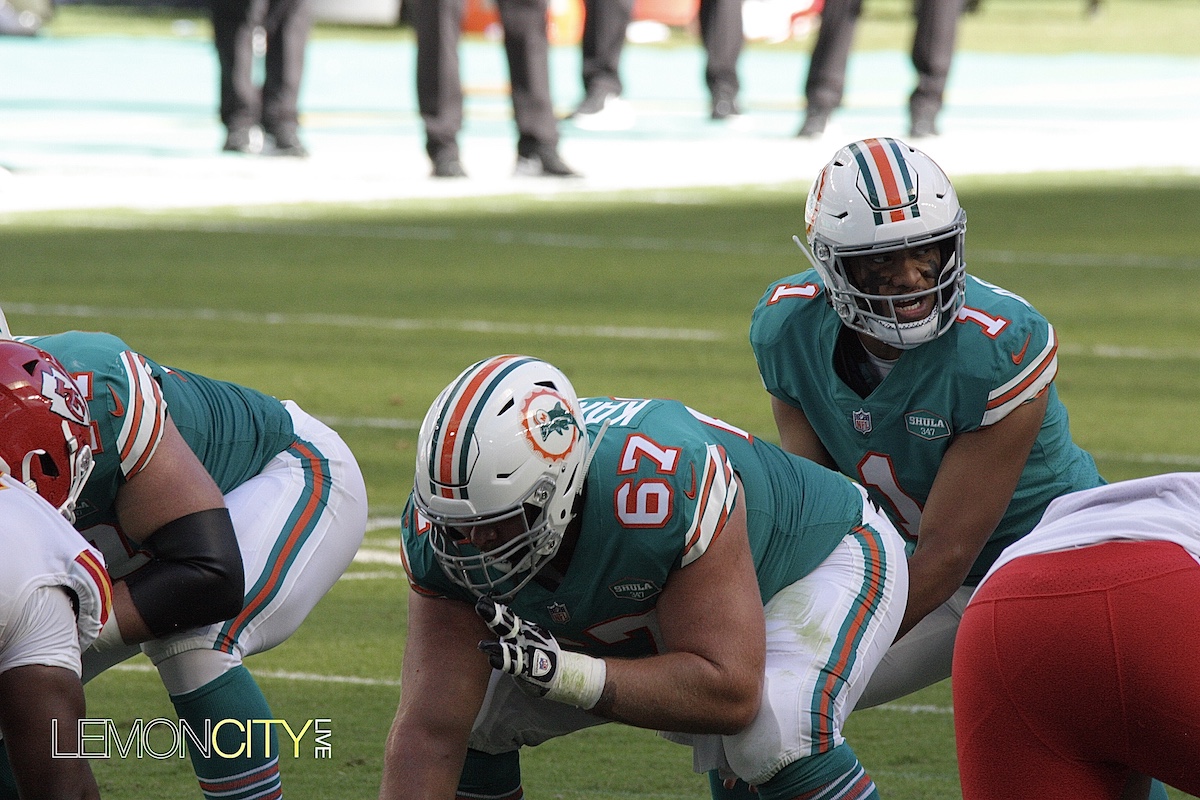 ---
Miami Gardens, FL – Let's face it. No one expected the Miami Dolphins to be sitting here at 8-5. More than that, no one expected the Fins to have Mahomes and Co. sweating late in the game, with a chance to be 9-4. Yeah, Miami fell to the defending Super Bowl champion and consensus best team in the NFL, the Kansas City Chiefs, 33-27, but they showed why the rebuild is still trending upward. Maybe a Miami Dolphins Moral Victory isn't what you wanted, but even that victory in and of itself is way ahead of schedule.
Defensively Minded
At this point, If you haven't jumped on this Miami Dolphins defensive bandwagon yet, you're doing it wrong. The Fins forced Patrick Mahomes into three interceptions. Two were only in the 1st quarter! Also, for the 1st time since week 17 of the 2018 season, Mahomes threw more INT's than touchdowns. He felt the pressure and the Fins defenders were everywhere. Jerome Baker even caught him for a 30-yard loss on a sack. It takes a village to raise a child and it took the entire defense to slow down Mahomes. Also, my sauces have confirmed that he had no ketchup in the locker room.
Our guy, @Lastname_Baker, will now reside in @PatrickMahomes' nightmares, sacking the @Chiefs QB for a 30-yard loss!#FinsUp #KCvsMIA pic.twitter.com/meGMmbaU0K

— Lemon City Live (@LemonCityLive) December 13, 2020
Jokes aside, besides the defense, the offense showed flashes of growth against a more-than-competent Kansas City defense. Moreover, if you think Tua ain't the guy for the job, how do you explain today's game? He came out ready to handle business, going up 10-0 before plummeting back to reality. KC would go on to score 30-straight points in a little over 16 minutes, leading 30-10. However, the Fins are as mentally strong as they come, a reflection of Coach Brian Flores.
The Comeback?
The comeback began on the defensive end with Xavien Howard pulling in his 9th INT of the season on an amazing one-handed catch in the endzone! Tua marched his troops downfield, not once, but twice, bringing Miami to within six points. Mike Gesicki was Tua's boy today, reeling in two TD's. Unfortunately, it wasn't enough to upset the reigning champs of the NFL.
The comeback march begins with another @Tua TD pass to @mikegesicki!
Fins trial 30-17 in the 4th.#FinsUp #KCvMIA pic.twitter.com/tZsmSCjIi7

— Lemon City Live (@LemonCityLive) December 13, 2020
Technically, Miami's offense scored more points than the Mahomes led offense. Six KC points came from a punt return TD by Mecole Hardman. Another two came from a safety. What if I told you Miami's offense would score more than the Chiefs and that Miami would force Mahomes into four turnovers? All that against the NFL's best offense. However, they still allowed KC to score as much as they always do, averaging around 31 ppg.
A Moral Victory
As long as you show improvements, what else can you ask for? The steady improvements seen by the Fins seem to be Coach Flo's calling card. The young 39-year-old leader of men has done a supreme job at turning this organization around. Last season, after stripping the team down, they started 0-7. This season, they're 8-5 narrowly falling to one of the more prolific offenses in NFL history, led by their QB of the future. The future is right around the corner. Not bad for a Miami Dolphins moral victory.
Next up, Miami hosts the New England Patriots. New England is 6-7 and in danger of not making the playoffs for the first time since 2008.
Photo Credit | Edwin Garcia
(Visited 60 times, 1 visits today)