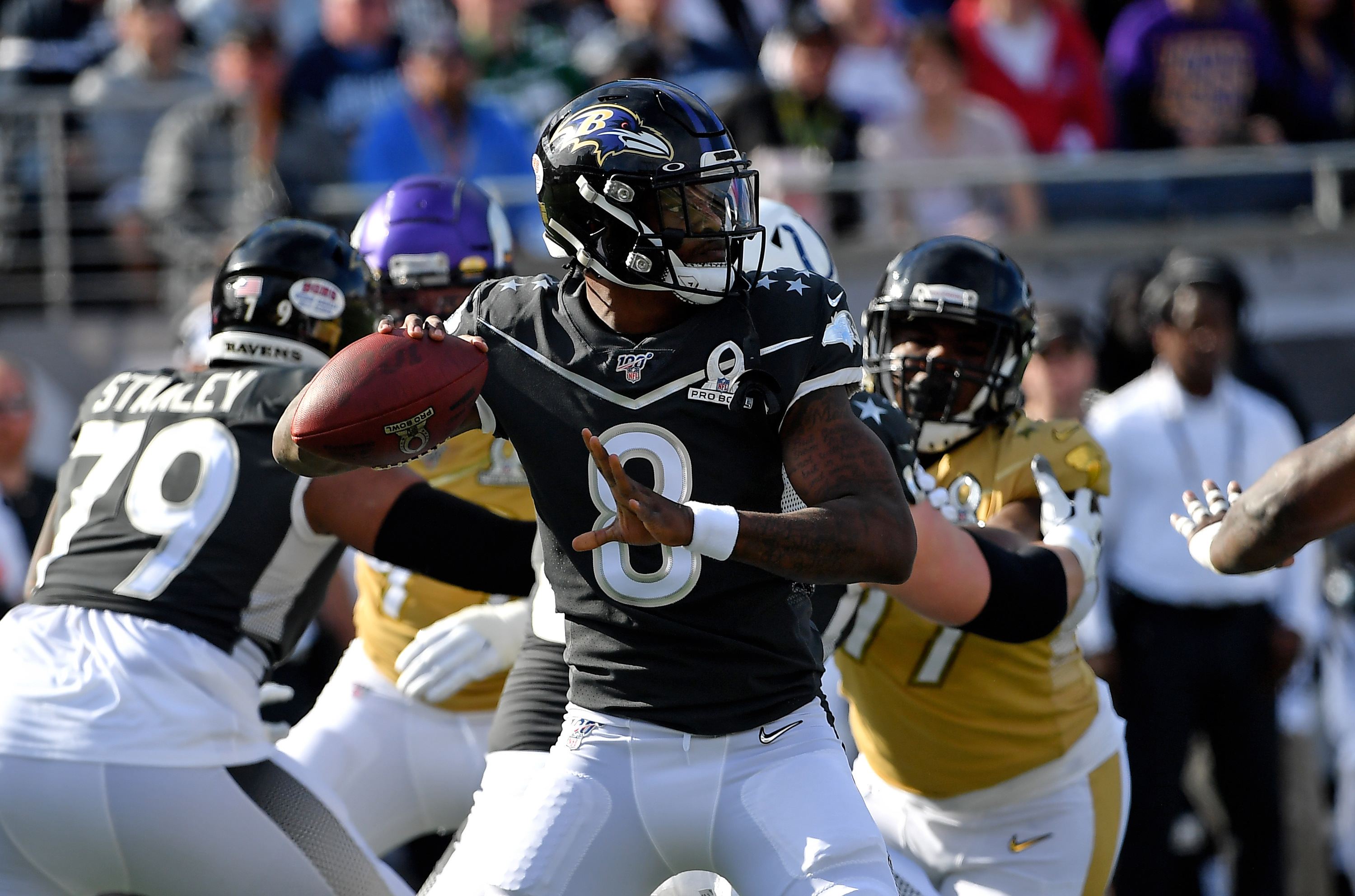 Orlando, FL – It's no secret that your favorite football player probably began his football career playing Pop Warner football in Miami, or somewhere in South Florida. The region is an NFL factory, plain and simple. The City of Miami leads the league with 27 players, and Ft. Lauderdale is third behind Houston (21) with 14 players, 13 of which come from powerhouse St. Thomas Aquinas High School. That doesn't even include players from all the other parts of Dade and Broward County! The 2020 Pro Bowl put South Florida on full display, and our hometown guys didn't disappoint.
The game itself was exactly what you'd expect out of the Pro Bowl, a bunch of guys having fun, celebrating their season, playing a game they love. The AFC took the 38-33 W over the NFC. Most of the damage was done in the 2nd quarter by the AFC. However, the NFC made it interesting in the 3rd.
AFC Offense
Lamar Jackson was the starting QB for the AFC. The Boynton Beach Baller and Heisman Trophy winner made his 1st Pro Bowl in only his second season, leading the league in passing touchdowns. He also made 1st team All-Pro and is the front runner for MVP. Well, now he can add Pro Bowl Offensive MVP to his resume. He went 16 of 23, 185 yards, two 1st-half TDs, and an INT in his Pro Bowl debut. Way to make South Florida proud!
Former Miami Dolphins QB, Ryan Tannehill made his 1st Pro Bowl after his amazing run with the Tennessee Titans. While Ryan didn't have the same success in Miami as he did this year with the Titans, it's no surprise that, when healthy, and supported by a decent offensive line and run game, his skills flourish. Tannehill recorded a three-play, 75-yard touchdown drive in the 3rd quarter.
Tyreek Hill, born in Lauderhill is now a 4x Pro-Bowler, but he missed the Pro Bowl because he'll be playing in Super Bowl LIV as a starting WR for the KC Chiefs. I'm sure he doesn't mind missing the Pro Bowl to play in his 1st NFL game at Hard Rock Stadium, which just happens to be the Super Bowl! Head to Instagram @lemoncitylive to see how he answered our question at Super Bowl Opening Night.
Laremy Tunsil was traded on August 31, 2019, from the Miami Dolphins to the Houston Texans. Miami decided to go all-in with their rebuilding strategy and that meant stockpiling draft picks. In exchange for Tunsil, Kenny Stills, and a 4th-round pick, the Fins received two 1st-round picks, a 2nd-round pick, Johnson Bademosi, and Julien Davenport.
AFC Defense
On September 16, 2019, Minkah Fitzpatrick, along with Miami's 2020 4th-round and 2021 7th-round draft picks were traded to the Pittsburgh Stealers in exchange for a 2020 1st-round, 2020 5th-round, and 2021 6th-round draft pick. The dude had himself a great season, earning his 1st Pro Bowl selection. He recorded himself a tackle.
Former Miami Hurricane DE, Calais Campbell, now playing for the Jacksonville Jaguars is a 5x Pro Bowler and won Pro Bowl Defensive MVP. He recorded a tackle and a sack and was just an overall menace out there. At 6'8″, I don't know how anyone can stop him.
Geno Atkins of the Cincinnati Bengals is an 8x Pro Bowler. The St. Thomas Aquinas product assisted in a tackle, and next season he'll most likely be chasing Joe Burrow around at Bengals practice.
NFC Offense
Dalvin Cook, a product of Miami Edison High School and the older cousin of FIU's RB, Anthony Jones, had himself a breakout season in year three of his professional career. The Miami native suffered from various injuries throughout his 1st two seasons, including an ACL tear his rookie season. He suffered a chest injury in week 10 this past season, but his production was already there. He finished the season with 1,135 rushing yards, 13 rushing touchdowns, and 53 receptions for 519 receiving yards.
Dallas Cowboys WR, Amari Cooper is a product of Northwestern High School in Miami, FL where he played with Teddy Bridgewater. This was his 4th Pro Bowl and his 2nd as a Dallas Cowboy. He notched a touchdown in the 2nd quarter. He finished the season with 1,189 yards and eight touchdowns. No Bull!
NFC Defense
That South Florida style of defense is fast and in-your-face. Xavier Rhodes is no exception. The 3x Pro Bowler played his high school ball at Miami Norland High School, minutes away from Hard Rock Stadium. The 2017 1st-team All-Pro cornerback showed why he's been considered a top-level corner, collecting four tackles in the Pro Bowl.
The Chicago Bears have one of the top defenses in the league, thanks in part to Eddie Jackson out of Lauderdale Lakes. The 2x Pro Bowler made his presence felt in the league almost immediately, playing in his 1st Pro Bowl in only his 2nd NFL season in 2018. The Boyd H. Anderson High School grad recorded two assisted tackles in his 2nd Pro Bowl.
Honorable Mentions
These two dudes aren't technically from South Florida, but they're close enough, south of Orlando. Khalil Mack is without a doubt one of the most menacing defensive players in the league. The man is a 5x Pro Bowler, 3x 1st-team All-Pro, and the 2016 Defensive Player of the Year. Khalil represents Fort Pierce like no one else. However, he chose not to participate in the game this season. Shaquill Griffin, coming out of St. Petersburgh, played in his 1st Pro Bowl, and it won't be his last. He was drafted to Seattle during the last season of the famed Legion of Boom defense, but he's kept that same energy alive, becoming one of the top cornerbacks in the league.
📸Credit: Steve Mitchell & Kirby Lee-USA TODAY Sports
(Visited 119 times, 1 visits today)