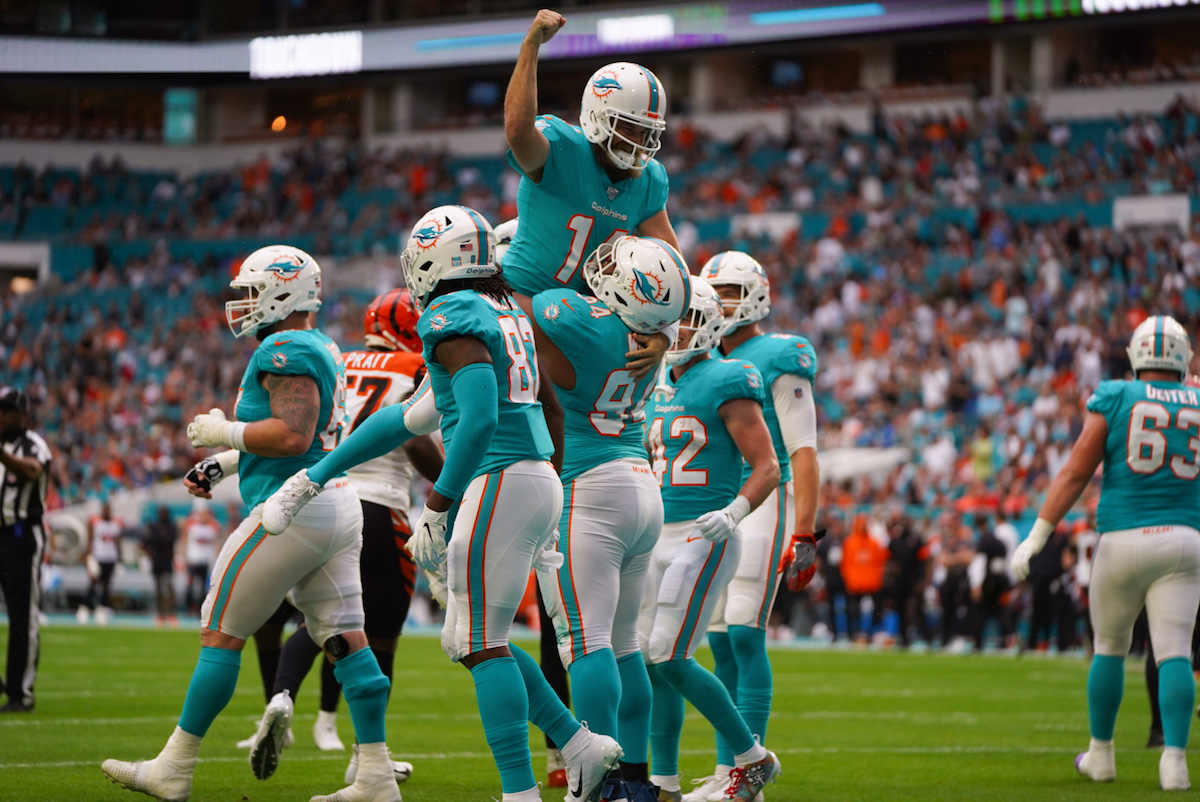 ---
Miami Gardens, FL – The Miami Dolphins won their last home game of the season, defeating the Cincinnati Bengals 38-35 in overtime, making some history in the process. What have we learned from this season? Josh Rosen is not the guy to lead the Fins into the future. Ryan Fitzpatrick can still somewhat hold it down. DeVante Parker, when healthy, is an All-Pro type of talent. Also, Mike Gesicki, much like the Fins themselves, has shown incremental growth in his game. Those have been the silver linings to a rough season of rebuilding.
But rebuild they must! Not only the roster, but also the culture, and that comes from the coaching staff. Brian Flores has shown himself to be a competent coach, winning four games this season, which is four more than anyone thought they would win. In the process, he's shown that he can put players in a position to succeed. Mike Gesicki and DeVante Parker, who just signed a new four-year, $40 million contract extension with the Dolphins, are prime examples of that. Former University of Miami Hurricane WR, Allen Hurns has also emerged in this offense after bouncing around from the Jaguars to the Cowboys, with the Dolphins making good use of him. He's a great case of a player that made good use of his opportunity here and is going to stick around. Miami extended Hurns in November, signing a two-year deal worth $8 million, with $3.27 million guaranteed. These guys are all reasons why the Dolphins won their last home game.
🐬Touchdown Fins!@DeVanteParker11 hauls in a 19-yard pass, a 51-yard pass, and then a 7-yard touchdown pass to extend @MiamiDolphins lead to 14-0! pic.twitter.com/irkEfnoAIE

— Lemon City Live (@LemonCityLive) December 22, 2019
Miami Dolphins' preseason goals
Miami went into this season with one goal in mind, and that's to put themselves in the best position to acquire the most talent during the 2020 offseason. The front office dealt away their best players in order to stack up draft picks, while at the same time, depleting the roster, doing away with any chance they had to win this season.
Miami doesn't exactly have the best track record when it comes to drafting, but Chris Grier looks to change that trend.
In the 2016 draft, he was responsible for bringing in: Round 1, Pick 13 – Laremy Tunsil, OL, Ole Miss; Round 2, Pick 38 – Xavien Howard, CB, Baylor; Round 3, Pick 73 – Kenyan Drake, RB, Alabama; Round 6, Pick 186 – Jakeem Grant, WR, Texas Tech; amongst others.
The following year, in the 2017 draft, he was responsible for drafting: Round 1, Pick 22 – Charles Harris, EDGE, Missouri; Round 2, Pick 54 – Raekwon McMillan, LB, Ohio State; Round 3, Pick 97 – Cordrea Tankersley, CB, Clemson; Round 5, Pick 178 – Davon Godchaux, DL, LSU.
In 2018, Grier brought in: Round 1, Pick 11 – Minkah Fitzpatrick, S, Alabama; Round 2, Pick 42 – Mike Gesicki, TE, Penn State; Round 3, Pick 73 – Jerome Baker, LB, Ohio State.
🐬Touchdown Fins!@mikegesicki records his 1st multi-TD game, extending the @MiamiDolphins lead to 28-12!#FinsUp #MIAvsCIN pic.twitter.com/8qVrtCnjRN

— Lemon City Live (@LemonCityLive) December 22, 2019
Finally, the 2019 draft class, which was his 1st as the main guy in charge of the draft, brought in: Round 1, Pick 13 – Christian Wilkins, DT, Clemson; Round 3, Pick 78 – Michael Deiter, G, Wisconsin; Round 5, Pick 151 – Andrew Van Ginkel, LB, Wisconsin.
Over 90% of his draftees are still in the NFL. While not all are with Miami, like Minkah and Tunsil, who were traded for multiple draft-picks each, all of these players have proven to be NFL quality players that can contribute. The Dolphins have $97Million in cap space for the 2020 season, and three picks in just the 1st round of the draft! If Grier can continue picking players than are capable of contributing, at even a 60% rate, we'll be looking at a complete overhaul into a team that is capable of competing year-in and year-out.
The last home game
Tonight's game was a microcosm of what the Fins are capable of becoming and what they still have yet to become. Miami got off to a quick start, scoring in their 1st two drives. The 1st drive went 12 plays for 75 yards, with Hurns making a couple of 27-yard and 14-yard catches respectively. It culminated with a Christian Wilkins (DT) TD! What a moment for the rookie from Clemson .he 2nd drive was all DeVante Parker. He caught a 19-yard and a 51-yard pass, and then scored the seven-yard touchdown to put the Fins up 14-0.
A big man touchdown gets a big man touchdown dance.
Christian Wilkins catches a goal line 1-yard pass from Fitzy to give the @MiamiDolphins an early 7-0 lead!#FinsUp #MIAvsCIN pic.twitter.com/sbB0sz2BlX

— Lemon City Live (@LemonCityLive) December 22, 2019
In the 2nd quarter, Mike Gesicki showed why you should pick him up as a top 10 TE in next season's fantasy football league. He went deep, catching a 31-yard touchdown pass from Fitzpatrick, but he wasn't done. Early in the 3rd quarter, he caught another touchdown pass, this time a 13-yarder, making this his first multi-touchdown game of his career.
Cincinnati followed that up with a touchdown of their own but failed to convert on the two-point conversion, leaving the game at 28-12 heading into the 4th. Miami notched on another TD, with a Myles Gaskin two-yard run to go ahead 35-12, and that's when things fell apart. The Bengals would go on to score not one, not two, but three unanswered touchdowns with just over six minutes remaining in the game, sending the game into overtime 35-35. However, Miami showed the culture change, pulling out a resilient overtime win, off a 37-yard Jason Sanders field goal, made possible by a couple of big Isaiah Ford catches.
Looking ahead
Next up, in week 17 the Miami Dolphins travel to New England to face a Patriots squad that already locked down a 1st round bye week in the playoffs. I expect Brian Flores to pull out all the tricks in the book in order to get a win over his former boss, Bill Belicheck, allowing him to ask "The Dolphins won their last home game. How about you guys?" Although, Miami doesn't usually fare well in New England in December. Crazier things have happened. To win that game would be so "Miami Dolphins".
📸Credit: Danis Sosa
(Visited 280 times, 1 visits today)