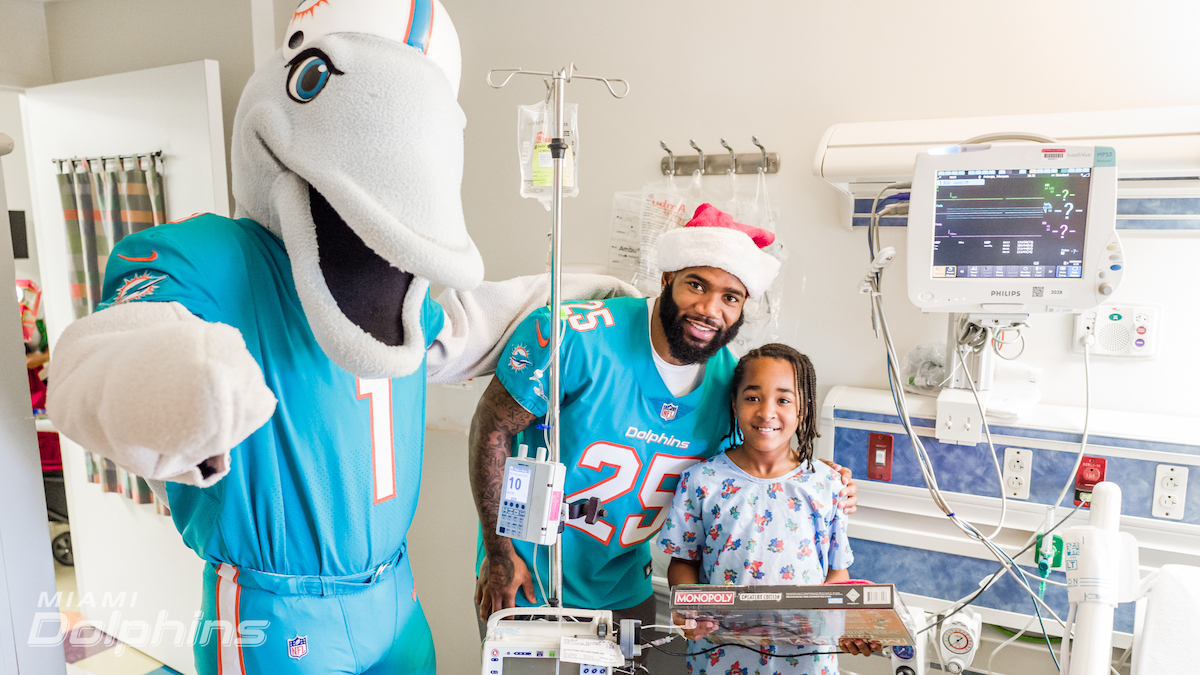 ---
Miami, FL – Miami Dolphins cornerback Xavien Howard, T.D. and staff spent the day visiting patients, distributing gifts and spreading holiday cheer at Baptist Children's Hospital, part of Baptist Health South Florida, on Monday, Dec. 16.
"Putting a smile on their faces and being able to motivate them, it motivates us to keep pushing and not take things for granted," Howard said. "I'm in my fourth year here and I love these opportunities that the Dolphins give me, especially with the platform I have to experience priceless moments that I am able to cherish outside of my family."
The children had the opportunity to interact with Howard and T.D., get autographs and take photos as they received gifts from the Dolphins including stockings and board games in an effort to brighten their day during the holiday season.
.@Iamxavienhoward and @BaptistHealthSF spreading holiday cheer @NFL #DolphinsHuddlefor100 #FootballUnites pic.twitter.com/uk9RJX8VMg

— Jason Jenkins (@jasonljenkins) December 17, 2019
"I saw the players and I was really excited and surprised because I really like the team and they gave me a tablet so I am definitely ready for Christmas," Baptist Children's Hospital patient Rachel Curbelo said.
"We are grateful to the Miami Dolphins for taking the time from their busy schedules to visit our pediatric patients during the holidays," Baptist Children's Hospital Director of Patient Care Lourdes Castaneda, R.N., said. "Their company and gifts help lifts the kids' and even their families' spirits at a time that is especially difficult."
These events are part of an ongoing series of the #DolphinsHuddlefor100 service projects as part of the NFL's 100th celebration. The NFL has invited fans, players, clubs and employees to join Huddle for 100, an effort to inspire 1 million people to volunteer 100 minutes of their time to make meaningful contributions to their communities. These activities are in connection with the Miami Dolphins' initiative to level the playing field through the power of teamwork to inspire a healthier, more educated and united South Florida community. For more information on the NFL Huddle and to see volunteer opportunities with the Dolphins, visit https://www.miamidolphins.com/community/specialteams.
Photo Credit | Miami Dolphins
(Visited 65 times, 1 visits today)