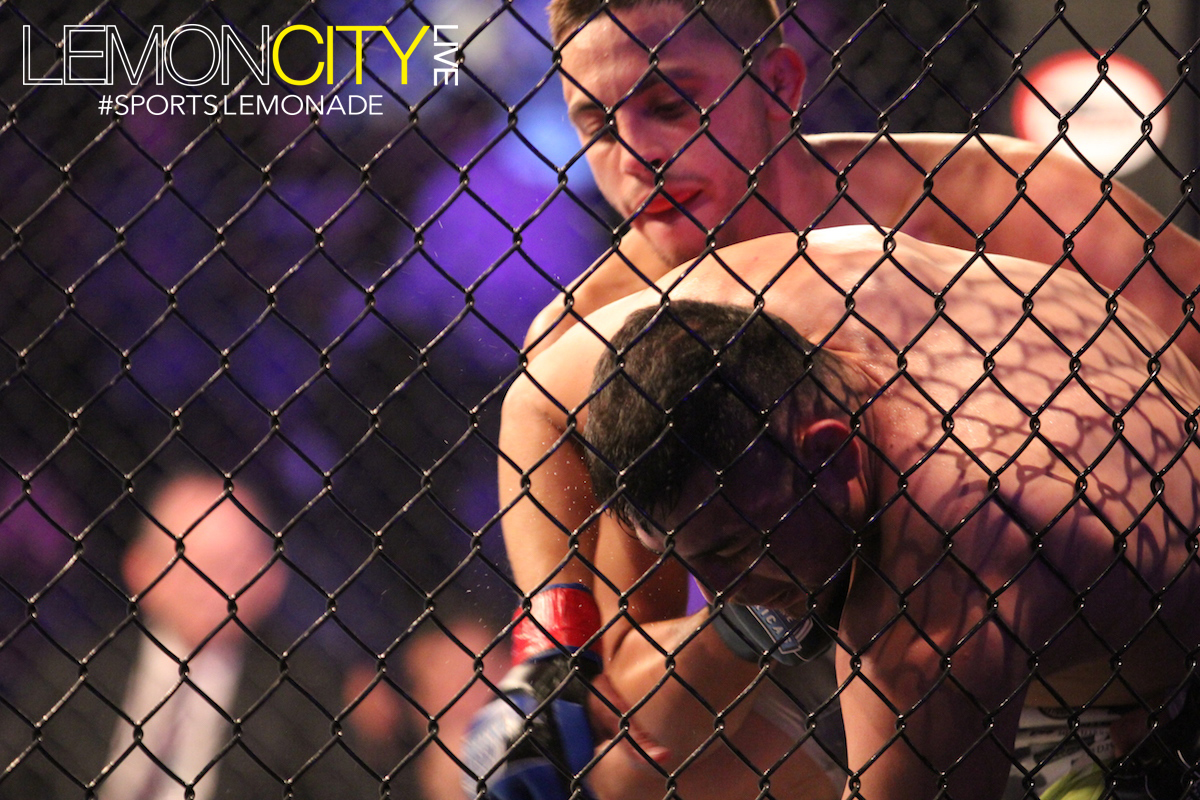 Wynwood, Florida – Miami has become a hot bed for the sport of MMA in recent years. Not so much in the amount of events that take place, but more so for the amount of fighters that have been coming out of this town. On July 27, 2017, Combate Clasico was here in Miami; in Wynwood out of all places. Beautiful set up in my opinion, lights were on point, beautiful ring girls, plenty of seating, and the fights were great. Some fights were straight up slugfest, and some were clearly one sided. All in all, it was a great event and I am very glad that Miami is starting to have more of these. I had a great time and I hope that this won't be the last time Combate Clasico will be in Miami.
Cage side at @combateamericas for @chrisavila209 👊💯https://t.co/jaYwzWTQbW#represent #teamavila #killorbekilled pic.twitter.com/PYcKz3Pv87

— Represent LTD.™ (@RepresentLTD) July 28, 2017
The first fight was between Wes Cantillo from Black Sheep MMA and Gustavo Trujilllo from American Top Team. I've seen Wes Cantillo in the light-heavyweight division (my favorite division). I know I have seen Wes Cantillo before, but honestly, I just can't remember where. He was coming in with a record of 0-1. Gustavo Trujillo was making his debut that night, but dude, you couldn't tell. If you would have told me that, I would have said "no way!" This dude's striking is on point. He looked smooth and confident, landing great shots from afar. He started with a nice forward kick to the chest of Cantillo, followed by an overhand right and, get this, a flying knee that landed flush to the head of Cantillo. The second round was another dominating performance by Trujillo, he got Cantillo onto the ground and proceeded with some nasty elbows. But you can see that Trujillo was lacking some ground game, which really didn't matter because he did enough to keep Cantillo on the ground. Next thing you know, these nasty elbows cut open Cantillo, blood starts to splatter and the ref jumps in and stops the fight. Trujillo wins by TKO. Man, it was a great fight!
Rafael "Rafa Thai" Alves fought Rudy "Ruthless" Morales in the featherweight division. When I said some were easily one sided fights, well, this was one of them. Rafa the Brazilian was clearly on another level from the American Rudy. Alves was dominant in every aspect, striking, ground game, and just overall strength. Alves started the fight with great kicks to the chest followed by a beautiful axe kick, which is rarely seen in MMA, let alone be pretty effective. Probably my favorite move of the fight was Alves' beautiful leg sweeps, and it wasn't from up close, he was sweeping this guy from arm's length and the crowd was loving it. Morales had no defense for it. If Alves wanted him on the floor, it was going to happen. Once it was on the ground, Alves was beating the crap out of Morales. The second round was more of the same, Alves had a solid game plan, which I'm sure even without it he could've won due to this guy's experience level. Morales did have heart though, he came in swinging each time, pushed forward, but still couldn't do anything against the leg sweeps. Another amazing move in the fight was with Morales on the ground, Alves did a jumping somersault and landed on poor Morales with a beautiful hammer fist. Rafa Thai won by decision.
Rafael Alves vs. Rudy Morales#CombateClásico 📸 @ScottHirano pic.twitter.com/pX6LGSOzeq

— Combate Americas (@combateamericas) July 28, 2017
Next fight was in the bantamweight division, which is usually a very exciting weight class due to the speed and explosiveness. We had Irwin Rivera from Boca Raton fighting with Blackzillians versus Gamaliel "Chino" Duran, a Miami native and fighting with American Top Team. This fight was pretty one sided too, Rivera was the aggressor with a brawling style of fighting, a real tough guy. Duran had heart, I know it's a term used by people when a certain fighter just won't go down easily, but this guy had heart which he showed by pushing forward and getting beat up nicely. Not much more happened in the fight really, just a clear and easy win for Irwin Rivera.
The next fight was in the welterweight, so these dudes were bigger and meaner. Ozzie "The Outlaw" Alvarez, another Miami native was followed by a huge fan base. His opponent was Anderson "Son" Melo from Brazil. Let me tell you, this was a great fight, well, mostly because Alavarez put a nice beating on Melo. Alvarez clearly has a wrestling background, he was shooting nicely and landing double legged take downs and holding Melo down with a vicious ground-and-pound. Alvarez's fans were going crazy in the stands, shouting out "OZZIE!" First two rounds were very one sided with Alvarez destroying Melo with the stand-up and following with the double-legged take-down. But at the third round, Melo got a second wind in him. He was taken down by The Outlaw, but scrambled out and managed to get the back of Alvarez, where he got his hooks in place and immediately made an attempt to go for the rear naked choke. However, Melo couldn't follow through with it, but did start a nice barrage of fist to Alvarez's face. Too bad it was too little too late at this point. The Outlaw won by decision.
Alberto Montes entra a #LaJaula junto a @nacholacriatura! #CombateClásico pic.twitter.com/qa8tFxc6ue

— Combate Americas (@combateamericas) July 28, 2017
Alberto Montes fighting out of Venezuela with MMA Masters, a gym that's been a long-time successful staple in Miami; I have seen many of their fighters achieve victory throughout the years. His opponent was Jonathon Quiroz. Quite the age difference between these two dudes and skill, in my opinion. Alberto Montes has incredible striking, landing nice combinations, leg kicks both inside and outside, it was a lot of fun to watch this guy pick apart Quiroz for the whole three rounds. There was apparently some beef between the two before the fight, but it made very little difference. Montes controlled the fight in the stand-up, landing more shots, controlling the ring. In the first round, Montes landed a nasty kick to the chest of Quiroz that clearly hurt bad. Unfortunately, Montes did not press the attack. It was an exciting fight, lots of emotion from Quiroz, but much more confidence from Montes – at some point in the fight, he even flipped off Quiroz -. Alberto Montes got the clear win.
The only female fight in the card was between Kyra "Mogwai" Batara against Vanesa Rico from Spain. I'll be honest, at first glance, I immediately gave the fight to Vanesa Rico due to just sheer size of her arms and, well, the stature of Kyra. Rico came in swinging, and was the clear better striker, which only reaffirmed my prediction of her taking the win. It was a brutal slugfest in which it appeared to be too much for Kyra, so much that she was dropped twice to her knees. But bless this girl, she got up. Wobbly, but she managed to survive into the second round. In the second round the tables were turned and we got to see Batara's actual talent, which is in Brazilian Jiu-jitsu – well, kind of. In the beginning of the second, Batara took down Rico and held her against the cage, where she kind of awkwardly positioned herself in a uncomfortable position. One thing led to another and she managed to get a pretty weak arm-bar from the side of Rico, almost from the back. But whatever, she got it. Mogwai took home the W.
I was really looking forward to the main event. It was Nate Diaz's guy (Chris Avila) from Stockton, California versus Ricardo "El Gallero" Palacios. I was expecting to see a similar fighting style, the type we usually see from the Diaz brothers; the punches in bunches, the swearing, and the amazing boxing. Yeah, I understand he is still young and learning, but the dude had the reach advantage on Palacios and didn't use it, hardly any jabs were thrown. He kind of just stood there. But Palacios was on point, coming with the overhand right, coming in on the inside over his larger and longer opponent. Avila did have some good take-downs proving his BJJ background, but Palacios was too much and just couldn't be kept down. Nate Diaz was clearly getting irritated at his prospect, but hey, that Palacios was great. Nate Diaz must have said something to him at the end of the second round because in the third round, Avila was fighting just like one of the Diaz brothers. Arms in the air, more confident and aggressive, looking a lot better. It was a total change, throwing way more jabs and taking advantage of his length. But once again, too little, too late. El Gallero put on a cowboy hat to accept his unanimous decision.
Overall, the fights were  great and the venue was well done. The circular ring was pretty cool, I think it has its advantages over an octagon, in my opinion. I really hope the Combate Clasico comes back to Miami.
To see more pictures from this event, please CLICK HERE.
Don't forget to follow us on Twitter, Facebook, and Instagram.
(Visited 175 times, 1 visits today)