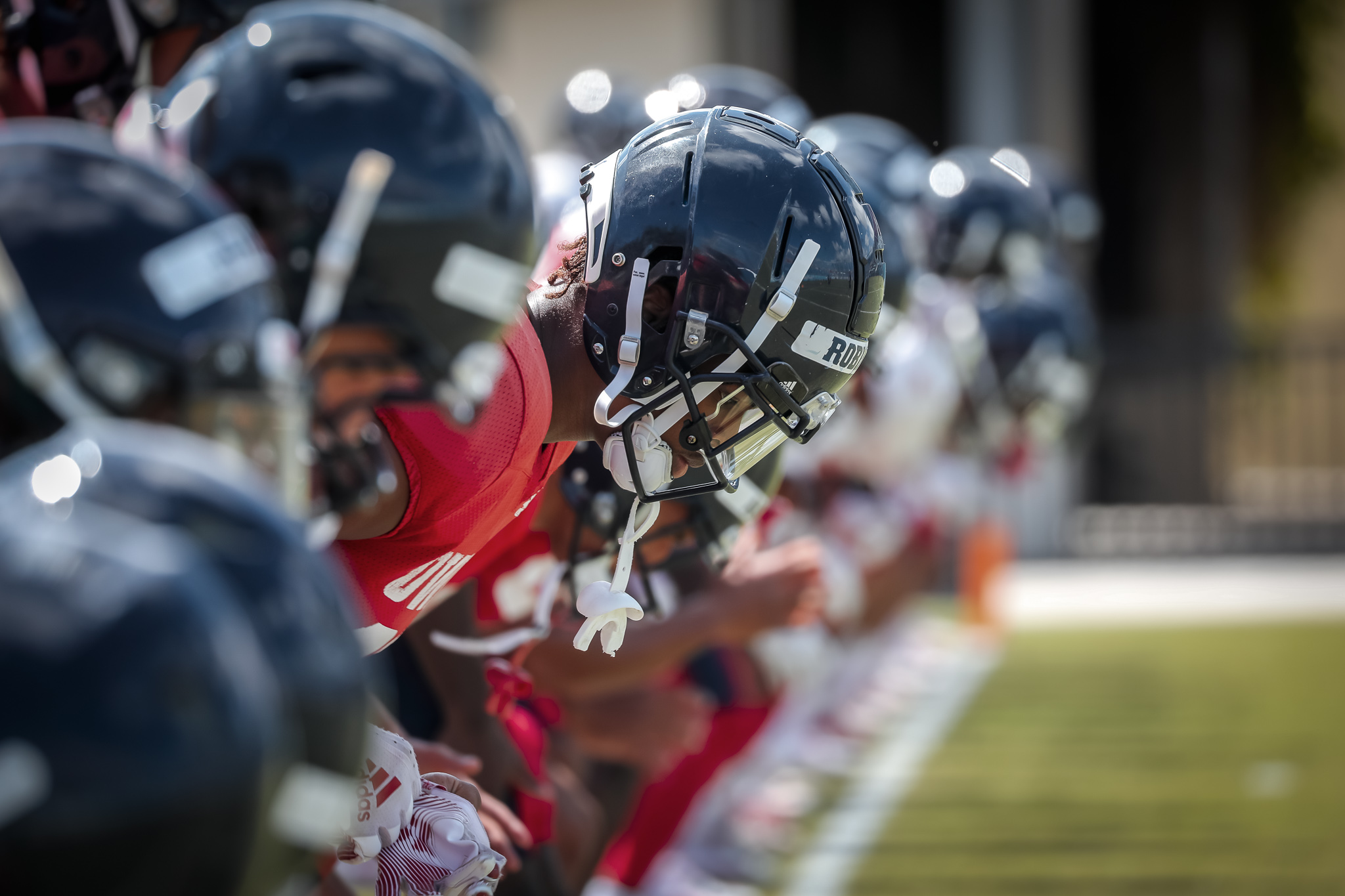 ---
After a blowout victory against the Georgia Southern Eagles last Saturday, the FAU Owls look to repeat those events against the Fordham Rams tonight.
A win against Fordham would make it nine straight games at home, 10 if you count the Boca Raton bowl victory against SMU in 2019.
Not to spoil my final score predictions, but there isn't a reason that the Owls shouldn't handle business against the Rams. However, it seems there is a trend when it comes to FCS teams upsetting FBS teams. 
FAU head coach Willie Taggart's former team, the Florida State Seminoles, lost to Jacksonville State on a final-play touchdown last Saturday. 
The thought of an upset is entirely possible, but there shouldn't be a doubt that the Owls come out with a win by a large margin.
As aforementioned, with Fordham being an FCS team and in the Patriot League, this should be an easy win for the Owls on paper, Taggart is seeing this like any other game and isn't "looking ahead."
"We haven't talked about anybody else other than Fordham. Everything is about Fordham and how we plan but it's been more about us, we got to have the attitude and have the culture that is a certain standard that we play. It doesn't matter if it's a nameless opponent that we're going into, we got to play at a certain standard," Taggart said. Every single time, that's a challenge for us and that's hard, you know, but if we want to be the championship team, those are the things that we have to do."
Defend Paradise.

🕕 6 PM
📺 ESPN3
🏟️ FAU Stadium
📍 Boca Raton, FL pic.twitter.com/AHcHFdp51I

— FAU Football (@FAUFootball) September 18, 2021
Offense
After a 14-point performance against the Florida Gators in week one, FAU's offense came to light as they scored 38 on Georgia Southern.
QB N'Kosi Perry is looking to continue his success from last week as he threw for 332 yards and four touchdowns.
While there weren't a lot of negatives in the win, Taggart said how they would've wanted to start faster against the Eagles. 
"We just gotta execute, our problem is lack of execution and a lack of consistent execution," Taggart said. "I think if you look at the first two ballgames, that's what you saw. We moved the ball and then we stubbed our toe with a fumble on the ground or a penalty that gets us behind, and things of that nature. We got to stop doing that especially in the first drive of the game."
On coach's observation, FAU will have a prime opportunity to use Fordham as a stepping stone into conference play for a more consistent game as Taggart said. 
Perry spread the ball around last week as pass-catchers LaJohntay Wester, John Mitchell, and Je'Quan Burton saw a ton of action and all caught touchdowns.
Mitchell, who caught four passes for 60 yards and two touchdowns, assess his performance and how he feels about his play.
"I felt good, I felt good. It just comes down to when your number is called and making the play," Mitchell said. "You know, I got my number called a couple of times, and we practice stuff like this day in and day out, so you just kind of lose yourself. You don't get caught up in 'wow, this ball is in the air, it's game time.' You don't want to be too tight. It's just football. We've been playing football since we're little kids, so, I just kind of did what I felt like I knew how to do."
Burton didn't get his number called as much, but when the ball came his way, he made the most of it. He only caught one pass, but it was on a 50-yard touchdown pass where Burton sped past the defensive back. 
The redshirt sophomore receiver spoke on the game last week:
"I was just patient. As John [Mitchell] said, when your number gets called, you have to make a play," Burton said. "And as you said, I've been doing it all spring, so once that play got called, I knew that the ball was going to come to me. So I was pretty much licking my chops. I had to run and catch the ball."
Another aspect of the offense that will be interesting to see is the running back depth and how they'll be used. The past two weeks, RB Johnny Ford was atop of the depth chart, but this time it's Larry McCammon. 
Taggart said that Ford got hurt in the game against the Gators, but still praises his play and expresses the luxury of a deep running back room.
— #WinningInParadise (@FAUAthletics) September 16, 2021
"We have plenty of guys in that position and we're gonna use them wisely in the best way we can to help us win ballgames," Taggart said. "not all of them going to get every carry, some of them will get carries. Some are more, you just, it all depends on the game and how things going is just good to have a running back room where you had that luxury, to do those things."
While Fordham's defense is nothing to write home about giving up 52 points to Nebraska and 26 to Monmouth, there's one player on the Rams that's worth mentioning. It's Fordham linebacker, Ryan Greenhagen. Read these stats:
Through two games, Greenhagen has 59 tackles. Read that again. Against Nebraska, he had 31 and then had 28 against Monmouth. An absolute monster in the front seven.
Taggart talked about Greenhagen and what makes him such a dynamic player, plus if the game plan is just as easy as not getting the ball to him.
"There's more to it because he runs to the ball, you can run away from him, but he's still coming. I think that's the beauty of the young man is he plays the game the way he's supposed to on defense, that whistle blows, it's all out," Taggart said. "He doesn't give up, he doesn't get blocked and stay there, he gets off blocks, he runs into some plays, this is hard for guys to do that every play. There's a reason why he's getting all these tackles because he's playing with fanatical effort."
Defense
Just like the offense, the defense started slowly as they allowed Georgia Southern's running attack to get the best of them. The Eagles got a first-quarter touchdown, but the Owls didn't allow them to score for the rest of the game. 
Defensive coordinator Mike Stoops talks about the defense last week and heading into today. 
"Going back to the Georgia Southern game, I was really pleased with our efforts and our execution. Once we settled down, got a little bit acclimated to the speed of the game, I thought our guys' reactions and positions on the football were much better. Didn't play great early, but gained confidence as the game went on and that was good to see," Stoops said.
"I thought our offense controlled the game from late in the second quarter to the rest of the way through and controlled the clock and did a nice job making some big plays. We just kind of fed off each other and that's how good teams play, and I'm pleased with our effort, and our execution was pretty good all night. I thought we contained the ball the way we wanted to. We prepared for what we saw and that's always good so I thought our players were very well prepared and I thought we started executing and getting to our spots better as the game went on."
Fordham starting quarterback Tim DeMorat received some kind words from Stoops and talks about what makes him work in the offense. 
"He's an excellent thrower of the football. I like the way he throws the football, he's very accurate, he'll look you off and go the other way. He does a lot of good things. Their Run-Pass Option reads are very good and he's able to get out of a run play and throw it to his receiver," Stoops said.
"It's a little of that Art Briles Spread from a sideline-to-sideline type of offense where they read the box a lot to see if you're in a heavy run defense and they'll pull the ball and throw it. I think the run has done an excellent job bouncing the football to the perimeter and that's where we'll have to be able to control the run game to get them into some obvious situations where you can try to heat them up some on 3rd-and-long situations."
Cornerback Korel Smith had a solid day last week as he totaled four tackles to go along with an interception. Smith talks about his season so far and what he's looking for today.
"This season is going good so far with a lot of competition. Competition brings out the best in everybody. Good defensive scheme this year with Coach [Mike] Stoops coming along," Smith said. "We're trying to go 1-0 this week. Fordham, they have a good quarterback and a good offense, so we have to just play our defense and just do us and play FAU defense."
While the defense last week played exceptionally well, Smith still sees the improvements he needs to make.
"I would like us to swarm the ball more. Like a 'Sea of Red.' We used to say that back in the day," Smith said. "All 11 hats to the ball tagging off on the running back or whoever has the ball, and it'll cause turnovers too once we do that because we can strip the ball more, we can do certain things like that. So just the whole defense getting to the ball."
Cornerback Diashun Moss is another piece to keep the Rams wide receivers at bay.
Moss, who recorded an interception against the Gators, is a fifth-year player and says there isn't any pressure for being a veteran on this team. He talks about his expectations for tonight:
"Camp started off well. Me being a fifth-year senior, the biggest thing I wanted to do was to stay locked in mentally, in my conduct and my behavior, to show the standard of FAU for the younger guys," Moss said. "Coming into this game, we just want to be locked in. We want to be disciplined in our assignment, alignment, and just play sound football."
With Fordham being a pass-heavy team, Moss talks about that and what it means for FAU's defensive backs.
"Us as DB's, we want that competition. We want that opportunity to go out and get interceptions and force turnovers," Moss said. "That's probably the biggest part, being a playmaker. We want to make plays."
Suit up.#WinningInParadise pic.twitter.com/cLq4IeJILQ

— FAU Football (@FAUFootball) September 18, 2021
Prediction
Listen, are upsets exciting? Of course, they are! 
However, don't expect one here as FAU is carrying immense momentum after last week's win.
We'll continue to see the explosiveness of the Owls offense and the defense will handle the Rams keeping it a low-scoring affair.
Currently, the line is -31 in favor of FAU. Sounds about right.
That isn't the line I'm looking forward to though. Really, what's the line for how many tackles Greenhagen will get? Over or under 20 tackles?
Final Score Prediction: FAU 47 – Fordham 13
The game will be broadcasted on ESPN 3 and will start at 6 p.m. at FAU Stadium.
Photo courtesy of FAU Athletics. 
(Visited 58 times, 1 visits today)