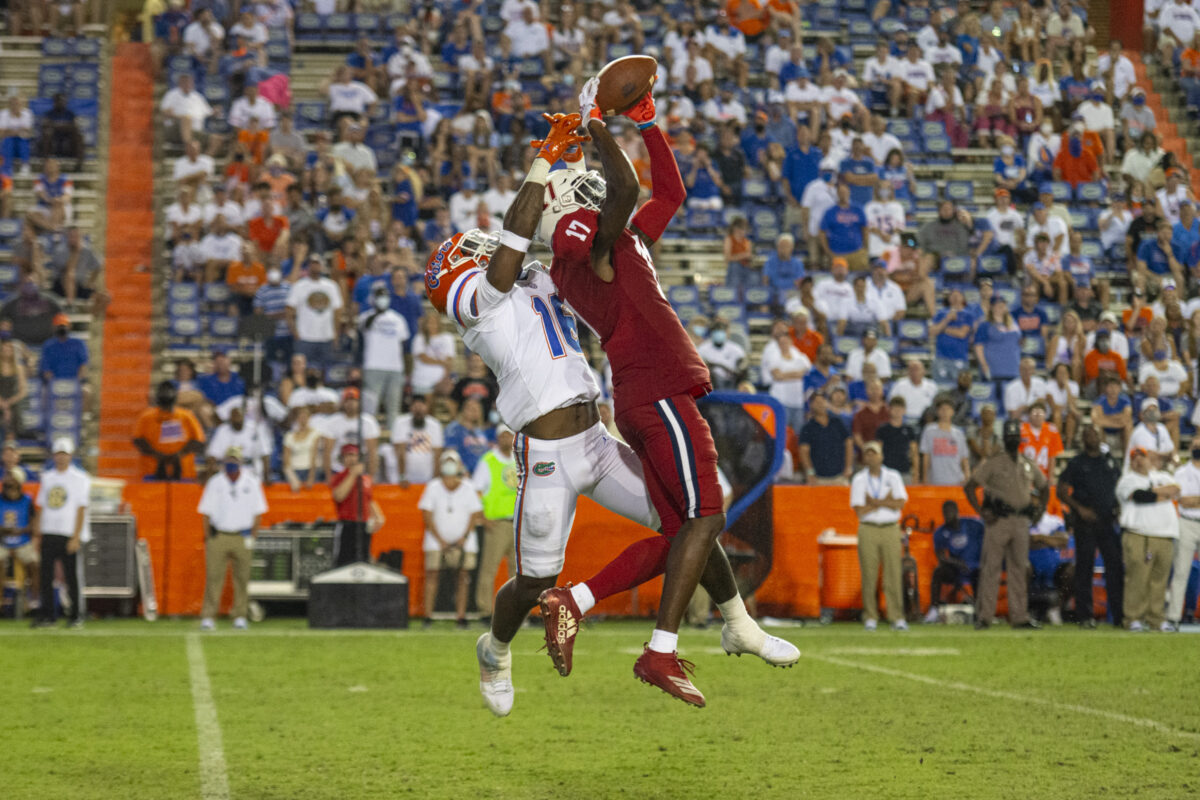 ---
FAU looks to get back in the win column against the Georgia Southern Eagles in their home opener after dropping the first game against the Florida Gators. 
When it comes to the offensive side of the ball last week, there was a lot to love against a top team like the Gators, but still, a lot to work on according to coaches and players. 
Defensively, the squad showed how good their pass protection is against a top team and provided huge stops to give the offense chances to score. On the other hand, the team gave up 400 rushing yards. 
Opportunity #2 pic.twitter.com/2DshRbGU7h

— FAU Football (@FAUFootball) September 6, 2021
Head coach Willie Taggart talked about this week of practice and how they're prepared for Saturday.
"The guys had a good week of practice, they have a good understanding of what we're trying to do on both sides of the ball, and I know from a preparation standpoint, our guys have done a really good job," Taggart said. "Now it's a matter of finishing up some things here and then going out on Saturday and try for the first time since I've been here to put together a complete ballgame offensively, defensively, and special teams."
For this preview, we'll be taking look at both sides of the ball for FAU and highlighting players to watch out for against the Eagles.  
Offense
Taggart spoke to the media Monday as he had a couple of days to sleep on the game. He talked about how the offense and the rest of the team need to learn from their mistakes.
"We made too many self-inflicted wounds. we didn't play winning football," Taggart said. "The defense got two turnovers and we didn't do anything with it offensively or where seven out of the 11 drives past the 50-yard line, we didn't score, so when you're playing a game like that against a team like Florida, those opportunities come, you got to take advantage of them and we didn't do it."
Starting quarterback N'Kosi Perry performed well in his first game as an Owl, as he passed for over 261 yards and one touchdown pass. While it wasn't enough to get the win, the offense was suffocated by a dominant and talented defensive front seven of the Gators. Even with that adversity, 261 passing yards is more than any QB threw for FAU last season.
Perry seemed like he was starting to find a rhythm with his receivers, especially D'Marcus Adams and Brandon Robinson, who both made their mark Saturday. They are the players to watch on offense come Saturday. 
While only having two catches, Adams made his presence as a deep threat, finishing the game with 85 yards. Adams was primed to play cornerback but went back to the receiver. He spoke about the process of doing that and the possible hardships, or lack thereof, that come with it.
"It wasn't as bad as everyone thought it would be, I still had to memorize the plays and that was a big part of the game," Adams said. "The game plan for me, they gave me a specific amount of plays for me to learn and utilize in the game. I really appreciate the O-linemen for giving N'Kosi [Perry] enough time for him to pass. Without them, I wouldn't have been able to do the plays that I was able to do."
Adams also spoke about how having that experience at cornerback helped his play at receiver:
"It brought in my defensive standpoint and gave me better knowledge so that when I'm at receiver, I know exactly where the soft spots and cushions are and just helped overall," Adams said.
For Robinson, he caught four passes from Perry for 60 yards. That also included the first touchdown caught by a receiver this year.
The redshirt junior expressed his performance but ultimately spoke about the mistakes the offense made and how they can improve for the next game. 
"The plan going into Florida was – play our game. Do as best as we can and of course try to get the "W," but do what we can," Robinsons said. "We did as best as we could with our game plan and now need to eliminate our mistakes. Going into this week, there was a lot to learn, we will watch the film, correct mistakes, and make sure we get the job done."
With the offense facing a team that is not as talented as the Gators, this will be the first true sighting of what the Owls can look like on offense. 
Another aspect to examine is the offensive line for the Owls. As said before, the offense had some good drives last week that were eventually halted by the Gators defensive front that provided immense pressure on Perry, leading to six sacks. 
Taggart gave his analysis on what he's seen from the line in this week of practice and what he expects from game two.
"The guys go out and practice hard and worked on some areas where we struggled in that ballgame. Again, I think you look at a couple of those sacks, not all of them were on the offensive line. A couple of them, where we change the protection where we shouldn't have, I think if we execute like we're supposed to, I don't think we have put our O-line in those positions," Taggart said. "But, our guys work really hard to try to correct those things and I'm not looking to get a sixth sack game."
Georgia Southern's defense last week against the Gardner-Webb Bulldogs gave up four passing touchdowns and 365 passing yards. Against the run, the Bulldogs only amassed 62 yards. 
Given how the Owls offense is in a better situation than the Bulldogs, they should perform way better than they did last week. This could be the first game where we see the offense gel together and put up more than 14 points. 
Offensive coordinator, Michael Johnson says there is a promise for the FAU offense. However, he is also aware of how the Eagles are as a football team. 
"Going into this week's game, I think it is a game that is going to be challenging, Georgia Southern is a team that we respect, they are a well-coached, physical football team," Johnson said. "We will have to match that physicality. I think that it is about us, executing the things that we need to do to become a more efficient offense. Those are the things we will stress this week and make sure that we get those small details ironed out and make sure we are doing the things necessary to score more points on offense. We are close."
Game day prep 🎨#WinningInParadise pic.twitter.com/fXQjMlUNc5

— FAU Football (@FAUFootball) September 9, 2021
DEFENSE
Against the pass, the Owls performed very well as they made two interceptions and had a goal-line stand that stopped the Gators on fourth down. However, easily the most concerning part was their performance against the run.
They allowed 400 rushing yards that saw Gator QB Anthony Richardson and RB Malik Davis both rush for over 100 yards and a touchdown. 
Defensive coordinator Mike Stoops reflects on how the defense performed and what his expectations are for his squad in the home opener.
"Overall, I'm proud of our guys, I thought our pass coverage was good. We had a couple of missed assignments on some coverage stuff. Disappointed that we couldn't get any more pressure. Overall, it is a mixed bag," Stoops said. "Just need to clean up a lot of things as a whole defensively and tackle better in space and certainly Georgia Southern is going to create a lot of the same issues that we saw a week ago in defending the quarterback, defending the option plays. It is going to let us know if we have improved in those areas."
As Stoops said, the Eagles are known for their triple-offense style of offense and how much they run the ball. In Georgia Southern's win last week, they ran the ball 65 times and only passed it 20 times. 
So the question lies with the Owls defense this weekend: Was the Florida game an anomaly with its rushing defense or will this be a consistent problem throughout the season?
At the moment, I'm leaning towards the former, but this game will be a good look to see if the Owls can be more disciplined and tackle better against the Eagles' running backs. Georgia Southern RB, Logan Wright carried the ball 26 times last week and ran for 177 yards with a score.
On defense, two players to look out for are LBs Akileis Leroy and Ahman Ross (who also plays safety). Both players didn't start last Saturday and per the depth chart for game two, they still aren't. However, for Ross, he missed a couple of days of practice last week so he's starting to come back to rhythm and Leroy missed all of last season, so he has to get back into game shape. When these two are at full capacity, there's no doubt they'll play a lot of snaps on defense. 
Ross speaks on his progress and getting back into starting lineup in the future:
"Camp was a grind, learning a new position and ironing out the fine details within that position," Ross said. "As far as working back into the starting spot, I take it as a challenge, working every day to get better. It is not a strike on anyone else or taking anything away from anyone else. It is me focusing on me and getting 1% better every day and that is just the main focus."
Without a doubt, it was a special moment for Leroy as last Saturday was his first game back after not playing any of the 2020 season. He describes what it was like for him out there:
"I really had to control a lot of what I was thinking last Saturday," Leroy said. "[My] first game back in almost two years and it was almost like a dream. Like a dream come true, almost, being back around my teammates. Being in the atmosphere that makes me the most comfortable, playing ball."
Leroy totaled six tackles in his first game back, including some key plays that stopped the Gators in the red zone. If FAU gets the same Akileis Leroy from the 2019 season where he totaled 101 tackles, 7.5 sacks, and three interceptions, it would be a massive boost for this unit. 
When Stoops, Ross, and Leroy spoke to the media, there was a common trend where they all expressed that improving their tackling and discipline will result in success for FAU. 
While Georgia Southern primarily runs the football, its quarterback situation is one to examine. They played two QBs last week in Cam Ransom and Amare Jones. With the triple-option offense, they'll likely use these two again for their running ability, especially Jones who rushed for 98 yards against Gardner-Webb. 
This is where the discipline comes in. FAU will have to stay on their toes and be diligent as the Eagles playbook can catch the opposing defense off guard. 
Join us Saturday on Stadium!

🏈 @GSAthletics_FB vs. @FAUFootball
🕞 3:30 pm ET
📺 https://t.co/9sWLa8Dw9k pic.twitter.com/5dXzLrQJ4Z

— Stadium (@Stadium) September 9, 2021
Prediction
At the end of the day, I expect the Owls to get their first win of the season and extend their win streak at home to nine. 
The offense for FAU will be on full display and Perry will have the chance to put up a career game with all the weapons at his disposal. 
On defense, I won't be surprised if the Eagles' triple-option offense catches the Owls off guard, which will result in a high-scoring first half. Though, Mike Stoops and his players will adjust in the second half and will see Florida Atlantic trailing away.
If the two concerns from last week are solved, which are the run defense and the offensive line preventing any sacks, then FAU shouldn't have a problem. 
It's time for them to get back in the win column.
They'll face the Georgia Southern Eagles on September 11th at FAU Stadium at 3:30 P.M. and it'll be streamed on Stadium.
Final Score Prediction: FAU 41 – Georgia Southern 21
Photo courtesy of FAU Athletics.
(Visited 22 times, 1 visits today)