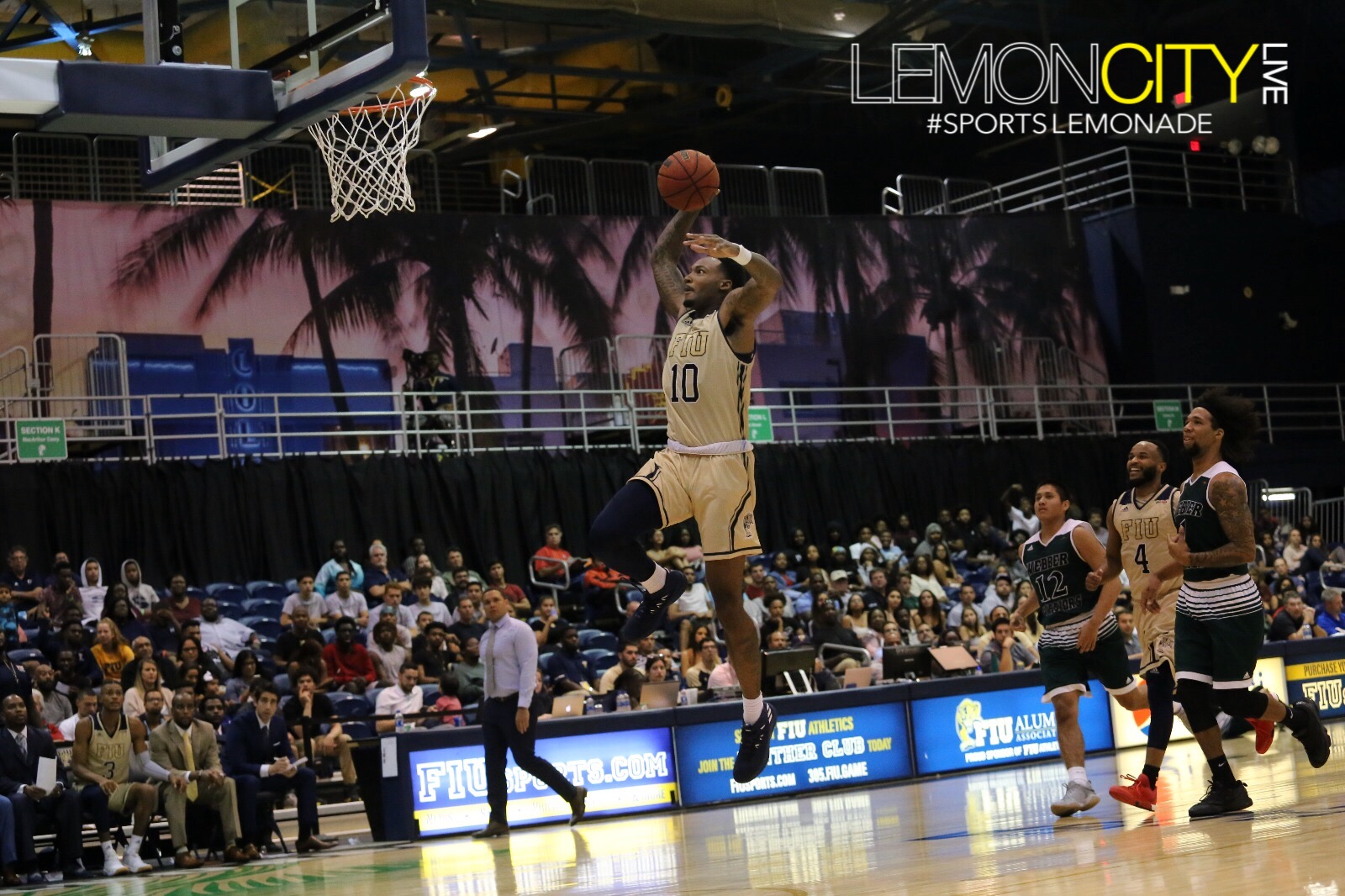 Miami, FL – College basketball is back at FIU, baby! I hope you read that in Dick Vitale's voice. The new season brings a new era, along with some new and familiar faces. The program, heading into its 38th season, now belongs to first-time head coach, Jeremy Ballard. Ballard recently spent four of his last six seasons as an assistant coach at VCU, helping bring that program to prominence alongside then head coach Shaka Smart. VCU played in the NCAA tournament in each season with Ballard as an assistant coach. I'm pretty sure they busted my bracket on more than one occasion. Ballards 1st game as a head coach came, as he led FIU Basketball vs. Webber International.
Welcome your 2018-2019 @FIUHoops squad! #PawsUp pic.twitter.com/nxIQuEliYC

— Lemon City Live (@LemonCityLive) November 8, 2018
Today, the Panthers open the season in front of 877 loud fans. FIU looked for their 5th straight win in a season-opener. The Warriors are already 2-0, coming off wins vs. St. Andrews College and Southeastern Baptist on Nov. 2nd and 3rd, respectively, both from the Trinity Baptist Tip-off Tournament. This is the 4th time FIU faces Webber, with FIU holding down a 2-1 series lead.
Tonight's starting 5 vs. Webber International
⏲️: 7PM
📍: Ocean Bank Convocation Center#FIU | #PawsUp pic.twitter.com/hiPEcH4kkA

— FIU Men's Basketball (@FIUHoops) November 7, 2018
Before the game, a friend at FIU Athletics told me how, during practice, if you show signs of being tired, Ballard sends your ass straight to the Stairmaster, so expect the Panthers to run-n-gun this season. If they can also consistently hit some 3-pointers, we should be in for a wild ride. The start of the game showed exactly that. FIU wasted no time, exploding into a 9-0 lead in only the 1st minute of play! Familiar-face, Brian Beard Jr. lead the way in the 1st half with 9 points, 8 assists, 4 steals, and 4 rebounds. However, newcomer, R-Jr. Devon Andrews shined in his FIU debut, putting up 15 points at the half! Also, we can't forget about our guy, Trejon Jacob (Tr3jon). He had 12 points, going 2-3 from the 3-point line in the 1st half. FIU was up 57-42. I smell a wild ride coming on.
At the half, @FIUHoops leads Webber Int'l 57-42. Jr. Fwd, #10 @DA_ESPN leads all players with 15 points! Brian Beard jr. leads with 8 assists and 4 steals!#PawsUp pic.twitter.com/T6H0iy4O5z

— Lemon City Live (@LemonCityLive) November 8, 2018
The 2nd half was almost exactly the same as the 1st. FIU allowed 42 points and scored 53. Both Devon and Tr3jon shot 50% or better from the 3-point line, The Beard put up 11 points, and Antonio Daye Jr. had a 10-point, 5-rebound, 3-assist half. With five players scoring in double digits, it's easy to assume that the Panthers simply outscored Webber, but it was their defense and pace that got it done tonight. That's what coach Ballard is going for. FIU's run-n-gun style of pace forces teams to pick up their pace, which leads to sloppy mistakes. The Panthers capitalized, coming away with 16 steals, seven blocks, forcing Webber into 26 turnovers, and 35.1% shooting for the night. Although, the Panthers did score 70 points in the paint, 33 of which came off fast breaks.
An opening night win for @FIUHoops! The #Panthers pushed the tempo, leaving Webber Int'l in their dust! 110-84!#PawsUp 😼 pic.twitter.com/PErgoZGX39

— Lemon City Live (@LemonCityLive) November 8, 2018
All that, and FIU still could've won by a lot more. The Panthers were only 13-30 from the free-throw line. Less than 50% won't cut it against stronger opponents. Basketball has been trending in the style of play that coach Ballard is implementing. Small ball. Just look at the Golden State Warriors! After Elhadji Dieng, listed at 6'11", the next tallest player is Miami's own, from Robert Morgan High School, Osasumwen Osaghae, listed at 6'7″. But having Devon is what it all work. At 6'6″, he moves like a point guard, but he's got the strength of a small forward, with a nice looking jumper to boot! I was impressed. FIU came away with the 110-84 victory. It was the 1st time FIU scored that many points since 2005, in a 5x overtime game! I was actually at that game, as a student in the Courtside Players pep band. FIU led the entire game, from 2-0. Next up, the Panthers face Johnson & Wales on Friday, Nov. 9th at 7 pm. Do you think they're going to wear aprons over their jerseys?
The Jeremy Ballard era begins with a W, and the most points FIU has scored in a game since 2005.

Not a bad start. Top 5 plays ⬇️ #PawsUp pic.twitter.com/EtbURzNP5s

— FIU Men's Basketball (@FIUHoops) November 8, 2018
📷 Credit: Chris Perez & Albert Palacio
(Visited 185 times, 1 visits today)