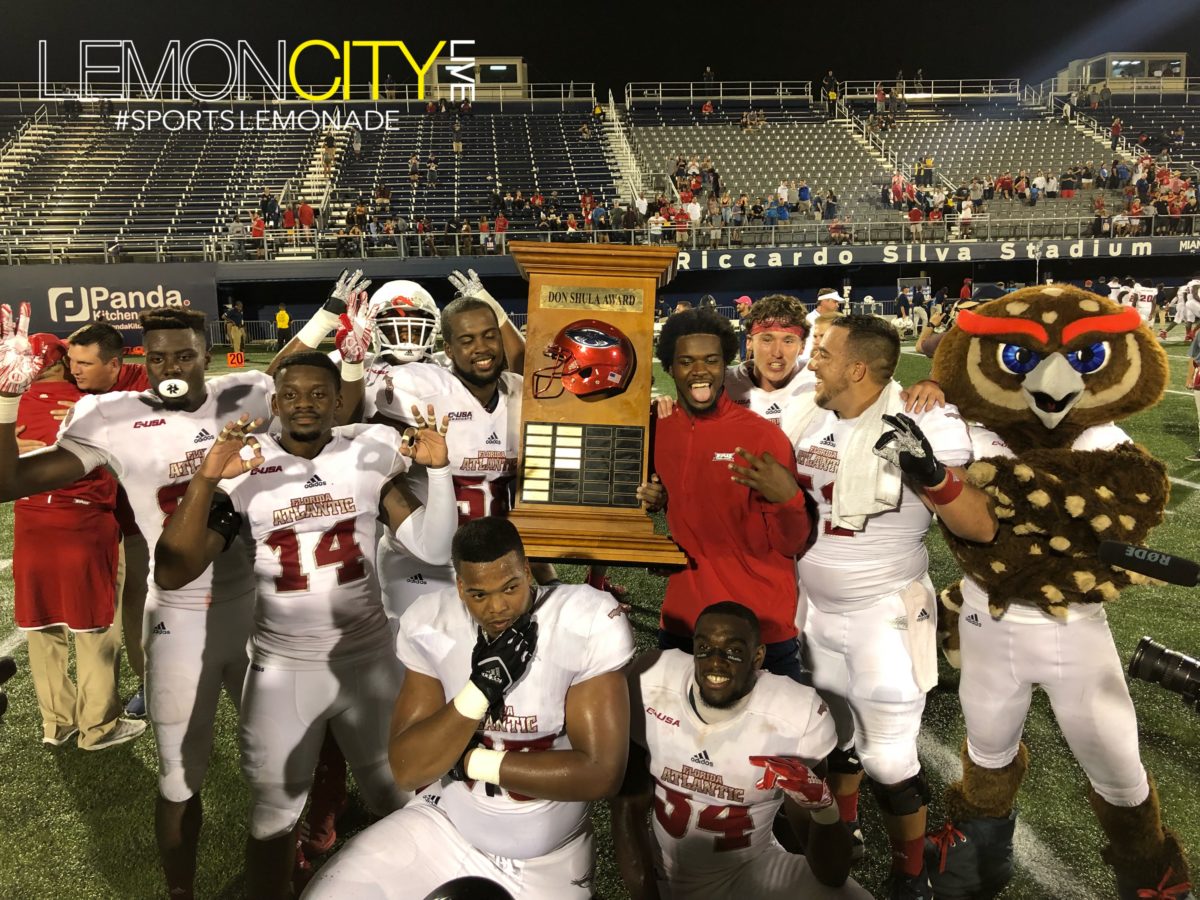 Riccardo Silva Stadium, Miami FL – The FIU Panthers were absolutely demolished at Shula Bowl XVII, losing 49-14 Saturday night at The Cage in front of the largest crowd this season. Devin Singletary feasted as FAU's ground game absolutely torched Florida International's defense. What began as a hotly contested game ended up turning into a complete rout.
FIU was plagued by a series of unfortunate events in the first quarter. Following FAU's opening drive score, the Panthers nearly tied it when quarterback James Morgan tossed a beautiful dime to Maurice Alexander, it became a dropped pass.
This was only the beginning of the team's woes.
The blue and gold managed to get on FAU's 1-yard line before suffering a drive-ending fumble by Morgan in a quarterback sneak gone wrong that was nearly taken all the way back. Game officials ruled Jovon Durante's knee was down before he took off into the sunset to extend Florida Atlantic's lead. After the turnover, FIU's defense suffered a blow as Richard Dames was ejected for targetting.
Needless to say, the Owls soared as they dominated early in key categories: FIU had only three first downs to FAU's 10. Not only were they outrushed 114-26, total offensive output was 204-79 in favor of FAU. This trend would continue for the rest of the game.
The Panthers clawed back midway through the second quarter when Captain Morgan looked left like a boss and first-class airmailed the pigskin to Austin Maloney ultimately tying it 7-7 following the point after attempt.
Touchdown! @FIUFootball ties the game on a 13-yard @Jmoneyyy12 pass to @AustinMaloney88! FAU regained the lead shortly after. The #Panthers trail @FAU_Football 14-7.#ShulaBowl #FIUvsFAU pic.twitter.com/VhEFUf9wRi

— Lemon City Live (@LemonCityLive) November 4, 2018
The score parity didn't last long.
Late in the half, the Owls flew down the field, utilizing their great running game as Singletary rushed for the four-yard score to make it 14-7, his second of the night. Florida Atlantic had outrushed Florida International by a significant margin, 211-62 by halftime. They would rush for over 400 yards by game's end.
While the defense held on as best as it could against Singletary's team-leading onslaught, Captain Morgan found Bryce Singleton with less than nine minutes left in the third quarter with a razzle-dazzle, flash inducing one-handed catch on the end zone worthy of ESPN's Top 10 plays of the day.
You up, @SportsCenter? @TBSingleton1's out here earning his spot on #SCtop10 🙌#PawsUp 🐾 | #PantherPride pic.twitter.com/ppwI5AbZAh

— FIU Football (@FIUFootball) November 4, 2018
The Owls regained both the momentum and more importantly the lead as Florida Atlantic converted on a key 4th and 11 in the third quarter with a nice 28-yard connection between De'Andre Johnson and his man Durante to put FAU back up 21-14. If FIU fans disliked Singletary, they REALLY hated him as he collected his THIRD rushing TD of the night early in the fourth putting FIU in a hole, 28-14.
Singletary finished the night leading the team in rushing, cranking out 184 yards and three touchdowns.
Despite the sense of urgency, Morgan and the Panthers were powerless to get anything going in the fourth, turning the ball over on downs with 11 minutes to go in the game.
After the personal foul (facemask) on FIU, Kerrith Whyte, who was quietly amassing over 150 yards on the night, hammered the final nail in the coffin, in the form of a six-yard ground score with 8:35 remaining in the game to put the visitors up 35-14. And the rest they say is history.
The @FAU_Football #Owls 🦉defeat @FIUFootball to earn back-to-back #ShulaBowl championships! #WinningInParadise pic.twitter.com/VD3zHjWHuW

— Lemon City Live (@LemonCityLive) November 4, 2018
With the loss, FIU falls to 6-3 (4-1 C-USA) while FAU improves to 4-5 (2-3 C-USA). FIU's four-game winning streak crashed and burned along with their sterling record of not allowing a single touchdown in the fourth quarter that dated back to last year's bowl game. Their three-game winning streak at home with the Shula Bowl is also done.
Heading into the game, FIU was undefeated in league play for the first time since joining C-USA following its convincing 38-17 win over WKU, making them bowl eligible. It's the earliest they've clinched bowl eligibility in program history (October 27).
Of the 17 meetings for the Don Shula Bowl, FIU has won 5 of them. FAU has now won 12 . FIU dropped last year's Shula Bowl 52-24. Every home team has won since 2013, until now.
Florida International looks to improve next week against UTSA, beginning a two-game road trip before returning to face Marshall to finish the season.
[envira-gallery id="14632″]
(Visited 159 times, 1 visits today)