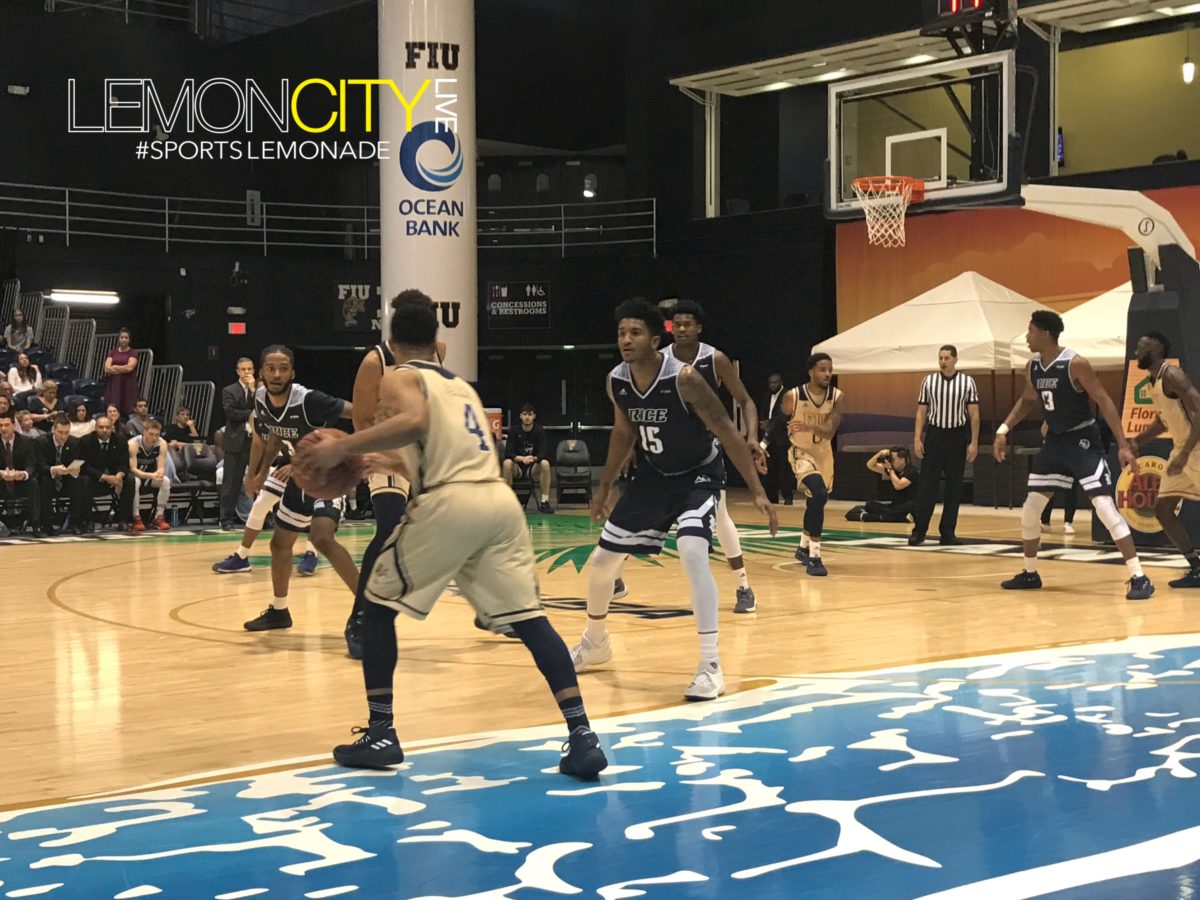 Sweetwater, FL. – It's crunch time, baby! I hope you read that in Dick Vitale's voice. Ok, now I know you did. We're only a few days away from March, so you know what that means. Two words: (1) March (2) Madness! In Conference USA, the top 12 teams advance to the conference tourney, with the top-four receiving 1st round byes. FIU are out of 1st round bye contention, but sitting in 9th place, and with seeds 7-12 only separated by three games, they're not only fighting for a higher seed. They're still trying to clinch a spot!
Coming off a 1-point win versus North Texas at home, today, the Panthers are again at home to face Rice. No, they're not taking rice to the face. That's what I do at my favorite Chinese food restaurant. FIU is taking on the Rice University Owls, from Texas. Rice is currently the 13th seed, and are on the outside looking in. They're only one game behind UTEP for that final spot in the tournament, so they're definitely in desperation mode with only three games, including this one, remaining.
With a win and some help from other teams, FIU could potentially find itself tied for 7th in CUSA by the end of the night. Great opportunity for fifth straight home win tonight against Rice in home finale at Ocean Bank https://t.co/h6G8tbbC7C

— AJ Ricketts (@AJRicketts) February 24, 2018
This one was definitely a nail-biter, and the Panthers had to rely on everyone. Four different players scored in double digits. Besides the regulars, Eric Lockett, Brian Beard Jr., and Trejon Jacob, Josh Stamps also came up big for the Panthers. The Junior guard finished with 15 points, which lead FIU and also tied his season high, three rebounds, and one assist.
At the half, FIU trailed by three. They had attempted zero free-throws, compared to Rice's nine. In the post-game press conference, Brian Beard Jr. said that he had a bad 1st half. He gave up some "uncharacteristic turnovers" and his shots weren't falling. He wasn't kidding. The Panthers had 11 turnovers in the first half, and four of them belonged to Beard. He was also one of four, shooting. But, the good players find a way to get through those struggles. With that said, the Owls only scored one point off of those turnovers.
We're at the half at the Ocean Bank Convocation Center with #Rice leading #FIU, 28-25. Josh Stamps leads the Panthers with eight points and Trejon Jacob has seven. FIU is shooting 44% from the field while the Owls are shooting just 27.6%. pic.twitter.com/izeAvy4W7T

— FIU Men's Basketball (@FIUHoops) February 25, 2018
In the 2nd half, the Panthers only committed two turnovers, and the Owls could not capitalize off of them. FIU raised their shooting efficiency from 44% in the 1st half to 48% in the 2nd half. They also took 15 free-throws in the 2nd half, making 11. Coach Anthony Evans admitted that the Panthers still need to improve their free-throw percentage if they want to have success in the playoffs.
All this, and the Panthers still hadn't led the entire game. Where FIU took advantage of the Owls was in points-off-turnovers. FIU scored a total of 20 points off of Rice's 14 turnovers. That's a 19-point swing, and they both had the same amount of turnovers. However, it was a tight game. The Owls kept getting to the line. 22 times to be exact, and they made 18 free-throws. The Owls came into the 2nd half with the game plan to take the ball to the rim, knowing that FIU would get into foul trouble, and it almost worked. With under 15 minutes remaining, the Owls lead 33-44, but FIU would slowly, but surely, cut into that lead.
FLEX ON 'EM, @Thereal_Tj30. 💪@FIUHoops #PawsUp 🏀 pic.twitter.com/6cXoq7TtzP

— FIU Panther Vision (@FIUPantherVIS) February 25, 2018
The trusty trio of Brian Beard Jr., Tr3jon Jacob, and Eric Lockett would come up big down the stretch. In six minutes, taking us to just over the eight-minute mark, FIU would go on a 17-9 run, capped off by a Josh Stamps three-pointer, bringing FIU to within three points. From then on, it was back and forth, trading points, with Rice pulling away a little bit. That is, until the final 6 minutes of the game, where FIU would hold Rice to only four more points, and themselves score 10 points to take a 1-point lead with one minute remaining. Brian Beard Jr. had the chance to stick the dagger in them, as he stole the ball and had a breakaway, but the ball slipped out of his hands and went out of bounds. FIU's defense would step up and the Owls didn't score another point in the final 50 seconds of the game.
The TRIFECTA:@Lockett_E5 ➡ @CTSAlumni23 ➡ @Thereal_Tj30 💪@FIUHoops #PawsUp 🏀 pic.twitter.com/oU1ZVrKxaa

— FIU Panther Vision (@FIUPantherVIS) February 25, 2018
With this win, the Panthers clinched a playoff spot, and will now be fighting for seeding. For now, they're matched up with North Texas, whom FIU just beat by one point on Thursday. The Playoffs begin Wednesday, March 7th, from the Ford Center at The Star in Frisco, Texas.
YOUR @FIUHoops ARE @ConferenceUSA TOURNEY-BOUND!

A 67-64 score gives the Panthers this HUGE win against Rice in their FINAL home game of the regular season!

Hear from Head Coach Anthony Evans and Guards @Lockett_E5 & @CTSAlumni23!#PawsUp 🏀 pic.twitter.com/8Z0FiQaY5l

— FIU Panther Vision (@FIUPantherVIS) February 25, 2018
(Visited 161 times, 1 visits today)