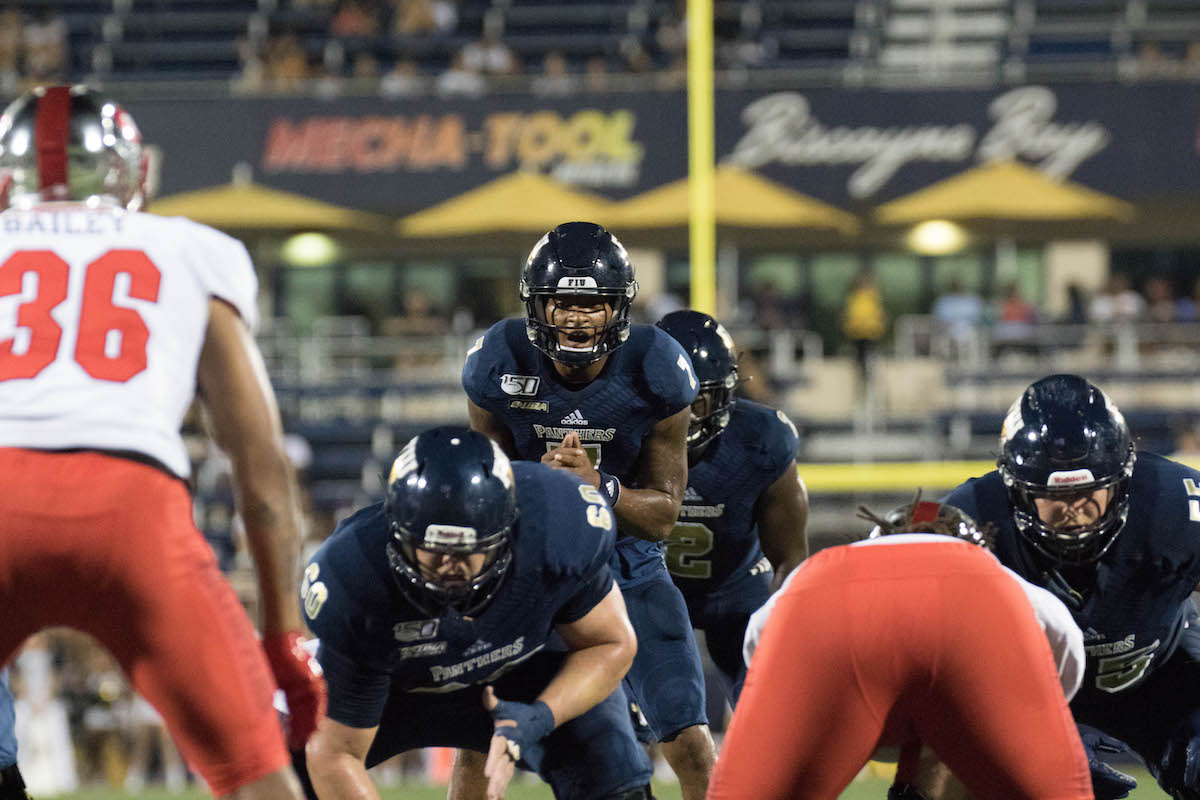 ---
Miami, FL – FIU Football is officially upon us! And it wouldn't be an FIU season if they didn't get off to a bad start, right? Unfortunately, last week the Panthers got stomped pretty convincingly by Tulane 42-14. This week, FIU found themselves looking at 0-2 to start the season, as the Western Kentucky University Hilltoppers came into town and didn't do what they were supposed to do, lose. The teams' memos must've gotten mixed up because FIU looked like they were trying to lose. Obviously, they weren't, and to their credit, they almost pulled off a comeback. More on that later.
I wish I could say that the stats didn't match the result, but that's exactly how it panned out. There were a couple of shining moments. The 1st came when Rishard Dames pulled off an incredible one-handed interception and took it to the house for an 80-yard return. The last one came when QB, Kaylan Wiggins dished out a 40-yard bomb to WR, Maurice Alexander, setting up a 15-yard TD run from RB, Napoleon Maxwell. You read that right, Kaylan Wiggins, not James Morgan. The starting QB, Morgan was hurt 3:45 into the 2nd quarter. It appears to be an ankle injury.
There we go!@WigginsKaylan hits @_hardtime3 for 40 yards, and then @MadMax__23 busts a 15-yard TD run!@FIUFootball trails @WKUFootball 17-14 in the 3rd. pic.twitter.com/ZVwg4LerRA

— Lemon City Live (@LemonCityLive) September 8, 2019
You can't blame this loss on Morgan being hurt though. Western Kentucky, on multiple occasions, caught FIU dozing off, setting up some big plays for the Hilltoppers. Western Kentucky RB, Gaej Walker rushed for more than 100-yards and added a rushing TD to boot on 27 carries. Jose Borregales missed a 39-yard field goal in his only field goal attempt of the night (aside from extra points). The Panthers also moved the ball to the 2-yard line late in the 4th quarter, down six, with a chance to take the lead, and a bad snap pushed the Panthers back to the 16-yard line. Morgan came back into the game, hoping to throw a game-winner, and found Tony Gaitor IV right on the numbers, in the endzone, but the senior WR wasn't able to hold onto the ball. They turned the ball over on downs, and Western Kentucky won 20-14.
The Panthers are now 0-2 for the first time in Butch Davis' tenure (0-1 in Conference USA). Next up, the FIU Football Panthers host the University of New Hampshire. I don't foresee the Panthers losing a 3rd straight game. James Morgan coming back into the game at the end was a good sign for his availability next week, but for now, his playing status is unknown. Chins up, FIU Lemonheads. Butchy-Mane will figure it out and these guys will show up to play.
📸Credit: Albert Palacio, Danis Sosa, Chris Perez
This slideshow requires JavaScript.
(Visited 63 times, 1 visits today)