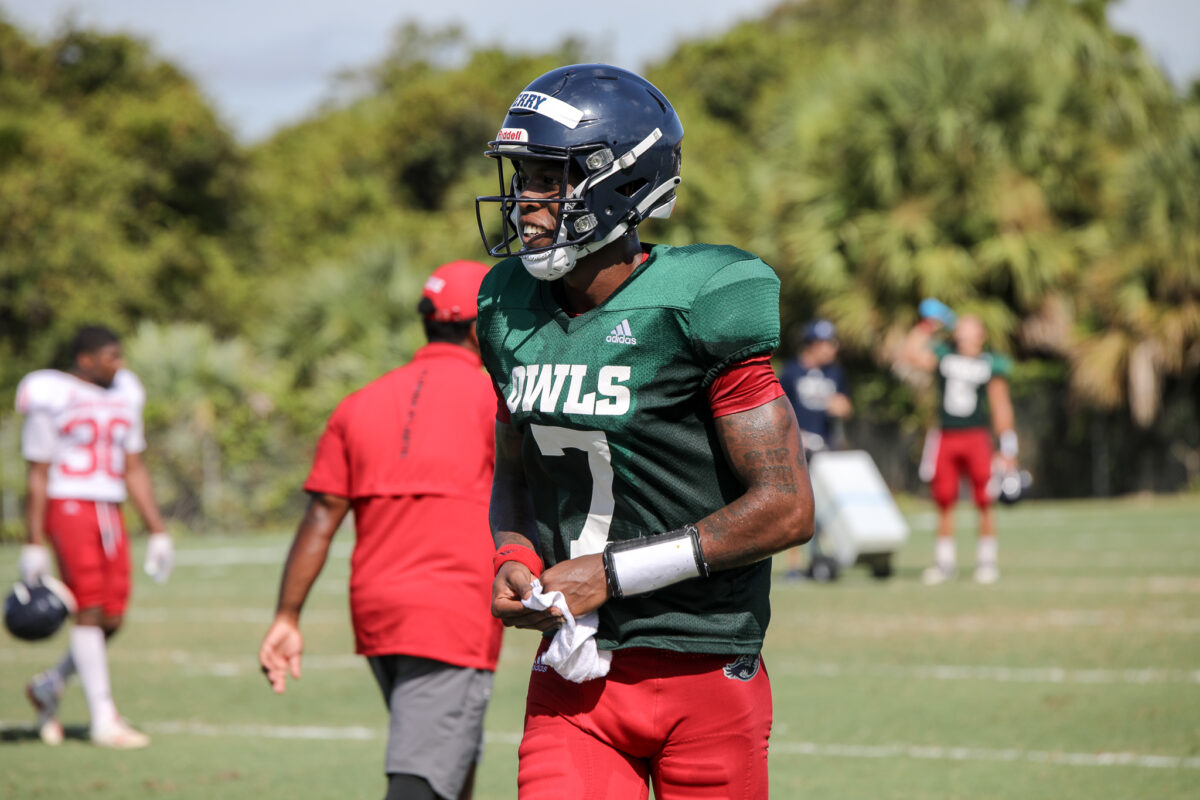 ---
The FAU Football team is three days away from their first game of the season against the Florida Gators. Former Miami Hurricanes player N'Kosi Perry will lead the Owls into Gainseville as QB1 in a decision made by the team Saturday. He beat out incumbent starter Nick Tronti, Michael Johnson Jr., and freshman Willie Taggart Jr. 
On Sunday, the media spoke to head coach Willie Taggart as he expressed his thoughts on what Perry did through training camp to earn the job. Then, offensive coordinator Michael Johnson and Perry himself spoke about the news and what the expectations are for the offense this season. 
"Well first, it was really good competition throughout training camp, I was really impressed with all our QBs and the way they competed and got me personally feeling really good about that room," Taggart said. 
After praising the QB room, Taggart went into his evaluation of what he saw from Perry. 
"So, with N'Kosi [Perry], I think him coming in, you can tell the young man had experience playing the position at a high level, just the way he carried himself with his teammates," Taggart said. "But, considering the fact that he didn't have spring ball and coming to training camp and knowing enough about the office to be able to compete, said a lot about how much he studied and how much he wanted it and as he continued to get reps you can see where he was getting comfortable."
Taggart explains that the plan is for Perry to play every snap under center for this year. He says they won't play "musical chairs" with quarterbacks like they did last year.
While "experience" has been the keyword when referring to Perry from his days in Coral Gables, Taggart stresses it was his performance in training camp and the strides he made.
"I like the way he approaches practice every day, I like the way that he is with his teammates. He was always uplifting, always upbeat," Taggart said. "It was good to be around and watching HIS teammates react and respond. It was a big part of making that decision."
Taggart said that he got the advice of everybody on the decision, including staff, the position coach, and players. He stated that he wanted everybody's opinions. 
Game week mood 😄 pic.twitter.com/94AbCJIKsh

— FAU Football (@FAUFootball) August 30, 2021
As for Perry, he said that Taggart told the quarterbacks the news and then later in a team meeting. 
"It was obviously a great feeling," Perry said. "I know if I worked my tail off, it could happen and it will happen and it did and I'm grateful for it. I'm thankful for it, and I'm ready to make the best of it."
Besides earning the job to start for FAU, he also chose a new number to don on his jersey: number seven. Perry expressed how he's been wearing the number for most of his football career and said that former NFL quarterback Michael Vick has always been a favorite player of his growing up. 
When asked about the strides Perry took to get the starting position, he said communication was huge.
"Since even before I got here, I made sure I was communicating with the teammates, especially the wide receivers," Perry said. "Then once I did get here, I'd made sure I'm coming into the building, made sure I'm getting the guys in the building, throwing with the guys. Since camp started, I've been watching film with the guys and building that chemistry. Even off the field, we're going bowling, doing other things outside of football just to build that relationship with them."
While Perry celebrates, he's focused on the coming days of practice. When any team goes up against a big school like Florida, there's always work to be done.
"The main thing now is just eliminating mistakes," Perry said. "Try to be the best we can be, try to be as perfect as we can be, eliminate mistakes, try not to beat ourselves. If we don't beat ourselves we have a great chance of winning the game."
Offensive coordinator, Johnson talks about Perry and what he's seen from him in his own eyes:
"Well, it's good. He's, he's done a good job. He's done a good job of learning and picking up the game plan in the offense. I think he's, he gives us a little bit of experience as he's played in big games in front of big crowds," Johnson said. "You know he's given us that experience factor from that position and I think the more he gets going, the more reps he gets, I think the better he'll be."
Now that the question of who'll be the starting quarterback is decided, who's job just got easier? Is it the offensive coordinator, or the head coach? Johnson weighs in:
"I think it makes it easier on the quarterback. I think once the quarterback knows who he is and the offense knows who he is, then he can kind of settle down and get comfortable in that role," Johnson said. "For us as a coaching staff, now we kind of tailor what we do to that individual and cut back and give him what he needs to be successful. So, I think it makes the whole offense better and it gives everybody a calmness and a peace, knowing who that guy is and we can go into that first game and feel comfortable."
As it shows, this team is ready to get going on the season and to bounce back from a hectic 2020 season. 
Perry has a message for FAU fans now that he is QB1:
"To the fans out there, I promise that y'all are getting a hard worker, a guy who loves football, who's all about the team, not a selfish player by any means," Perry said. "I'm someone who's going to go out there and lay it out on the line every single play, every single down, and I want y'all to know that this first game is not going to define us, no matter the outcome. We still are going to have a great season, regardless of what happens."
(Visited 48 times, 1 visits today)