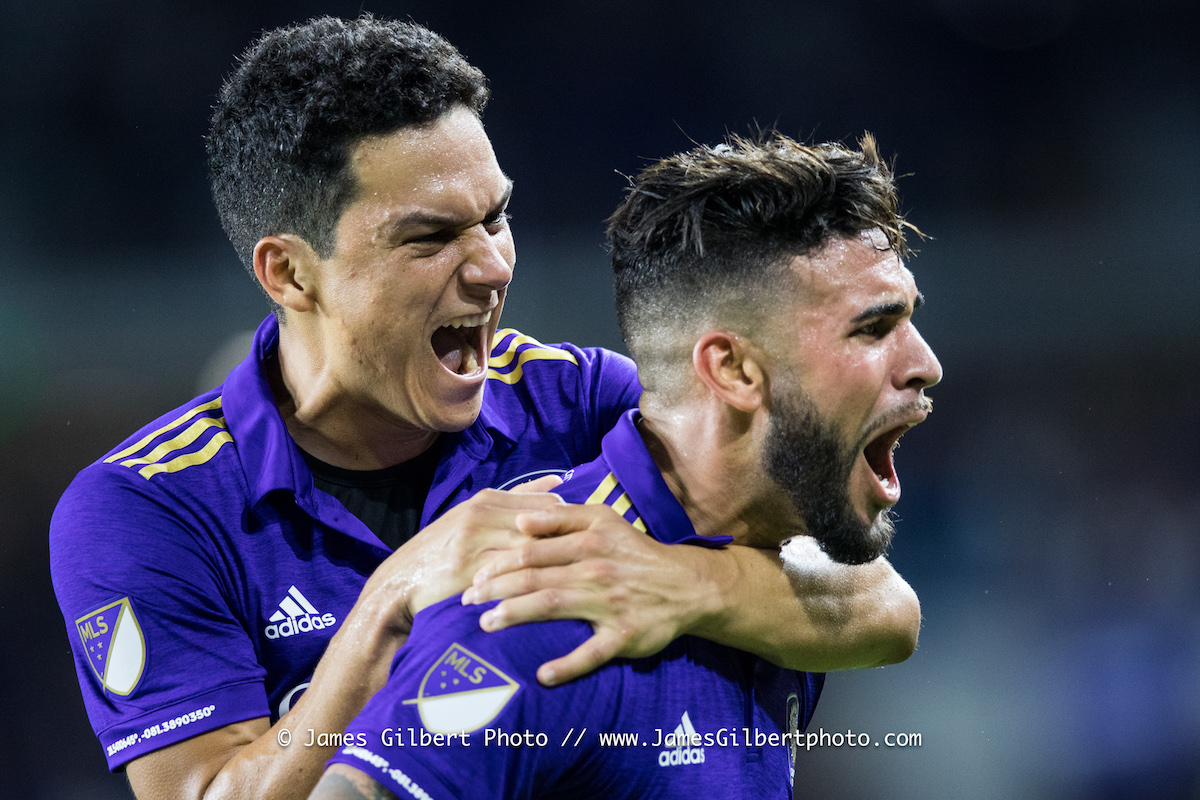 Orlando, FL – Searching for a slumpbuster, asking for a friend. It's been some hard times as of late for the boys in purple. Orlando City entered tonight's game riding a nine-game losing streak dating back to May the 13th. The Lions have had no luck scoring during this bad run of form, so how does one end such a horrible slump like this? Well, when you're in a slump, you need an easy score to get your confidence back up. That's where defending MLS Cup champion Toronto FC comes in. The champs have been even worse overall this season. They have not won a game since June 8th, and are even further back in the standings, so tonight was the perfect pairing for Orlando to finally get the three points they so desperately needed. 
Going home with 3️⃣ points! #VamosOrlando pic.twitter.com/v0jBJ8M467

— Orlando City SC (@OrlandoCitySC) July 15, 2018
In James O'Connor's first home match as head coach, Orlando City SC (7-11-1, 22 points) defeated the defending MLS Cup champions Toronto FC (4-11-4, 16 points) 2-1 on Saturday at Orlando City Stadium. Goalkeeper Earl Edwards, Jr. earned his first MLS win, as Chris Schuler and Dom Dwyer scored. The night also marked the first time since prior to the World Cup that OC was able to play at full strength with the return of Amro Tarek and Yoshimar Yotun. 
Thanks @OrlandoCitySC fans for the support. You are the best 💪🏾😈🦁 #VamosOrlando

— Amro Tarek (@AmroAbdelAziz) July 15, 2018
"Obviously delighted that we were able to win. It's really important that we got a win," O'Connor said. "There were some lovely passages, some really good movement. I thought we created a number of opportunities. We just need to be a little bit more clinical, but we can be really proud of the players' effort tonight. I thought the level of commitment and the effort from the players was really, really good tonight."
The Lions started the scoring in the 34th minute when Dwyer ripped a shot from distance that Toronto goalkeeper Alex Bono couldn't handle. The rebound popped out to Schuler, who calmly headed into the back of the net. It was Schuler's first goal as a Lion. Dominic Dwyer added a second goal in the 48th minute with a left-footed laser. His eighth goal of the season.  Toronto was able to get one back late with  Sebastian Giovinco feeding Nick Hagglund in the 94th minute to ruin Orlando's shutout, but not the win. Slump busted.
Dom 💣#ORLvTOR | #VamosOrlando pic.twitter.com/d8baPqF5Ul

— Orlando City SC (@OrlandoCitySC) July 15, 2018
The Lions face a quick turnaround as they visit the Philadelphia Union on Wednesday, July 18, in the 2018 Lamar Hunt U.S. Open Cup quarterfinal. City continues MLS play when it visits Columbus on Saturday before returning to Orlando City Stadium to host New York City FC on Thursday, July 26.
Photo Credit | James Gilbert Photo
[foogallery id="13005″]
(Visited 314 times, 1 visits today)