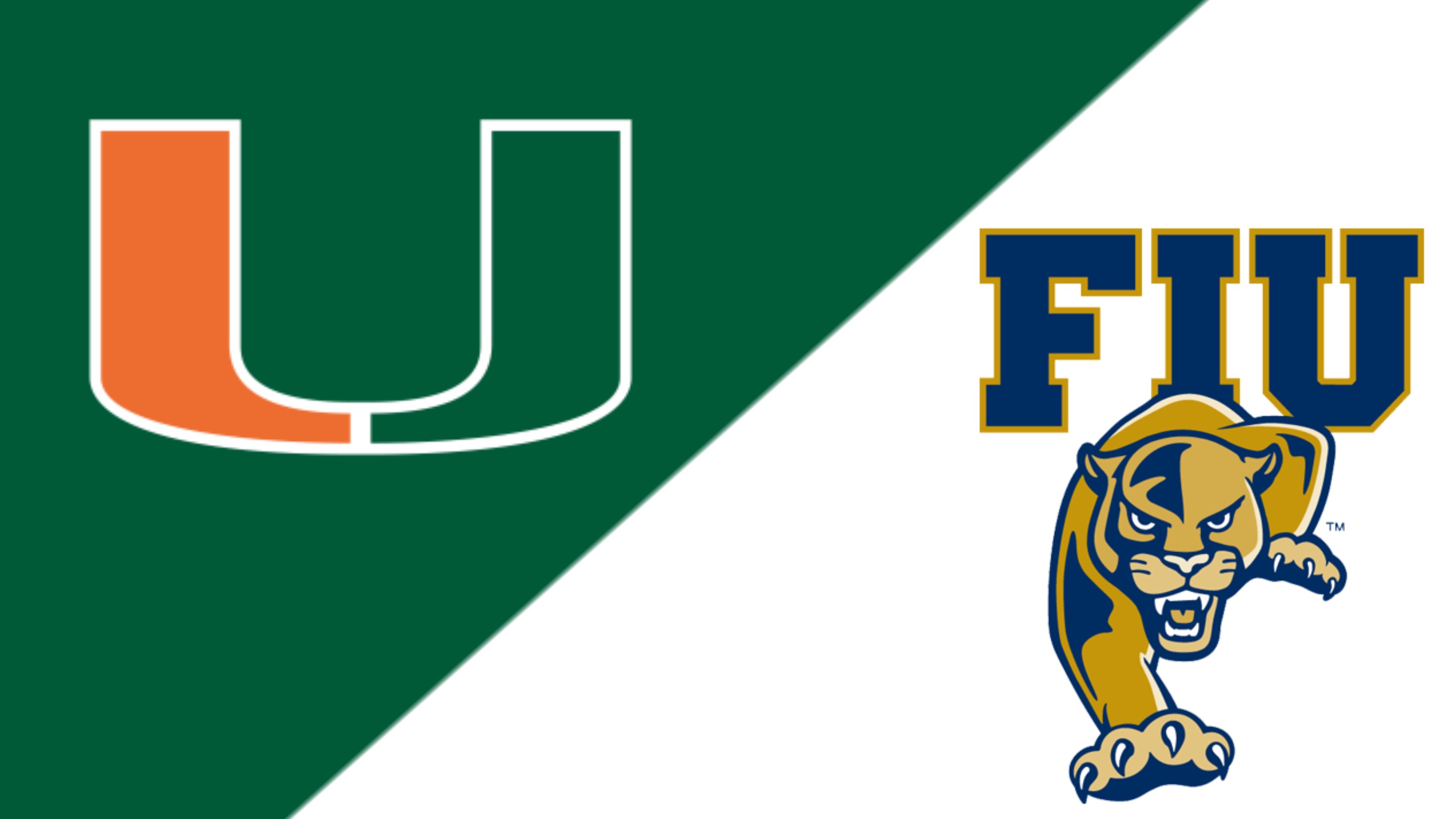 Ladies and gentlemen, boys and girls welcome to the greatest show on earth. Witness a struggle between two titans as they battle for supremacy. Eh, not really but you might as well call it that as the FIU Panthers play host for the University of Miami Hurricanes, renewing a relatively new rivalry. The stage has been set for a very promising clash.
The Story So Far
Both teams are exactly 5-6, coming off excellent wins this past Sunday. While the Hurricanes won their series against Maine (Which included a 6-hour, 15 inning marathon on Saturday), the Panthers salvaged theirs thanks in part to their rising star, Logan Allen. The 2017 Gatorade Player of the Year and C-USA Preseason Freshman of the Year sports a 1-1 record in three starts along with a 5.79 ERA. After his very rocky debut against Mizzou earlier this season, the kid has settled down. Not only that, but he hits. In 32 plate appearances, he's batting .375 with a pair of RBIs to boot. The team had snapped a three-game losing streak on Sunday, defeating Jacksonville State. Meanwhile, the recruiting class and new guys are coming along well so far.
Freshman backstop Jose Garcia is making waves, leading the team with 4 homers and coming second only to Eddie Silva in RBIs (11). He isn't the only power hitter. Lorenzo Hampton Jr. is also brandishing some power hitting of his own, going yard three times thus far in the season, recording 9 RBIs and a .281 batting average. Hampton played his previous two collegiate seasons at California before showing up in the Sunshine State. Did I mention his father was a running back for the Miami Dolphins?
For the Canes, the team is also in the process of developing their freshman while making adjustments to complement their core, although the injury bug has hit the team as of late. After winning their opening series against Rutgers, Miami lost the mid-week game against Mizzou. The Hurricanes struggled versus the defending Champion Florida Gators, fighting back to salvage the last game of the series. Danny Reyes was having a fantastic start to the year, leading the team in batting average (.400) before injuring his thumb against the Gators. The torn ligament will sideline him for 4-6 weeks. Michael Amditis is also out suffering an injury to his hand.
As the Panthers have Allen, the Canes have their own rising star on the mound in Evan McKendry. Recently named the ACC Player of the Week (Feb. 26) the kid has shown he is a strikeout machine (26), going 2-1 with a 2.93 ERA. After stumbling against the Scarlet Knights, he bounced back with great victories against Florida and Maine. Since he's been given the ball to close out the series in all three of his starts, McKendry is proving to be a reliable hurler any given Sunday.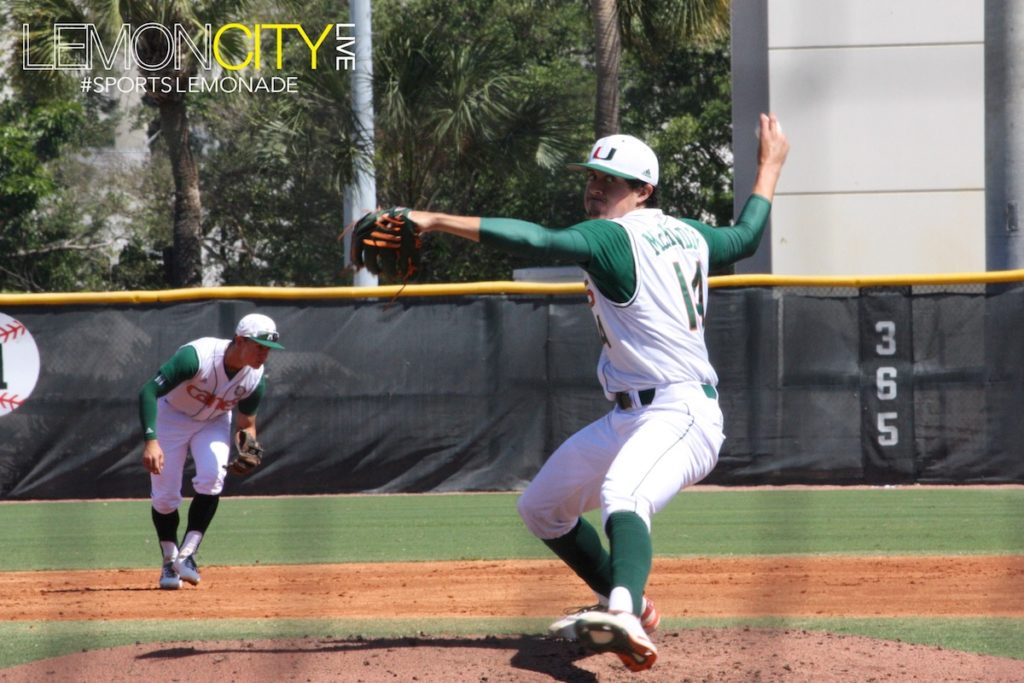 Players To Look At
For UM, I'd keep an eye on their new starting catcher, Isaac Quinones. He's in for Amditis but the freshman from Pembroke Pines is earning his stripes. After playing through much of the Saturday nights marathon, he had a fantastic outing against Maine the very next day earning player of the game. Quinones went 1-for-2, scoring 4 RBIs and drawing 2 walks. Redshirt Senior Michael Perez leads the team in home runs and triples so don't be surprised if a couple of balls leave the outfield. Speaking of power, Romy Gonzalez was the team's big bat last year (11 HRs) as he seeks to match or even surpass his previous numbers. So far he has gone yard only once.
Silva has been brilliant for FIU, bringing in a mix of great fielding (both at second and third base) while honing an impressive .361 batting average, and claiming the top spot on the squad in RBIs. Christian Khawam is one of the Panther's great contact hitters, managing thus far to get at least one hit in all but 3 games this season (.333 avg). This coupled with 5 walks to his name, the redshirt senior leads the Panthers in on-base percentage (.486). As the movie Moneyball suggests, you can't score if you can't get on base.
What to Expect
Both teams are looking to get back to .500 and beyond. Given the dominance FIU displayed over UM last year, a bit of bragging rights and pride is on the line. With power hitters on both squads, I'd wager there'll be at least one homerun. It won't be a shootout but the starting pitcher on both sides will more than likely surrender some runs, given each team's potent offense. It won't be too much of a pitcher's duel either. I would've loved to have seen Logan Allen duel Evan McKendry but both of them took to the mound on Sunday, so that dream will remain unfulfilled. But we will still likely see Allen play over at first base for the Panthers. Guys, the PITCHER leads the team when it comes to batting average. He's for real.
So now's the time to predict the final score. For transparency: I grew up watching both the glory years of the Butch Davis and Larry Coker eras of UM football AND Jim Morris leading Canes baseball to the promise land at Omaha several times. With that said, Florida International University is my very dear alma mater and that does bring a bit of a dilemma for me. So where do my loyalties lie? The school I called home or the legendary university? Paws Up or The U?
Final Score Prediction
UM 5, FIU 3.
(Visited 397 times, 1 visits today)