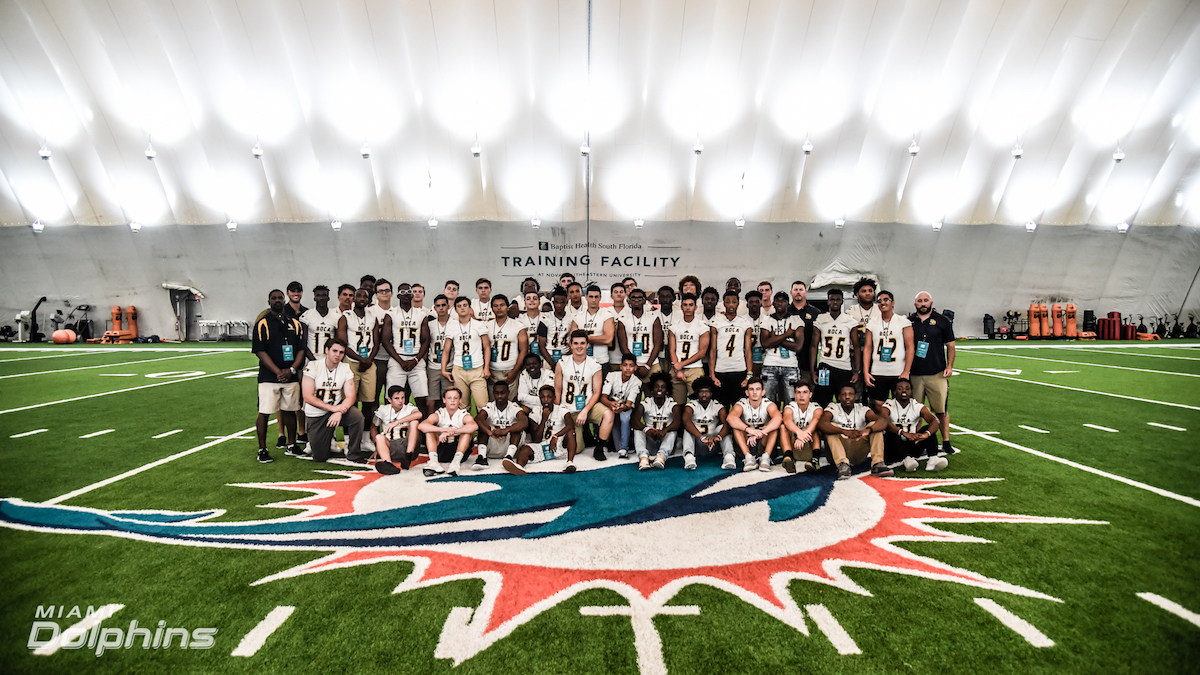 Miami Dolphins Press Release
---
Davie, FL – The Miami Dolphins hosted the Boca Raton High School football team at their Organized Team Activity (OTA) practice. The team was given a tour of the Baptist Health Training Facility at Nova Southeastern University and heard from Miami Dolphins Youth Programs Ambassador and Dolphins alum Twan Russell about commitment and dedication.
"The Dolphins are a first-class organization. They really care about the youth in our community and having programs like this is really what sets them apart from a lot of other organizations," Boca Raton High School Head Football Coach Brandon Walker said. "This has been a great experience for our young guys to see these professional athletes work, truly work, to get better at their craft. I think it motivates and inspires our kids that have this dream to play at a high level to get in there and put in the work."
The Boca Raton football team also had the opportunity to watch the Dolphins practice and meet with current players on the field. Following practice, the athletes had lunch provided by Publix.
"I got to meet a lot of the new players, a lot of the vets. I got to meet Cameron Wake. That was really good. I got to learn some moves from him. It was really beneficial," Boca Raton High School junior defensive lineman and tight end Brandon Holcomb said.
Thanks for stopping by OTA #3, @athleticbobcat! #LetsPlayFootball | @NFLPlayFootball pic.twitter.com/Z0neqTXhXN

— Miami Dolphins (@MiamiDolphins) May 25, 2018
This spring, the Boca Raton football team participated in the RISE Leadership Program. The RISE Leadership Program is designed to empower sports administrators, coaches and athletes to be leaders in discussing and addressing matters of racism, prejudice, diversity, and inclusivity within their teams, schools, and communities. The multifaceted program increases awareness, builds skills, and creates safe spaces to have difficult conversations. Participants learn about the history of race and sports, the power of sports to drive change and how they can become leaders in improving race relations. Founded in 2015 by Miami Dolphins owner Stephen M. Ross, RISE is a nonprofit organization dedicated to harnessing the unifying power of sports to improve race relations and drive social progress.
"This is my second year doing RISE and the kids had a great experience. To be able to have great communication about social issues and topics, for these kids to really be able to have that dialogue, is phenomenal. It's a great program that hopefully, we do for years to come," Walker said.
"The RISE Leadership program, it was very informational and we got to learn a whole bunch of new things and get a whole bunch of perspectives from it as well because we have such a diverse team," Holcomb said.
The Junior Dolphins program encourages youth players and coaches to teach, learn and play football in a fun and safe environment. The Junior Dolphins program is designed to give kids access to learn the fundamentals of football using the NFL's top resources. To grow the game, the Junior Dolphins program will work to educate coaches, parents, and youth on the health and safety of football with a strong emphasis on character development. Junior Dolphins is building the next generation of Dolphins Fans.
-Miami Dolphins
[foogallery id="12446″]
📷Credit: Miami Dolphins
(Visited 323 times, 1 visits today)