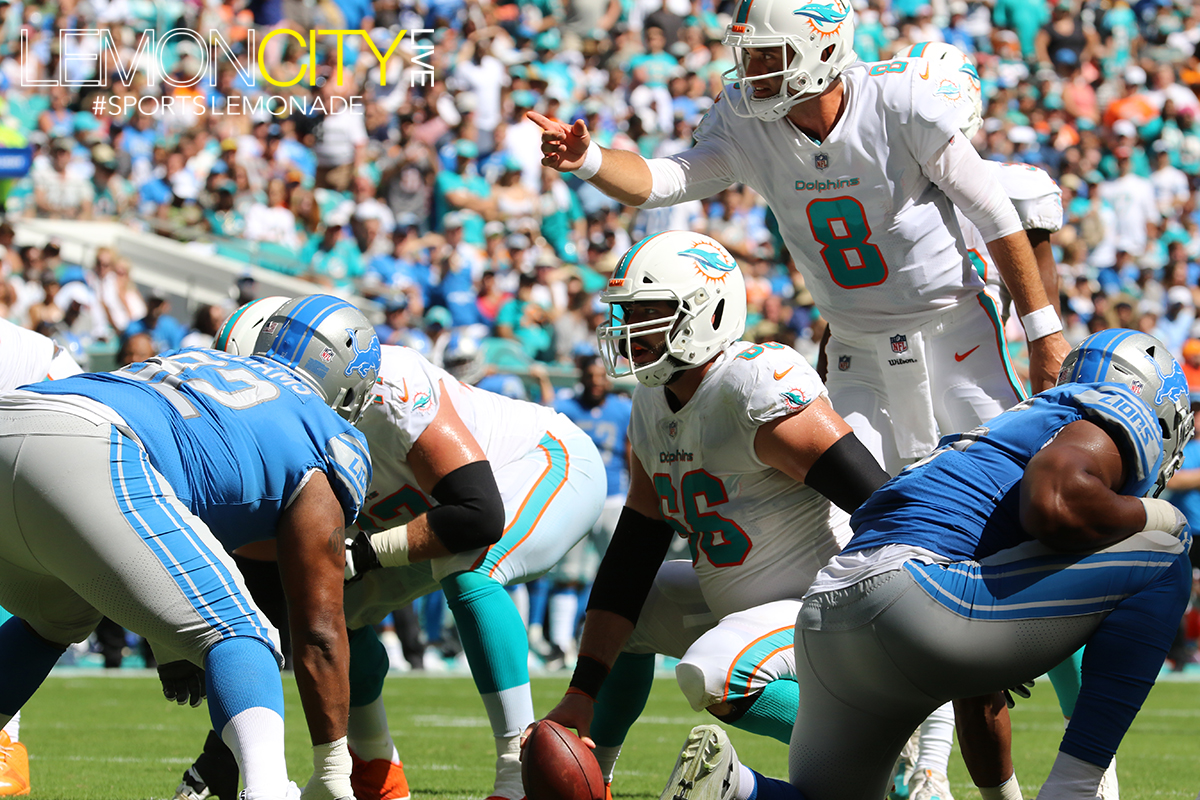 Miami Gardens, FL – The Miami Dolphins vs. Detroit Lions game was supposed to be a winnable game for the Fins, and it kind of was. Usually, we're here talking about the Fins' offensive woes, but when you score 21 points and don't turn the ball over, you can't really point the finger at the offense, or can you?
QB, Brock Osweiler had a decent game. The dude was hungry! He posted a 114.9 QB rating, throwing for 239 yards and two TD's! The only thing I'd say is that they should've run the ball a bit more, but hindsight is 20/20. The Fins only ran for 107 yards, compared to the Lions' 248 yards on the ground. Lions QB, Matt Stafford was very efficient, throwing 18 completions on 22 attempts, with 217 yards and two TD's. That small difference in offensive efficiency seems to be where the Fins let this game get away from them. The Lions punted only one time the whole game! Meanwhile, the Fins were forced to punt four times. The Lions used the run game to control the flow, and it showed in time of possession, 33:39 for the Lions and 26:21 for the Fins.
Amendola's first touchdown as a Dolphin makes it a one-possession game.

📺 » @NFLonFOX#DETvsMIA #FinsUp pic.twitter.com/tI2f2QUryy

— Miami Dolphins (@MiamiDolphins) October 21, 2018
Another factor that, without a doubt, has exacerbated Miami's inconsistent play is injuries. I asked Cameron Wake in his postgame press conference, "How frustrating are all of these injuries?" He responded by literally knocking on wood (assuming the podium is made of wood) and said, "It's football. Every game you turn on, somebody is going to get injured. That's the way it is. You roll the dice. It's not if, it's when, and nobody can predict when. So there's nothing you can do about it unless we put on flags. But that's not … I mean, we're going in that direction though."
The defense wasn't terrible. They forced that Detroit offense into four field goal attempts, which they made all four, but it kept the game within reach for the offense. The defense also forced two fumbles but wasn't able to recover either of them. One was on a sack on Stafford by Andre Branch. The ball ended up going out of bounds on an eight-yard loss, but Stafford converted a 29-yard pass on 2nd-&-18, and eventually, the Lions found the end zone. The Lions' 2nd fumble came on a 3rd-&-9 from the Miami 22 yard line. Raekwon McMillan forced the Golden Tate fumble, but the ball was recovered by the Lions. They subsequently converted a field goal afterward. That's a 10-point swing on two plays, and the Dolphins lost by 11. 32-21.
Despite, the loss, it's nice to see the offense flowing a little better. There are still some improvements in offensive efficiency to be made. The best teams control the clock with a balanced run/throw scheme and are able to keep their own defense off the field. That's what the Lions were able to do today. Whoever's behind center, be it Tannehill or Osweiler, are still getting pressured way too often. The Brock Lobster was hit five times today, four of which were sacks for losses of 24 yards! Let's give these guys some help. Either that, or draft a mobile QB that owns the pocket and extend plays, but it's got to be one or the other.
Dolphins Live: Coach Gase meets with the media https://t.co/r7rXfHE3Zu

— Miami Dolphins (@MiamiDolphins) October 21, 2018
Next up, the Dolphins have a short turnaround, as they travel to Houston to face the Texans on Thursday Night Football. You can expect Houston's front seven to bring plenty of havoc to Miami's O-line. Let's hope the Fins bring back whatever magic they concocted to keep that Chicago Bears defense in check.
[envira-gallery id="14551″]
(Visited 196 times, 1 visits today)