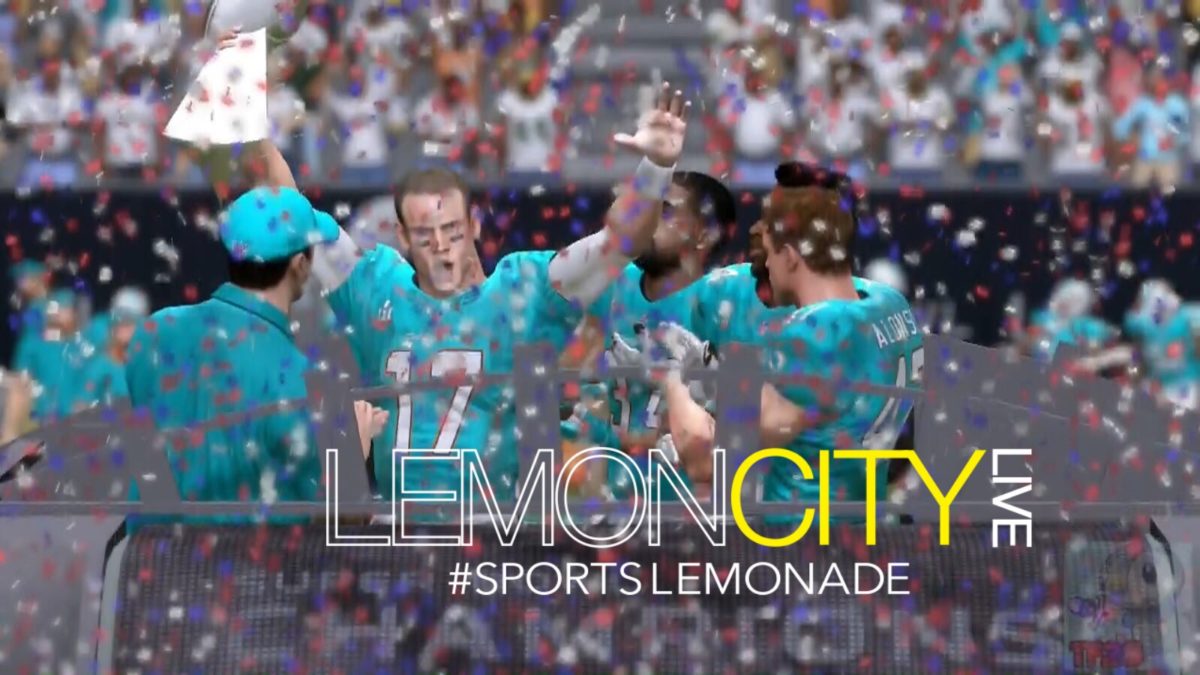 Fins Up… On The Podium?
By: Enrique Sierra Jr.
If you know me, then there's a very good chance you know about my sports fandom and its uncontrollable ability to make me happy or miserable. If you don't know me, you should really make it a point to, I'm a pretty cool dude. Either way, what you might not know about me is that my mid-to-late twenties have brought on an eerie sense of impending mortality. Sports is clearly way down on the totem pole in importance of the things that truly matter in the grand scheme of things, but this isn't an article about my family and friends or my real life. Perhaps it is a natural evolution in the realization that we cannot live forever to consider all the accomplishments, or lack there of, we will get around to. Famously, The Chicago Cubs just won their first World Series in 108 years. Are you fucking kidding me?! This is the kind of shit that keeps me up at night! That's 108 YEARS! Generations of die-hard fans lived full lives while never having the opportunity to experience that one moment of absolute bliss. The singular moment when it all comes to fruition and the trophy, symbolically and literally, is raised to signal the champion. And in that moment of absolute bliss and elation, for a small pocket and lapse of paused time, nothing else matters. I have been lucky enough to experience such a moment. I am by no means an ingrate. I lead not the life of a Cleveland sports fan prior to last year's Cleveland Cavaliers championship. I was fortunate to have the four year run of the Miami Heat and its Big Three and the 2006 Finals. I was in Miami when Josh Beckett tagged Jorge Posada out by the first base line in Game 6 of the 2003 World Series and my (then) Florida Marlins were winners of the baseball world. However, as I consider my sports fanaticism wealth and highlights, I am left to wonder, will the Miami Dolphins ever provide me with such a moment?
Unequivocally, the Miami Dolphins have always been and always will be the number one sports franchise in the South Florida market. The rest of the country is sick of hearing about it and we couldn't be prouder of it, but the fertile grounds of South Florida for football talent is the perfect indication of just how instilled in the culture that particular sport is down here. We fucking love our Dolphins. It matters very little what my favorite sport is, the Dolphins are among the things most important to my heart and I bleed aqua and orange (I should probably get that checked out, mostly because I fucking hate cliches). However, being a Miami Dolphins fan comes with a certain set of complications, misery and disappointment, for the most part, taking huge roles in the whole equation. The glory days are long, long gone and the organization feels the constant need to beat us over the head with them, somewhat understandably considering very little in the way of positive has happened since. However, if the biggest sense of pride and celebration for a franchise remains something that happened over 40 years ago, we have a problem; I don't fucking want to hear Bob Griese talk about Perfect 72 anymore, goddamn it! In my particular situation, I was not even around to enjoy the Dan Marino era. My Dolphins fandom began after the turn of the millennium and Jay Fiedler (yeah, that guy) was my quarterback. In other words, I have gone through some shit.
The early 2000s were not a terrible time to be a Miami Dolphins fan. Jay Fiedler was not the worst thing I've ever seen under center and the emergence of Ricky Williams complimented a defense that featured studs like Zach Thomas, Jason Taylor, Brock Marion, Patrick Surtain, Sam Madison. The slippery slope came after that, the years went by and the defense began to let up while the offense was never quite able to figure it out. An important constant to note as well, my Fins fandom began just as Bill Belichick and Tom Brady teamed up for the 2001 New England Patriots Super Bowl victory that would start a dynasty that remains the bane of my fucking existence; seriously, watching this damn Patriots team near or at the top of the league every year has to have taken significant time off my life expectancy. But back to the Dolphins, the slippery slope began. If you are not familiar with the burning dumpster show that has taken place for nearly 15 years, this will not be the place to get all your information, I simply do not possess the strength. However, I will provide some quick highlights that come to mind just for shits and giggles. Ready? Here we go…
Ricky Williams can't lay off the devil's lettuce.
Could've had Drew Brees.
Nick Saban is NOT, I repeat, NOT taking the head coaching position with the University of Alabama Crimson Tide.
Nick Saban disappears and takes the head coaching position at Alabama.
Head Coach Cam Cameron drafts Ted Ginn, Jr. and his whole family and they all "fail forward fast".
Cleo Lemon hits Greg Camarillo for the game winner against the Baltimore Ravens. What a time to be alive!
Bill Parcells and Jeff Ireland (that's all I have to say about that).
Oh, the Wildcat Offense. Good times.
It's a good thing Head Coach Tony Sporano wore those shades, to hide the shame and heartbreak of owner Stephen Ross cheating on him with Jim Harbaugh.
Chad Pennington, I love you.
Chad Henne, I hate you.
Joe Philbin, fuck you.
Dan "The Man" Campbell can take anyone.
Adam Gase! Save us, Adam Gase. Give my life a little meaning. I beg you to make my years of service worthwhile. I don't want to be the fucking Cleveland Browns.
All right, I'm back. I blacked out there for a second from the pain, but I'm back. So, the question
seems pretty simple, actually. What constitutes a winner? Well, organizational structure is the apparent ingredient, what's more, organizational stability. Franchises that have enjoyed continued excellence the likes of New England, basketball's San Antonio Spurs, or baseball's St. Louis Cardinals have established a base upon which their product is built. Luck is an undeniable factor in the equation to be sure, I don't give a shit how good a talent evaluator you think Belichick is, Tom Brady drafted in the 6th round turning into the greatest of all time at his position requires more than a little luck. However, just as undeniable is the ability for these select few franchises to continue getting lucky, which brings about the discussion of development in their system and the knowledge to help the product flourish. The Dolphins have certainly never lacked ownership that gives a shit. Wayne Huizenga and Stephen Ross may have their faults, but the willingness to readily put forth their resources in the hopes of improvement has never been in question. The weakness has always been where they devote said resources (or rather, who to).  This all circles back to the purpose of this piece, will I ever get to enjoy a Miami Dolphins Super Bowl win in my lifetime?
Optimistically, the Dolphins are headed in the right direction under new head coach Adam Gase. He is considered a great football mind and the assembled talent on this team and the improvement under the new coaching regime led them to the playoffs last season; things are looking up. Realistically, winning in the NFL is a daunting task. There are 32 teams in the league, only 12 make it to the playoffs and the randomized format of single game elimination playoffs doesn't guarantee that the better teams win, even if the Dolphins ever become one of them. Cynically, fuck everything, burn everything to the fucking ground! This fucking team has made me suffer long enough and they just provide me with enough hope to make me invest year after year and then rip my heart out! I'd like to believe that I mostly reside somewhere between realistic and optimistic about this particular team. Free agency of 2017 began and the Dolphins have made some moves. The resigning of Kenny Stills, extension of Reshad Jones, and trade for Julius Thomas have all received praise while the draft looms ahead. A franchise quarterback recovering from a knee injury is major cause for concern, but Ryan Tannehill is young and the team presumably took the right course of action in his rehab. As for me, well, I will do what I do every year. I will sacrifice my health and well being for the purpose of supporting my team. My Sundays will be made or ruined by whatever happens from 1-4 PM when fall comes around. Which is why I plead to the Miami Dolphins, for the love of god, provide me with the sweet joy of being able to watch my team step up on the podium after the clock shows zeros, confetti raining down, Roger Goodell – or whatever other asshole happens to be the commissioner at the time – hand them the Vince Lombardi trophy, and then allow me to attend the epic parade I so rightfully deserve.
The Lemon Drop is a weekly segment entertaining whatever the hell comes to the mind of Enrique Sierra, Jr. (Hipster Rick). Simply a sports lover who would like to see a Miami Dolphins Super Bowl win before kicking the bucket. Please click back next Tuesday for more and feel free to comment or engage us through Twitter, Facebook, and Instagram.
(Visited 101 times, 1 visits today)