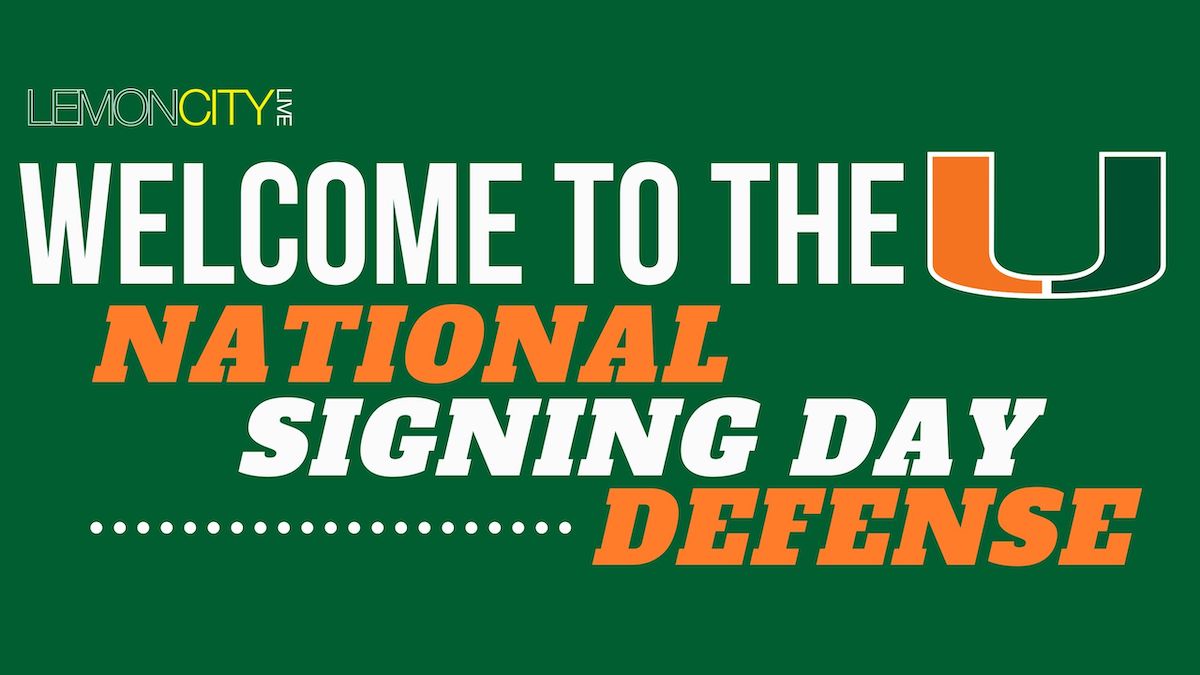 ---
---
Miami, FL – Last Wednesday was National Signing Day, as players across the country made their picks, choosing the programs they would be playing for to start their collegiate careers. For some schools, it was business as usual, bringing in the latest, promising crop of recruits to (hopefully) ensure their continued relevancy in college football. For others, it's optimism the latest freshman class of signees will make the following years something special. The University of Miami Hurricanes look to regroup and reload, hauling in a hefty 18 players on NSD, split equally on both offense and defense. In order to take a little peek at each promising athlete, we will first look at the defensive side.
The Hurricanes are looking to beef up their front seven for the future, bring on board three defensive ends and two linebackers. Some of these new guys could be very effective pass rushers. Last year, UM was ranked third in the ACC with 39 sacks for a loss of 243 total yards. Coach Manny Diaz will look to improve the team's capabilities of harassing and flushing out opposing quarterbacks.
First up of the trio is a big guy out of Charlotte, North Carolina by the name of Quentin Williams. Considered a 3-star prospect, Williams is ranked No. 31 nationally as a weak-side defensive end and No. 18 in the state by 247 Composite. Able to run the 40 in 4.8 seconds, the DE is able to disrupt offensive schemes and overpower opposing defenders. During his varsity career, he amassed 84 tackles, including 41 tackles for loss and 16 sacks. If he can keep this up, expect to see a lot of him in the future.
Moving closer to Jacksonville, Florida we got another young man, a brother from another mother, named Chantz Williams. He's a consensus 4-star prospect, rated the No. 7 player at his position nationally and No. 11 in the state by ESPN. Williams was selected to participate in the 2020 Under Armor All America Game, choosing UM over Bama, Clemson, UF, FSU and LSU among others. Reviewing some of his highlights, Williams knows how to smash past opposing O-lines and force the QB to scramble. By the looks of it, he's got that killer instinct to end drives on third down, if not sooner.
Then we got the heavier fella of the three. Homegrown from Miami, weighing in at 265 pounds and hailing from Christopher Columbus, Elijah Roberts is listed as the No. 31 defensive end nationally and No. 56 player in Florida by ESPN. As a strong side DE, he helped lead Columbus to the 2019 Florida Class 8A Championship. Back in high school, I hated it when Coral Gables faced off against Columbus, be it baseball or football. They were pretty dang good.
His highlight reel on Hudl showed neither the quarterbacks nor running backs could escape his reach, showing enough awareness on the field to be an impact player. In a recent game against Deerfield Beach, the defensive end faced little opposition, although the guy across from him didn't seem to impressive. Roberts finished the 2019 season with 31 tackles, eight of them for loss, and six sacks making this 4-star prospect an excellent candidate for the turnover chain. Just in case you were wondering, he chose Miami over FSU, UF, Michigan, Nebraska, UNC and Oregon. Those are great programs, two of them being in-state rivals.
Now for our two linebackers, both from out of state
Tirek Austin-Cave is from Pennsauken, New Jersey. Listed as the No. 44 player at his position and No. 14 in the state by ESPN, the 3-star prospect finished the 2019 season with 148 tackles, 11 sacks, two interceptions, two forced fumbles, two fumble recoveries, and a blocked punt. If you're a quarterback, do not attempt to throw over this kid. He has the uncanny ability of timing it just right to either deflect the throw and/or just outright steal it from you to take it to the house. As a senior, Austin-Cave was named a Butkus Award nominee and earned first-team all-conference, first-team All-South Jersey and first-team all-state honors.
From Texas, we got Corey Flagg, Jr.
The Houston local is another 3-star prospect and a speedster, doing the 40-yard dash in four and a half seconds. Ranked 25th as an inside linebacker and the No. 72 player in Texas by Rivals, Flagg Jr. helped lead his high school North Shore to the Texas Conference 6A D1 State Championship game. Offensive formations might want to send in an extra man to cover him or else they will see this guy sneak past the collapsing pocket and watch their signal-caller get slammed onto their back.
Now that we've seen a bit of our front seven, time to expand beyond the line of scrimmage.
The rest of the boys are homegrown so to speak, starting with 3-star safety Brian Balom. Rated No. 77 nationally at his position by ESPN, Balom had 28 tackles (25 of them solo), two of them for loss. He also collected three interceptions and two forced fumbles as a senior. Could we be seeing the turnover chain on him? Balom is also a track and field star, choosing Miami over offers from Indiana, Louisville, Toledo, FAU and FIU among others. Keep in mind UM was middle of the pack in the ACC when it came to interceptions. They only had nine on the year, none for touchdowns. In 2018, Miami had 16 interceptions, two of which were taken to the house. Coach Diaz will be looking to return to double-digit numbers to make this defense one to be feared, both in the ACC and nationally.
Keshawn Washington is another safety that was signed, this time from Homestead. Regarded as a 4-star signee by Rivals and 247 Composite, ESPN views them as a 3-star player curiously enough. Ranked No. 8 nationally at his position and No. 22 in Florida by Rivals, time will tell if Washington becomes an asset against the pass in order to help neutralize deep threat receivers while providing secondary assistance versus the run. Regardless of his level of skill, several schools coveted the youngster including Florida State, Auburn, Georgia, Georgia Tech and UCF.
Next up, we got the consensus 4-star athlete by the name of Jalen Harrel out of Hollywood, Florida. Ranked the No. 22 safety in the country and the No. 38 player in Florida by 247 Composite, Harrel helped lead Champagnat to a Florida Class 2A state championship. Harrel is more than capable of knocking the ball out of the opponent's hands as Gulliver Prep learned earlier this year. He finished the 2019 season with 62 tackles, one interception, three passes defended and one forced fumble. Not too much on the stat line but still a prime candidate to be a force on the field.
Rounding off the defensive review is cornerback Marcus Clarke from Winter Park, Florida. Yet another 3-star prospect, he is considered the 30th best cornerback in the country by 247 Sports. If he isn't intercepting throws, he's catching deep passes and doing punt returns. Amassing over 2,500 all-purpose yards, grabbing six interceptions and returning eight punts for touchdowns in three varsity seasons, Clarke has versatile value for special teams. Something Miami could use as another weapon down the road. Clarke also helped Winter Park to three district championships so the freshman will have a winner's mentality.
Are these the sort we need? Are they enough?
No doubt Miami looks to regain its lost glory through these incoming freshmen, hoping they're as good as advertised. Diaz, meanwhile, will be tapping his veterans to help create the building blocks necessary to make the U's D the formidable turnover juggernaut it used to be, back in 2018. Either way, fans and alumni alike are excited and that's a good thing.
(Visited 52 times, 1 visits today)