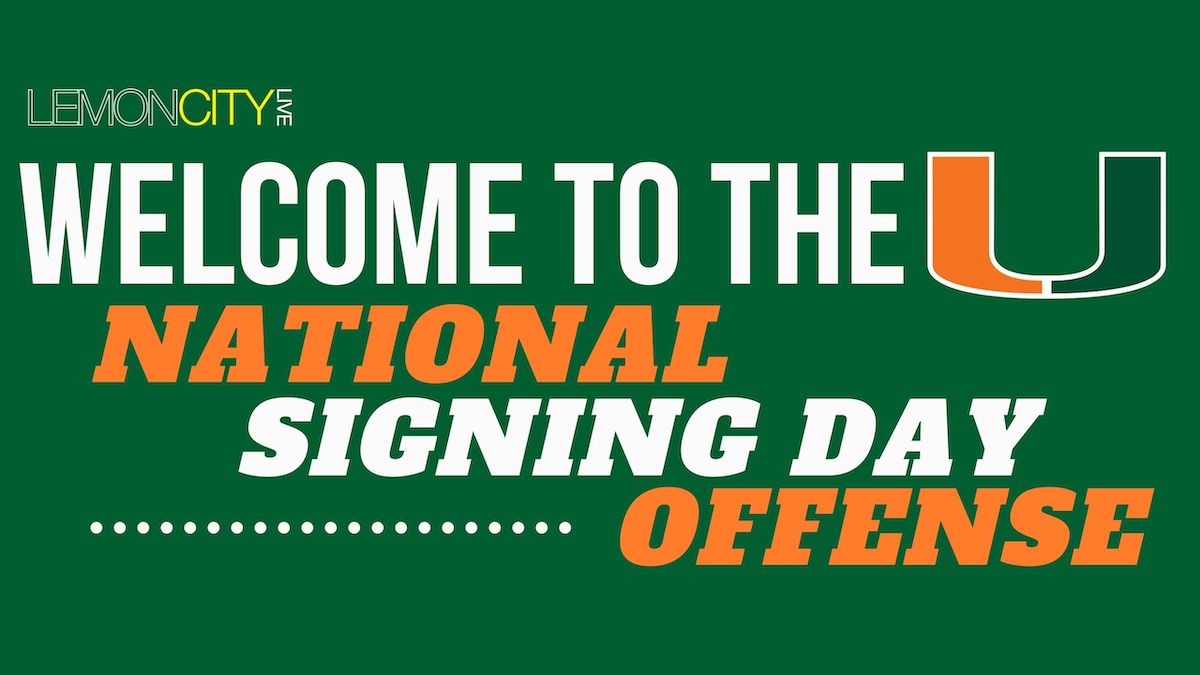 ---
Miami, FL – Similar to the defense, The Miami Hurricanes hauled in nine more players during National Signing Day in order to bolster an area in need of improvement. The offense has been sporadic at best all season and was absolutely ugly at Shreveport for the Independence Bowl. For some numbers, the Canes finished in the bottom half of the conference (Tenth) with only 40 TDs, one behind Syracuse, a program that finished the season with a 2-6 conference record and 5-7 overall. Ouch. Miami was also dead last in third-down conversions with a measly 26% success rate. You won't win many games like this.
Enter Tyler Van Dyke.
As a four-star prospect, he's ranked No. 105 nationally in the ESPN300. Van Dyke is also rated the No. 2 pro-style quarterback countrywide and the top player in Connecticut per ESPN. He is definitely a guy to look at in the future, especially considering that UM had a QB controversy all season. The youngster from the northeast can sling it deep, creating some nice spirals as a pocket passer. However, if flushed out, he knows how to scramble and throw relatively accurately on the move. It's this sort of awareness Miami is in need of. Van Dyke could very well be our man in 2020. He helped lead Suffield Academy to an undefeated season and to the NEPSAC Class A Championship. The signee finished the 2019 campaign with 2,260 passing yards and 21 touchdowns while completing 123 of his 200 pass attempts. He also totaled over 4,600 passing yards and 39 passing touchdowns in his last two varsity seasons combined. For accolades, Van Dyke was named the 2019 New England Prep Player of the Year and First Team All-New England in 2018 and 2019.
Miami was near the bottom in total points scored (309), averaging just over 28 points a game. UM was also dead last when it came to advancing on the ground, only accumulating 1282 yards. I felt they underutilized both DeeyJay Dallas and Cam'Ron Harris for much of the season, even when the passing attack struggled. They only averaged 116.5 yards a game.
These setbacks are what ultimately cost the offensive coordinator Dan Enos' job.
Hailing from Belen Jesuit, we've got a running back by the name of Donald Chaney Jr. The four-star stud can weave and juke his way around opposing players, making them look silly in the case of two kids from Columbus. I would like to see Chaney Jr. get fed the ball several times to see what he's capable of doing as a freshman. To see what kind of impact he can make right out of the gates. Rated the sixth-best running back and No. 42 player nationally by ESPN, Chaney Jr. was selected to participate in the 2020 U.S. Army All-American Bowl. He also participated in The Opening in the summer of 2019. Able to do the 40-yard dash in four and a half seconds, if this Homestead local finds an open lane, get ready to see fireworks. He leaves Belen Jesuit as the school's all-time leading rusher, having totaled 4,511 yards and 60 touchdowns on 442 carries over the course of four seasons. He's been named Dade County Player of the Year twice.
He's not the only RB we signed.
Jalen Knighton is another four-star, ranked 5th nationally at his position and the No. 25 player in Florida by Rivals. Knighton can be another key piece to Manny Diaz's grand scheme to make Miami nationally relevant again. Selected to participate in the 2020 Under Armour All-America Game, he also participated in The Opening back in the summer. Knighton has plenty of explosive upside, able to dodge past potential tackles and stiff-arming his way for extra yards. If there was any sort of advice to be given to an opposing defense it's this: Do not let him find an opening, you won't catch him. Knighton helped lead Deerfield Beach to the semifinals in the Florida Class 8A state playoffs, finishing the 2019 season with 1,414 rushing yards and 19 rushing touchdowns, averaging 9.7 yards per carry. The Lauderhill native also added 13 receptions for 267 yards and two touchdowns to his resume. If that wasn't enough to convince you, Knighton ended his varsity career as the all-time leading rusher in Broward County history with 5,150 yards.
Absolute fire.
Switching gears, it's time to take a look at the newest Tight End to join the program.
Dominic Mammarelli is a disputed 4-star prospect out of Naples, Florida. ESPN and Rivals see him on that level while 247Sports pegs him to a 3-star. Regardless, ESPN sees him as the second-best tight end in the country and in the top 60 overall in Florida. He's a man able to efficiently run his routes although he doesn't come across to me as a speedy receiver. With that said, the kid knows how to lay down blocks and help open up the lanes when need be. Mammarelli helped Naples reach the regional semifinals in the Florida Class 6A state playoffs.
Now for the rookie wideouts.
The first of the trio is Xavier Restrepo. Listed as the No. 101 athlete nationally by ESPN, he also helped lead Deerfield Beach to the semifinals in the Florida Class 8A state playoffs. At first glance, he may not seem like an imposing figure but Restrepro can be a fine addition to the WR corps. Capable of catching in double coverage and more than able to outrun his opponents, the kid's highlight reel shows he can do some sweet kick returns. He's even played defense, able to absolutely layout unsuspecting running backs. He finished the 2019 season with 18 catches for 294 yards and six receiving touchdowns. A versatile player, he scored 48 touchdowns, had eight interceptions, made over 200 tackles, accumulated over 3,000 receiving yards and over 2,500 rushing yards in his high school career. He is considered 3-star to some, a 4-star to others. Either way, he's a Cane now.
He is followed up by Michael Redding III. An undisputed 4-star signee, Redding III is more than capable of blowing past opposing secondaries and grabbing considerable yardage, as well as those much-needed touchdowns. He's got the height and the reach to make spectacular catches but with his speed, it may not come to that. He also has the awareness of making sure both feet are in bounds, an asset any coach looks for in a receiver. Rated No. 214 in the ESPN300, he's listed as the No. 35 wide receiver in the country and No. 34 player in Florida. He too was selected to participate in the 2020 Under Armour All-America Game and also participated in The Opening over the summer. On a minor statistical footnote, he caught 17 passes for 202 yards and one touchdown as a senior in 2019.
For those who may not know or remember, the passing game wasn't very impressive either. Miami rounded up just 2,777 yards with a subpar 57% completion rate. This must change, it will change.
Dazalin Worsham rounds out the wide receivers as a 4-star prospect per ESPN. Worsham is capable of circus catches, making him an entertaining playmaker once he learns the playbook. Like the others, speed and height are his forte, able to gain separation in man to man coverage. Ranked No. 185 in the ESPN300, he's rated the No. 28 wide receiver nationally and the No. 10 player in Alabama. Selected to participate in 2020 Under Armour All-America Game, he caught 54 passes for 427 yards and six touchdowns as a senior in 2019. He totaled 215 catches for over 2,400 yards and 28 touchdowns in his varsity career. If that didn't impress you enough, he finished his high school career as the all-time leading receiver in Hewitt-Trussville and eighth all-time in receptions statewide.
As always, none of our offensive weapons will be worth much if the battle in the trenches isn't won. Here, it can mean the difference whether the fullbacks run wild or get nowhere. Likewise, if the quarterback is always on his back, there is no passing attack. It isn't sexy but it's essential to any offense to have an effective O-line.
With that said we got our last two signees coming up.
Rated the No. 86 offensive tackle nationally and No. 25 player in the state by ESPN, Chris Washington is a three-star prospect out of Nashville, Tennessee. Washington keeps the outside perimeter nice and protected as either the left or right tackle. Able to neutralize incoming rushers, his quarterback can rest easy knowing that side will be held down. Named to the 2019 all-city team, he also competed in track and field, throwing shotput for Overton High.
Last but not least is Jalen Rivers. The Offensive lineman is 4-star material and for good reason. Good luck getting past this hunk of wall. Ranked No. 35 overall in the ESPN300, Rivers can easily throw his weight around and thoroughly overpower any would-be pass rusher. Selected to participate in the 2020 Under Armour All-America Game, he earned all-state and all-county honors. Rivers wasn't just a football player, he also competed in basketball, weightlifting, and track & field, winning a state championship in the shot put. Guy can do it all it seems.
These are the University of Miami Hurricanes' newest additions from the Category 20 National Signing Day. They carry the hopes and dreams of fans and alumni alike clamoring for a brighter, more exciting brand of football. It will be up to Manny Diaz's staff to guide and develop these kids, honing their skills and elevating them to new heights. After a very disappointing 2019 season, the hunger for greatness has grown. But also, so has the urgency. If the coach wants to create a long and successful tenure at Coral Gables, year two will have to be a starkly different season than the one fans were subjected to.
(Visited 62 times, 1 visits today)