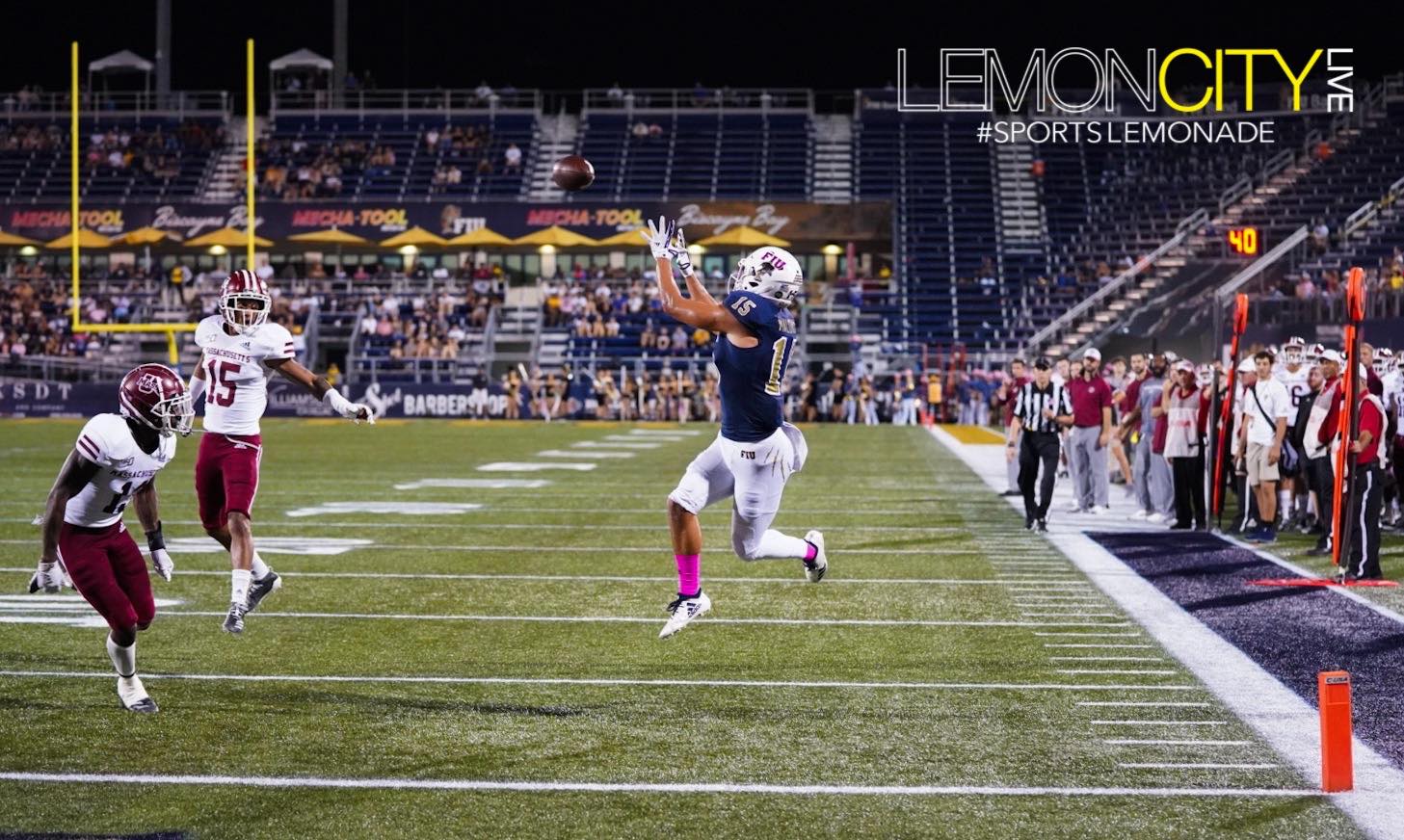 ---
Miami, FL – My favorite topic: slump busters. My favorite Missy: Elliot. Everyone needs them. They aren't necessarily sexy, but they definitely help your mojo. Be that as it may, the FIU Panthers were in dire need of some bustin'. Last week, James Morgan threw a career-best 394 yards, but the Panthers still came away with a 43-31 loss at Louisiana Tech. Sock It 2 Me. This week's FIU vs UMass game marked the 5th straight season that the two programs have met. In the previous two meetings, the Panthers embarrassed the minutemen, scoring 63 points in each of their last two matchups (63-24 in 2018 & 63-45 in 2017), setting up yet another confidence-building encounter. The Panthers made it rain on the Minutemen, 44-0, as it quite literally rained down in Riccardo Silva stadium. I can't stand the rain and Missy Elliot "don't want no one-minute man".
The game was off to an exciting, but slow start, with FIU recovering a UMass fumble, but then settling for a Jose Borregales 22-yard field goal. But, it went from 0-100 (actually 44) real quick! FIU scored three straight touchdowns: An Anthony Jones six-yard run, a Tony Gaitor 30-yard catch, and the third of which was a 90-yard punt return from Maurice Alexander to start the 2nd quarter. The run was good for the second-longest punt return in school history, behind T.Y. Hilton's 97-yard return against FAU on Nov. 12, 2011. Tony Gaitor had career highs with seven catches and 103 receiving yards. Work It.
The #SlumpBuster has been identified. ➡️ @UMassFootball @Jmoneyyy12 dropped a dime to @tony_gaiter!
On the next drive, @_hardtime3 took a #Minutemen punt to the house!@FIUFootball leads 24-0 in the 2nd qtr.#PawsUp pic.twitter.com/bHZrXRDjqf

— Lemon City Live (@LemonCityLive) October 6, 2019
The Panthers would add two more TD's. The first was off an Austin Maloney 25-yard catch from James Morgan. The other TD came on a Napoleon Maxwell goalline one-yard run. They also added two more Borregales field goals. Pass That Dutch.
The defense wasn't about to let the offense take all the shine. The 115 yards allowed by FIU vs UMass set a program record, beating the previous low of 154 yards allowed against FAMU in 2005. Jamal Gates led the way with six tackles. Sage Lewis came away with his 2nd interception of the season. Lose Control.
Next up, FIU hosts Charlotte for Homecoming at 7:00 p.m. ET. The 49ers are currently 1-3, having lost 45-27 to FAU last week, but will be coming off a bye week.
Good Game, boys!@FIUFootball defeats @UMassFootball 44-0.
The shutout was only second in school history!#PawsUp pic.twitter.com/f4jr2diDHz

— Lemon City Live (@LemonCityLive) October 6, 2019
📸Credit: Danis Sosa
This slideshow requires JavaScript.
(Visited 103 times, 1 visits today)