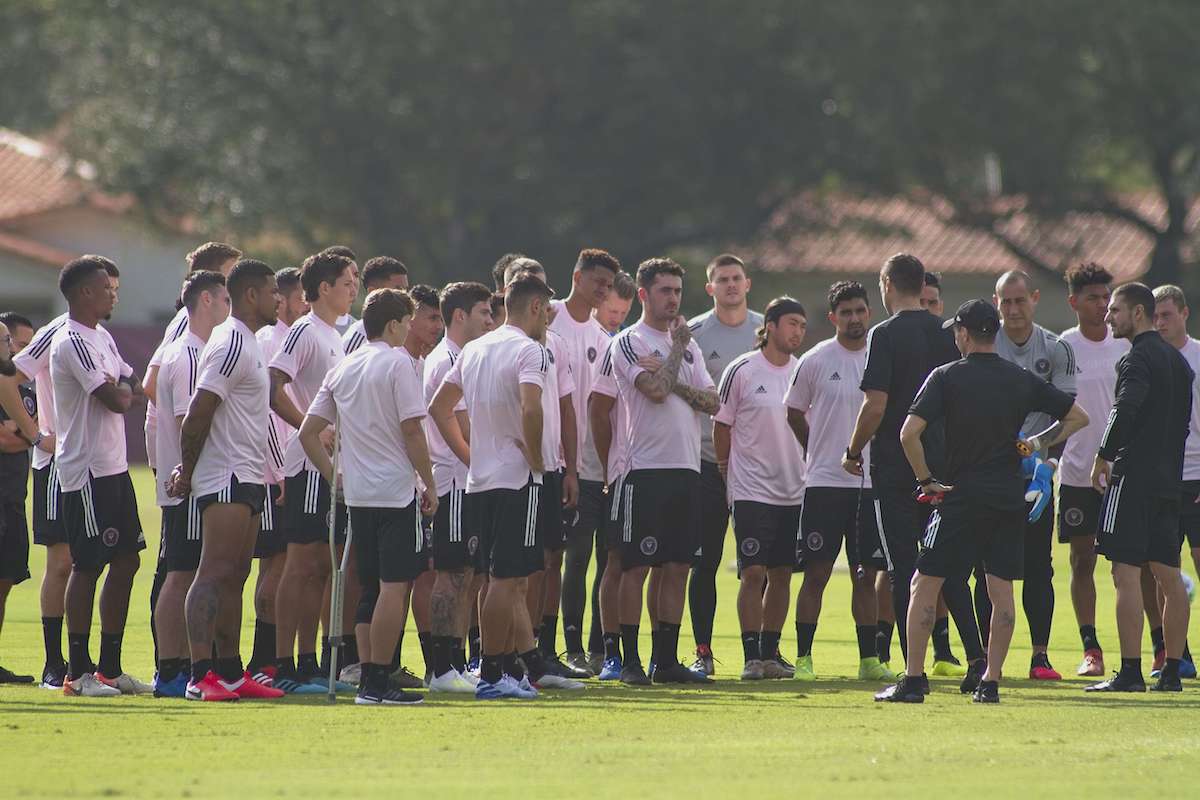 ---
Miami, FL – Inter Miami CF began its inaugural preseason preparations on Monday with a historic training session at Barry University. The players, who passed their medical examinations over the weekend at Baptist Health, trained together for the first time alongside Head Coach Diego Alonso and the rest of their new coaching staff.
"I'm very very excited," said Pellegrini. "It's the first day in this great club. I've been waiting for this moment for a while and we can't wait to get started."
"𝘾𝙪𝙖𝙣𝙙𝙤 𝙪𝙣𝙤 𝙨𝙚 𝙥𝙧𝙚𝙥𝙖𝙧𝙖 𝙥𝙖𝙧𝙖 𝙜𝙖𝙣𝙖𝙧, 𝙥𝙪𝙚𝙙𝙚 𝙧𝙚𝙥𝙚𝙩𝙞𝙧"

Mañana empieza la pretemporada de #InterMiamiCF bajo el mando de @AlonsoDT. pic.twitter.com/xb37iK7tQq

— Inter Miami CF (@InterMiamiCF) January 20, 2020
"One of the things about being in Miami is the fans do have very high expectations," McDonough said. "The fans are very educated here so they're going to hold us to a very high standard, which I think is OK. We want that type of pressure."
The team will continue to train at Barry University throughout the week before embarking on a trip around Florida. Inter Miami will travel to Port Saint Lucie and Bradenton where it will train from January 25 to February 6. The team will then train at the Inter Miami CF Training Complex in Fort Lauderdale for the first time beginning on February 7 before hitting the road again on February 14. Subsequently, the team will travel to St. Petersburg where it will play open friendly matches against the Philadelphia Union and the Tampa Bay Rowdies.
Inter Miami will officially kick off Major League Soccer action and make its worldwide debut on March 1 with a road match against reigning Supporters' Shield champions LAFC.
Team History Timeline
Beckham was in Miami looking at potential stadium sites on June 1, 2013 – 2,424 days before his team would hold its first practice.
The AP reported that Beckham had officially picked Miami on October 29, 2013.
Beckham himself came to town to announce that very decision on February 5, 2014.
January 20, 2020 First ever practice for Inter Miami
Photo Credit | Andrea Yanez
(Visited 66 times, 1 visits today)