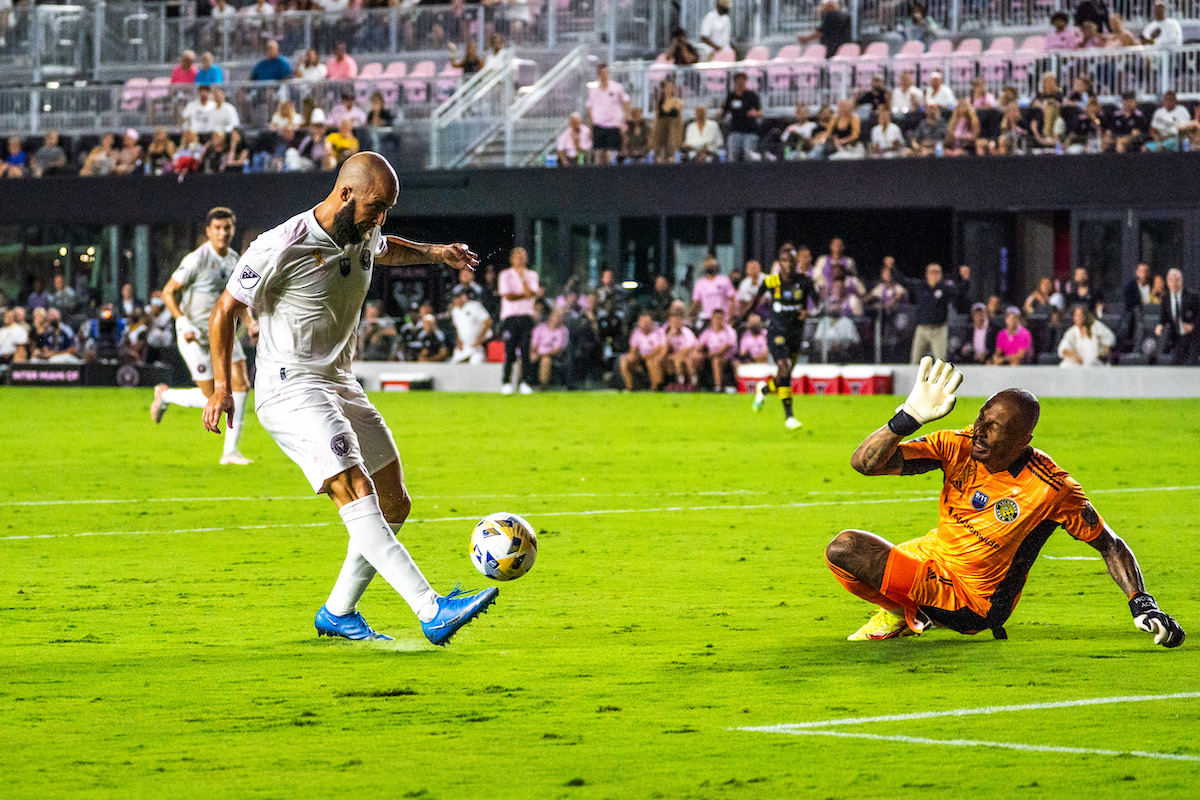 ---
Fort Lauderdale, FL – Inter Miami are only two points off a spot in the playoffs as they beat the Columbus Crew 1-0 at home.
After their six-match losing streak earlier in the season, the turnaround the Herons have had has been remarkable. Mid-July, the thought of making the playoffs seemed like a pipe dream.
Saturday night against The Crew, Miami won their fourth game in five matches. As the season comes to a close, and the opportunity to get a top-seven finish dwindles, Inter Miami's win against Columbus could be their most important three points of the season.
Here's how they did it.
Game Recap
Going into the match, Phil Neville spoke about the importance of keeping a clean sheet:
Neville on keeping a clean sheet: "Clean sheets breeds confidence. Clean sheets suggests that the foundation is working. We want to continue that."#InterMiamiCF

— Alex Windley ☀️ (@aaw_1998) September 9, 2021
Before the game, Miami has kept a clean sheet in their last two matches. Against Columbus, cleaning up mistakes at the back would be the key to getting three points.
Fortunately for Miami, the Crew has been on a massive downslide.
Before the game against Miami, Caleb Porter's men lost seven of their last eight games. Their confidence was low and it showed on the field almost immediately.
15 minutes into the match, Miami's high press proved to be too much for the Crew as Gonzalo Higuain picked off a wayward pass and cheekily chipped the keeper to put the Herons up a goal:
Nueve del 9️⃣.

Gonzalo Higuain gives #InterMiamiCF the lead here at #DRVPNKStadium with his 9th goal this season! pic.twitter.com/LnQeYEVjWe

— Inter Miami CF (@InterMiamiCF) September 12, 2021
As the game progressed, Miami's defense stepped up big time.
Even though Inter Miami didn't score after that, the backline managed to keep Columbus off the score sheet.
In contrast to earlier in the season where they would've conceded after scoring, the Herons kept their cool and saw out the rest of the game well.
Nick Marsman, once again, showed his quality, making two brilliant saves to save all three points:
The flying dutchman Nick Marsman says not in my house 🚫 #InterMiamiCF pic.twitter.com/5pDAqqaS0o

— Inter Miami CF (@InterMiamiCF) September 12, 2021
MASSIVE save from Marsman to keep the clean sheet- come on #InterMiamiCF! pic.twitter.com/hk1ounjkB4

— Inter Miami CF (@InterMiamiCF) September 12, 2021
With each game Inter Miami wins, they inch closer and closer to clinching a spot in the playoffs. Saturday night's victory was another step closer to the postseason.
Playoff Picture
It seemed impossible but at the time of writing, Inter Miami is only two points away from seventh place on the table:
🚨 🚨 🚨 #PLAYOFFWATCH #InterMiamiCF pic.twitter.com/ISoQpBgtbA

— Alex Windley ☀️ (@aaw_1998) September 12, 2021
Miami has a good chance of making the playoffs.
Their current run of form suggests that they're up for the challenge. Neville has switched to a formation that has given the team defensive stability and an offensive fluidity that allows him to get the most out of his players.
Take Lewis Morgan's switch to right-wing back for example:
"The wing back position really suits him. He was really angry at me in Orlando when I took him off. The system really fits him."

Neville says that Morgan's role has been simplified because of the switch. #InterMiamiCF

— Alex Windley ☀️ (@aaw_1998) September 12, 2021
Morgan's at his best when he's running up and down the flank, using his pace and technical ability to beat defenders one v. one. He's very good at crossing the ball and that makes him a valuable asset to Miami's current tactical setup. In their back five, while Morgan does have some defensive responsibility, he's playing so far up the pitch that he's essentially an extra winger on the right-hand side.
The defensive cover provided by Leandro Gonzalez-Pirez and Gregore gives Morgan the freedom to make runs off the shoulder of the opposition's fullback without fear of leaving space behind him.
Morgan's new position and Miami's 5-3-2/3-4-2-1 have been the key to their resurgence and a big reason why the Herons look playoff bound.
Higuain's Special Celebration
Last but not least, ending his post-game conference on a positive note, Higuain took some time to speak about his goal celebration:
Higuain on his goal celebration: "Very happy for the goal and the win. The celebration was for my daughter. Before the game she told me I would score and kids don't lie." #InterMiamiCF pic.twitter.com/zMKQbklWdN

— Alex Windley ☀️ (@aaw_1998) September 12, 2021
After all the trials and tribulations Higuain has gone through this season, it's certainly nice to see the 33-year-old enjoying his football again. Inter Miami should hope that his confidence will propel them into the playoffs.
Photo Credit | Danis Sosa
(Visited 152 times, 1 visits today)