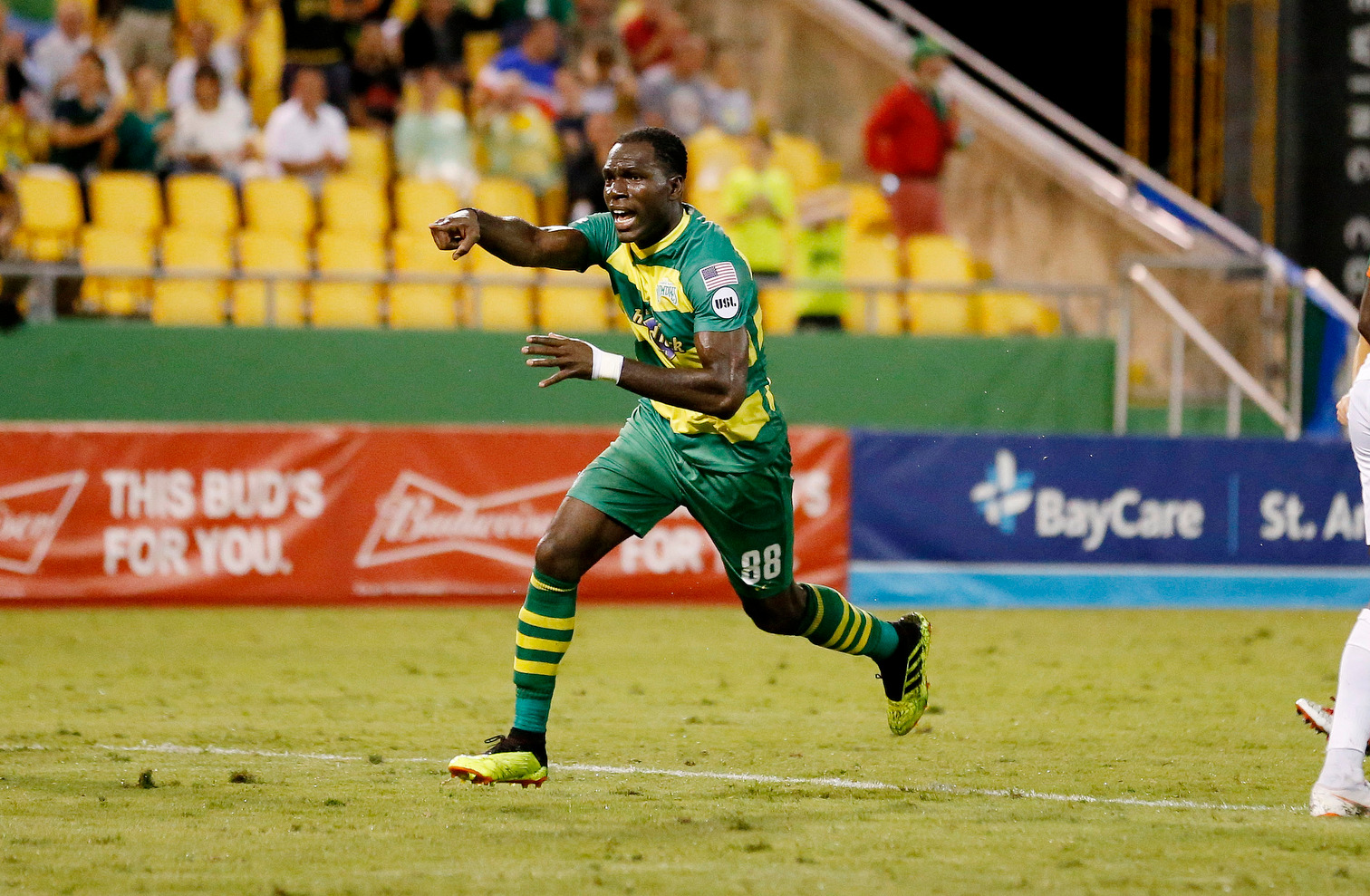 ST. PETERSBURG, Fla. — The best team in the Eastern Conference needed not one, but two penalty kicks to beat the Tampa Bay Rowdies at Al Lang Stadium on Saturday night.
It was also a very strange night for old Miami FC fans who happened to be in attendance or watching at home. Four former players from last seasons record-setting squad were involved in this USL clash. Cincy was fielding the beloved pair of Michael Lahoud and Blake Smith. While the Rowdies countered with fan favorites, Daniel Vega and Kwadwo Poku. We watched first hand for two seasons what this foursome is capable of doing and we wish them nothing but the best in their new journeys. Now, on to the game at hand.
Let's go! pic.twitter.com/Av4tTbjaeM

— Tampa Bay Rowdies (@TampaBayRowdies) August 26, 2018
The Rowdies thoroughly out-played first-place FC Cincinnati on the night, but an Emmanuel Ledesma penalty kick in the second minute and then another in the 86th minute helped the visitors to a win.
Kwadwo Poku scored Tampa Bay's goal in the 75th minute, setting the stage for an exciting finish as the Rowdies overpowered 10-man Cincinnati, but it was ultimately futile after the late penalty.
Cincinnati's Pa Konate created the decisive moment in the 86th minute when he advanced into the box and then jumped over Papé Diakité's legs in acrobatic fashion, drawing an extremely controversial penalty kick. Diakité was shown his second yellow card in three minutes in the incident, resulting in a red card.
🏊‍♂️🤷‍♂️ pic.twitter.com/iCRseujDKM

— Tampa Bay Rowdies (@TampaBayRowdies) August 26, 2018
"My career as a player was long and my career as a coach has been very short so far," Rowdies Head Coach Neill Collins said. "In that time, which spans 20-odd years, I've had many ups and down. Tonight would quite easily go into the top five most frustrating evenings of my career. The team was fantastic. My heart breaks for them."
Referee Kevin Broadley booked 10 different players in the match, dishing out a total of 12 yellow cards, in addition to the two penalty kicks.
The match didn't start well for the Rowdies, with Afrim Taku being whistled for a foul in the box only 30 seconds after the opening whistle. Rowdies goalkeeper Daniel Vega got a hand to Ledesma's penalty kick, but could not keep it out of the net.
From there, the Rowdies absolutely dominated FC Cincinnati but struggled to score the breakthrough goal.
Tampa Bay stifled Cincinnati to only three shots on target all night — two of which were penalty kicks — but amassed an astonishing 31 shots of its own. Cincinnati did well to block 13 of them and only six were on frame, but it was an impressive showing for the Rowdies' attack against Cincinnati.
As the second half progressed, it felt like the Rowdies were destined to score an equalizer.
First, Dom Oduro had a rocket shot saved by a diving Evan Newton in the 51st minute. 
Ten minutes later, Cincinnati left back Blake Smith, who already had a yellow card, was booked for wasting time and dismissed from the match. 
Tampa Bay finally broke through in the 75th minute when Poku fooled Cincinnati's Mike Lahoud with a shot fake before stepping around him and beating Newton with a right-footed shot from 23 yards out to tie the match at 1-1.
Two minutes later, the Rowdies had a golden chance to pull ahead, but Georgi Hristov's shot was blocked by a heroic slide from Forrest Lasso.
The match turn a wicked turn in the 84th minute when Cincinnati scored its second penalty, but still, the Rowdies fought onward. 
"It's extremely frustrating, especially when the boys fight so hard" Rowdies defender Hunter Gorskie said. "We fight to get back in the game, score a good goal, have some other chances and then the second (penalty), Papé gets the whole ball and I don't see anything other than. It's just unfortunate."
Hear what Rowdies head coach @neillycollins3 and defender @HunterGorskie had to say after last night's tough loss. pic.twitter.com/JwrOUKfOjO

— Tampa Bay Rowdies (@TampaBayRowdies) August 26, 2018
Hunter Gorskie flashed a shot inches wide of Newton's right-hand post in the 89th minute and Hristov put a great chance over the crossbar in stoppage time after another silky play from Poku and the Rowdies ran out of time before tying the match for the second time.
"I'm just so disappointed for the players," Collins said. "It'll be a tough one to pick them up because they'll feel really hard done by and rightly so."
Up next, the Rowdies hit the road for visits to North Carolina FC and the Charleston Battery the next two weekends before returning home to host Atlanta United 2 on Saturday, September 15.
HIGHLIGHTS pres. by @FlyTPA

Two penalty kicks saw the Rowdies lose 2-1 to @FCCincinnati at home on Saturday night.#TBRvCIN pic.twitter.com/QdtWST4rWm

— Tampa Bay Rowdies (@TampaBayRowdies) August 26, 2018
(Visited 282 times, 1 visits today)