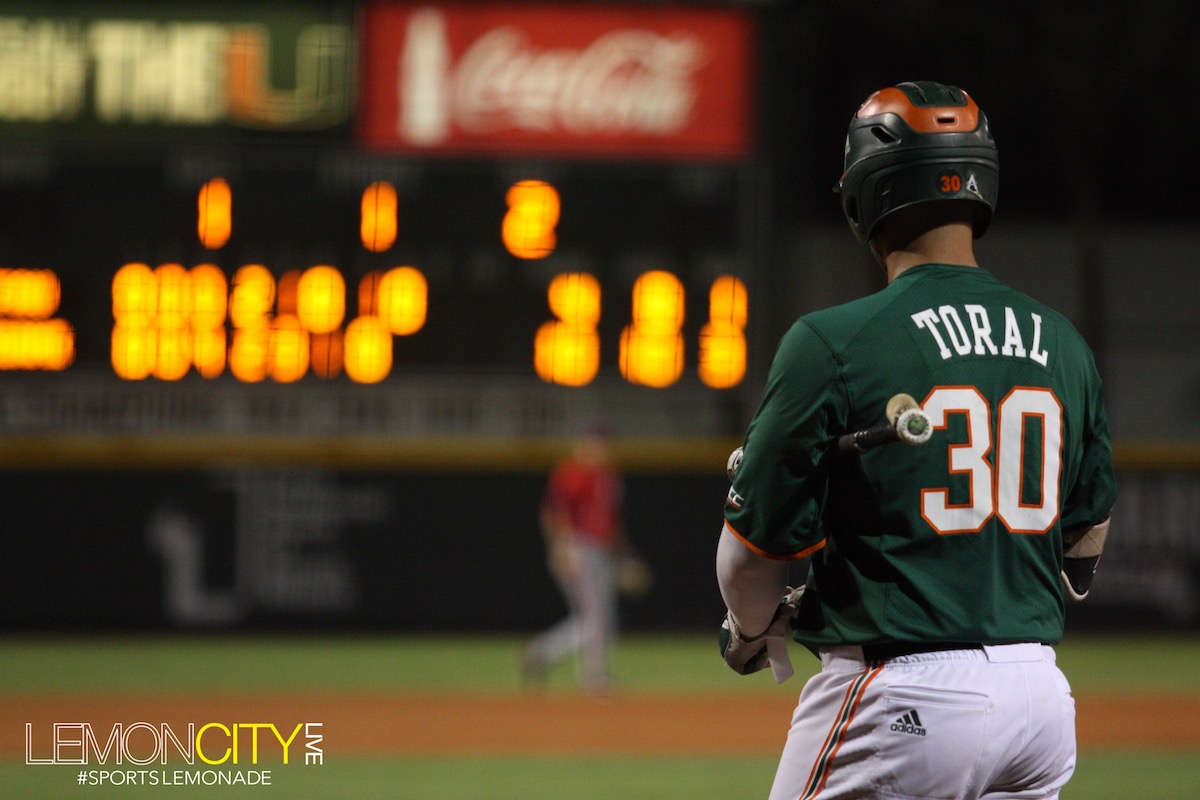 Coral Gables, FL– In a clash between unbeaten teams, Slade Cecconi shined under the lights at the Light in his first collegiate start as the Miami Hurricanes overpowered the Florida Atlantic Owls, 11-4. Cecconi had previously pitched two innings in relief against Rutgers Saturday, getting the starting nod for the team's first mid-week game of the season. He squared off against southpaw Hunter Cooley.
Fans were initially treated to a pitcher's duel as the two freshmen kept opposing hitters off the basepaths. By the home half of the third, both teams had recorded only a single hit each.
The Canes ventured to change that.
A costly error by FAU's infield ultimately got Miami on the board and then some after a slow start at the plate. Jordan Lala got on base after second baseman B.J. Murray was unable to field a bad hop. Tony Jenkins followed up with a single to third to have runners in scoring position. After Anthony Vilar went down swinging, Freddy Zamora walked up to bat with two outs. Zamora hit a chopper to third but Joe Montes was unable to get a hold of it, committing an error and allowing Lala to score for the first run of the evening. Hurricane watch incoming! Adrian Del Castillo slapped one to left-center for the two-out, two-run double putting Miami ahead 3-0. Looking to help the team some more, Alex Toral came up next and padded Miami's lead with an RBI single, bringing Del Castillo home to cap off the four-run, five hit third. Toral went on to have an awesome night, going yard not once but twice. Both were solo shots for his third and fourth dingers of the young season.
Continuing his 🔥 start to the season, @AlexT_20 blasts a line drive 💣 to help @CanesBaseball pad the lead a bit. #Canes up 10-4 ⬆️7️⃣ pic.twitter.com/7NKik0qOfn

— Lemon City Live (@LemonCityLive) February 21, 2019
The Owls responded in the fourth with two runs of their own, although they came pretty close to getting a third. A wild pitch sent Michael Amditis scrambling as Montes rushed to steal home. Amditis made the quick throw to Cecconi, barely beating out the runner, resulting in Florida Atlantic coach John McCormack coming out to challenge the play. The home crowd made their displeasure known. The call was upheld preserving the score.
Hunter Cooley's night got a lot warmer as UM countered with two more runs in the bottom of the fourth. Zamora doubled down the third-base line, scoring both Jenkins and Lala. Stick a fork in him, Cooley's night was over. Vladimir Zavala took over in relief attempting to keep the game close.
His night didn't go any better. In fact, it was worse.
Zavala walked two Canes and even beaned one before Amditis drew a bases-loaded walk to put UM up 7-3 with no outs in sight. His night was also over. Jon Jon Kostantis took over for FAU and managed to keep the damage to a minimum but not before a pair of sac flies from Lala and Jenkins made it a six-run game.
Momentum swung decisively in favor of Miami and that's where it stayed.
Slade Cecconi lasted five innings, giving up three runs (two earned) on four hits. He K'ed five batters earning his first win. Greg Veliz (2 IP, 3 Hits, 1 ER, 3 K's) and Tyler Keysor ( 1 IP, 1 hit) took over for the freshman with Mark Mixon closing out the ninth.
And @slade_cecconi 's night is over. 5 IP, 3 runs (2 earned) allowed over 4 hits. 5 K's. Good night overall with plenty of run support from @CanesBaseball. Greg Veliz in to pitch.

Top of the 6th

🦉 3
🙌 9#SportsLemonade pic.twitter.com/FtvsxnCyFj

— Gabriel Garcia (@Gabewritesports) February 21, 2019
Miami now improves to 4-0 while Florida Atlantic slips to 3-1. The Hurricanes now prepare for their first true test of the season, heading to Gainsville to face the 5th ranked Florida Gators for their next weekend series.
Game Notes
Miami now leads series 62-17. Before Wednesday night's game, FAU had a 3 game winning streak against Miami. Last time these two teams faced off Florida Atlantic came away with the win, 7-4.
The two teams went into the game on the heels of season-opening sweeps. UM swept Rutgers while the Owls cleaned out Cinncinati at home.
For the second time this season, the Canes scored 10+ runs.
They've outscored their opponents 46-11.
When I spoke to Coach DiMare after the game I asked him how he felt about the team's performance early into the season, he responded with "Its nice to see us score runs, because that's been our nemesis the last few years,"
Florida Atlantic finished with 4 Runs, 8 Hits and 1 Error.
Tony Jenkins finished the night going 3-for-4 with 2 runs and an RBI.
Gus Bus Award
Definitely without question, Alex Toral wins the award tonight. He went 3-for-4 with 2 bombs, 3 RBIs and 3 Runs.
[envira-gallery id="15559″]
(Visited 207 times, 1 visits today)