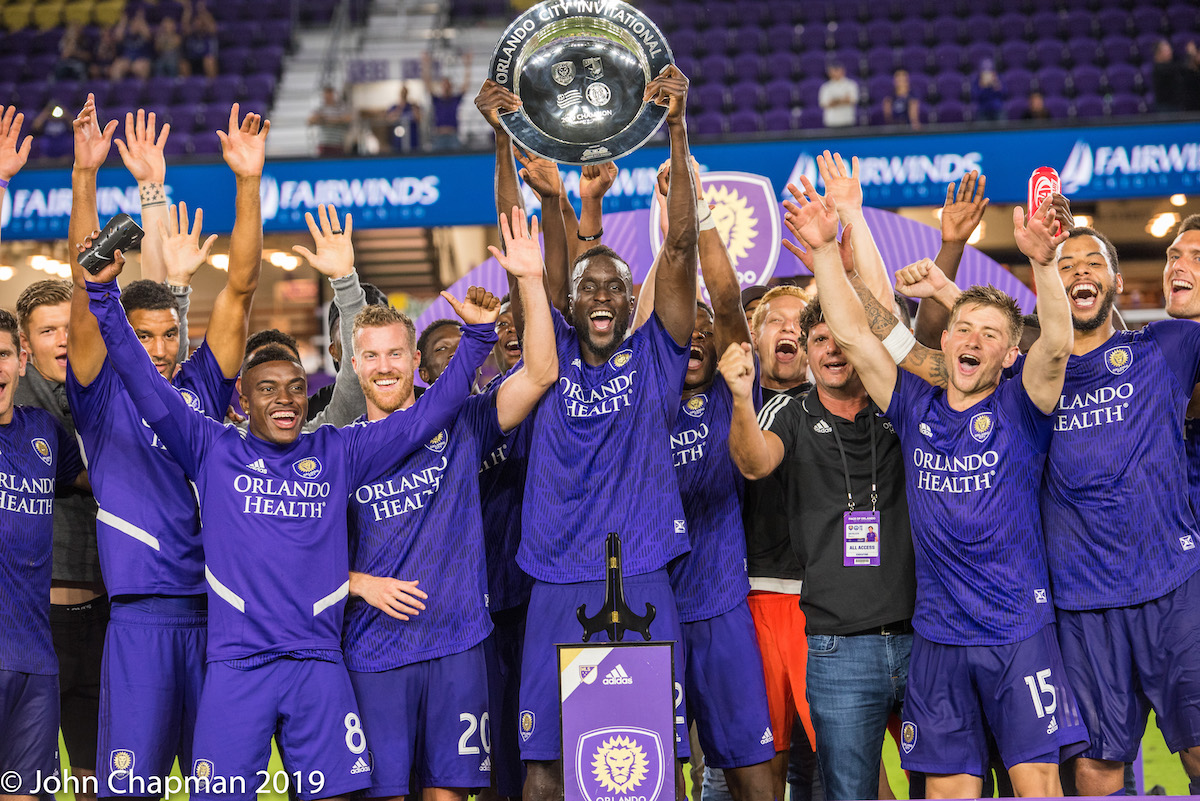 Orlando, FL – Orlando City had to hang on for a 2-1 win versus NYCFC last Saturday. Wednesday Night, the Lions scored four goals in less than 10 minutes against the New England Revolution to capture the Inaugural Orlando City Invitational trophy. For the second consecutive match, the Lions had options for the man with the ball, and five of the six goals were set up by a solid pass. That's right, SIX GOALS! What is this? La Liga? No, it's preseason MLS. I know we can't get too excited about preseason, but it always feels good to win.
"It's fantastic. It's really important for us," Head Coach James O'Connor said of the tournament win. "We want to make sure that any competition that we have in our stadium that we win. So I'm really pleased that we were able to do that and do it in the manner that we did."
"There was quite a number of players who had really strong performances. I'm delighted for our supporters, I'm delighted for the players and the coaching staff that we came to play like that. I'm really, really pleased."
Was amazing to meet all the Orlando City supporters last night! Thanks for making me feel at home! Obrigado a todos por me fazerem sentir em casa!
⚽🔝🦁💜 #aboutlastnight #vamosorlando #orlandocitysc pic.twitter.com/ZCyiwn9YDL

— Nani (@luisnani) February 22, 2019
Orlando City fans got a glimpse of the Club's latest Designated Player signing Nani prior to the start of the match. He greeted the fans and posed for pictures. I'm curious to see how well the pairing of Nani and Dom Dwyer will perform this season. Lions fans also got a close look at the future with former FIU Panther and 3rd overall selection in the 2019 MLS SuperDraft, Santiago Patiño, as he got on the scoresheet in the 49th minute, with his first professional goal.
"I'm just coming out of college soccer now and playing pro," Patiño said. "Myself and all the rookies, we feel the difference, but we've just got to keep working every day and have the right attitude."
@LamineSane06 not only a great soccer player but a great teammate and friend. Thanks for always taking care of me and the young guys in the team since day 1. pic.twitter.com/70XccPn3LL

— Santiago Patiño (@SPatino_7) February 22, 2019
Orlando City fielded a team of future prospects, young players and a few veterans against the New England Revolution. If they can keep this kind of movement and execution, then 2019 should be an exciting season in the land of the mouse.
"I think they were excellent," O'Connor said of the younger players in his lineup. "I thought they performed really, really well. When you look at the academy players, and not just the academy players — I think some of the senior players alongside them to help them and to manage them through the game — that's really, really encouraging for us as a football club to see that kind of performance."
The boys got a thing for scoring six against New England in Orlando City Stadium. #VamosOrlando pic.twitter.com/WlQYumivQm

— Orlando City SC (@OrlandoCitySC) February 21, 2019
With the Orlando City Invitational completed, the Lions will turn their attention to March 2 when they host New York City FC in the 2019 MLS regular-season opener. The match will kickoff at 2:30 p.m. from Orlando City Stadium.
Photo Credit | John Chapman
[envira-gallery id="15599″]
(Visited 169 times, 1 visits today)