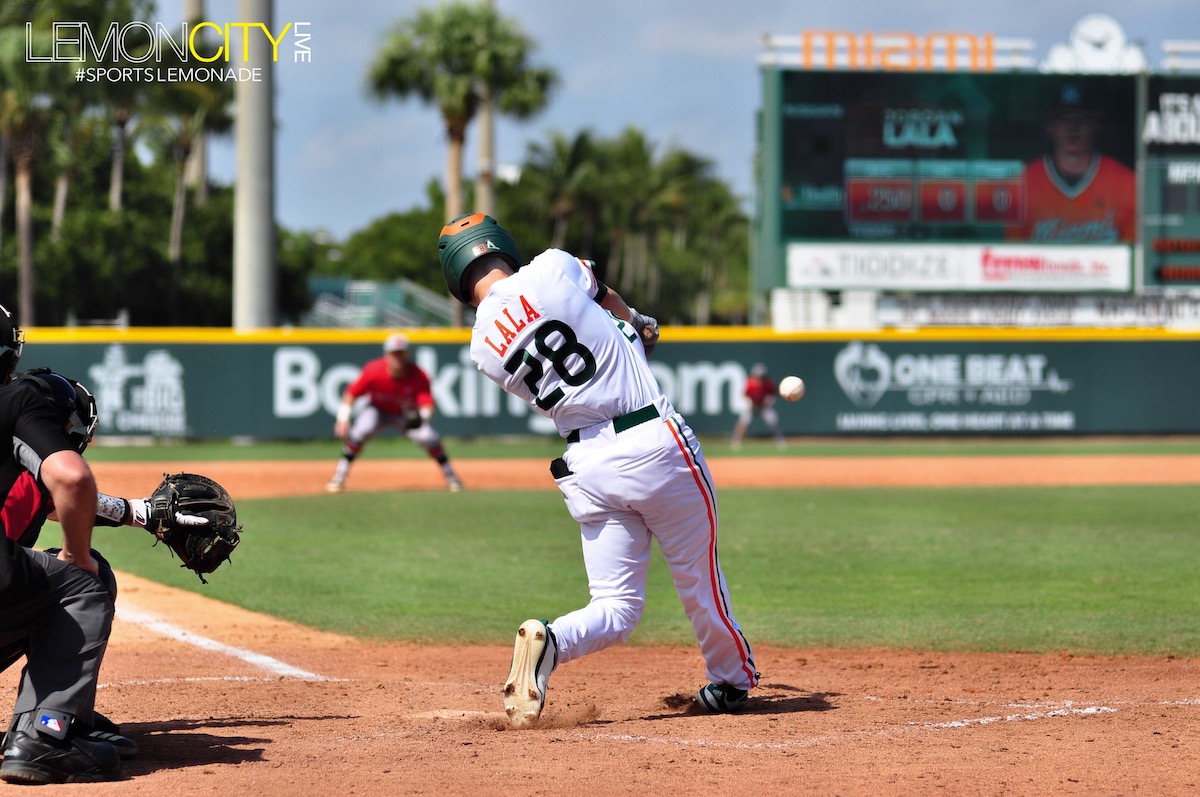 Coral Gables, FL – Brian Van Belle's debut as a Hurricane went off without a hitch as Miami put on the finishing touches, sweeping the Rutgers Scarlet Knights with a decisive 9-3 victory Sunday afternoon. The win capped off a spectacular opening weekend at Mark Light Field to kick off the DiMare Era. Brian Van Belle was tapped for the series finale, facing off against southpaw Tevin Murray. A transfer from Broward College, the redshirt junior missed two of his first three seasons due to injury.
We're getting our first taste of @CanesBaseball for 2019.
Live from #TheLight as the #Canes go for the #Sweep 🧹 vs #Rutgers
Stay with us for live updates and post game coverage and recap. #RoadToOmaha #CanesBaseball pic.twitter.com/tX7VKX7LqM

— Lemon City Live (@LemonCityLive) February 17, 2019
In his opening frame, Van Belle gave up a base hit to Kevin Welsh but took care of him later in a pickoff attempt that became a successful rundown play. The hurler found himself in a bit of a jam in the second inning with runners in scoring position and no outs, but a decisive double play followed by a payoff pitch strikeout ended the threat. He got David Soto looking.
After a very slow start for the Hurricanes, centerfielder and leadoff man Tony Jenkins recorded the teams first hit of the game with a double in the home half of the third. Anthony Vilar, who had been enjoying a very good weekend batting .429 with 3 RBIs, smacked a double of his own to centerfield driving in the run. Miami wasn't done yet. Freddy Zamora followed up with a grounder down the third base line picked up by Carmen Sclafani. However, Sclafani's throw was too low for the first baseman Chris Brito, failing to scope up the ball. Zamora made it all the way to third on the error with Vilar making his way to the dugout, 2-0 Canes.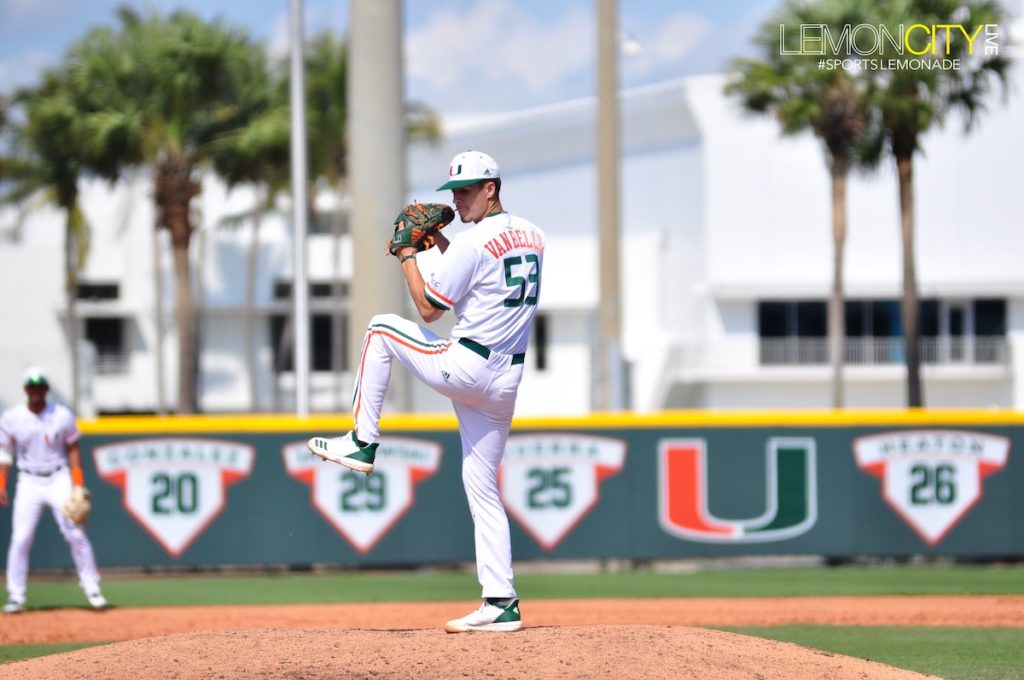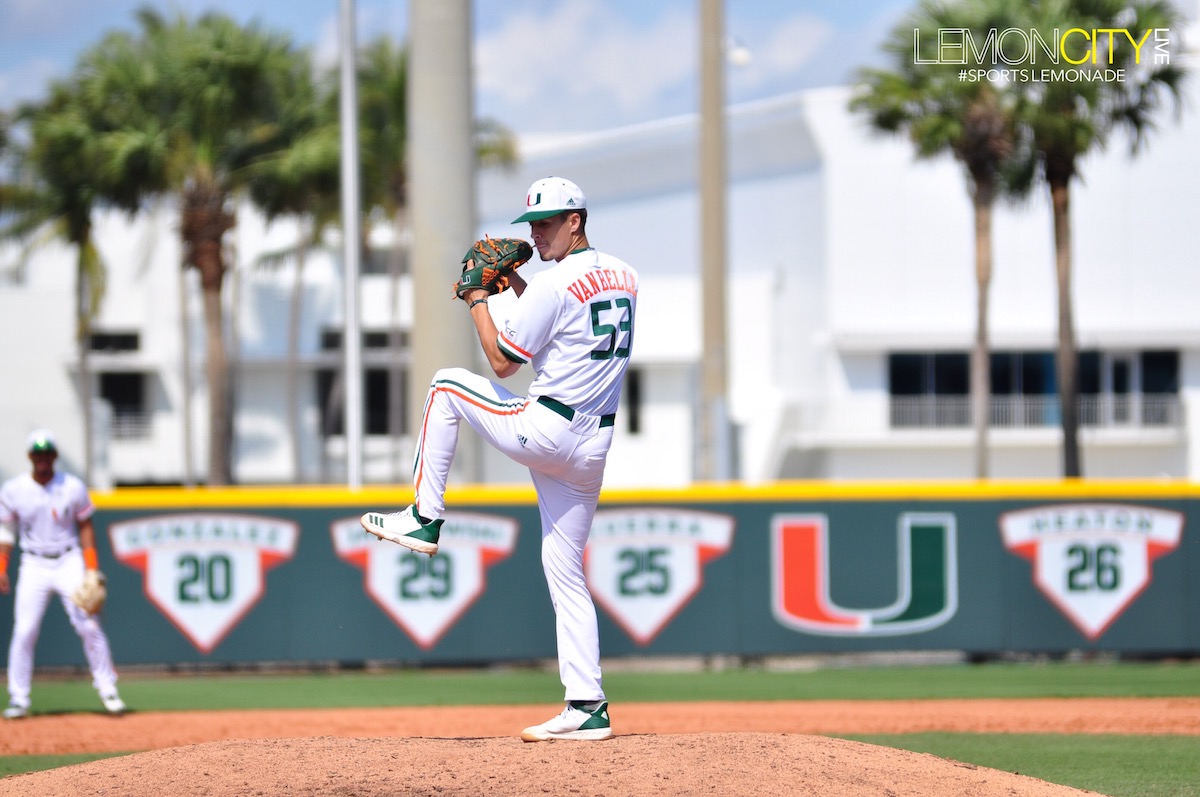 After easily retiring the first two Canes in the fifth, Murray gave up a base hit to Vilar followed by a wild pitch and then a walk to Zamora. Murray continued to struggle, beaning Adrian Del Castillo to load the bases for Alex Toral. Toral had already gone yard twice this weekend and with over 85 pitchers thrown Murray's day was effectively over. The Canes added an additional run after another wild pitch, this time by reliever Garrett French.
Miami padded their lead the following inning.
Chet Moore legged out the throw at first, allowing Jordan Lala to round third and sneak on to home before the catcher could apply the tag. Lala moved into scoring position prior to the play with a steal at second, number two of the year.
Van Belle ends his spectacular debut with the Canes. 6 IP, no runs allowed and 5 K's. #GabesThoughts

Hurricanes 2
Scarlet Knights 0

Bottom 6th

— Gabriel Garcia (@Gabewritesports) February 17, 2019
Van Belle ended the day with strong numbers going six innings, allowing only five hits and no runs. He also punched out five hitters in the outing. He was replaced by Daniel Federman. Rutgers, however, broke the shutout with a run in the seventh and then two more in the eighth but Federman clamped down and ended any notion of a Scarlet Knight rally.
He had nothing to worry about.
UM blew the game open with four runs in the eighth, thanks in part to a two-run double by freshman standout Del Castillo, putting the team up even further.
With the win, Miami improves to 3-0. Rutgers is still looking for their first W of the season.
This is now Miami 75th season in program history. The Canes were dominant this weekend, torching the Scarlet Knights 19-3 Friday Night followed by a 7-1 victory Saturday.
Moving forward, the Canes will host FAU Wednesday night at 6:00 PM before taking a trip to Gainsville to face the Gators February 22-24.
With the sweep complete, @GinoDiMare1's tenure as head coach started like this: pic.twitter.com/rnTM72qTgQ

— Canes Baseball (@CanesBaseball) February 17, 2019
Game Notes
Miami opened the season against Rutgers for the 10th time in history and for the fifth straight year.
Miami thoroughly leads the series 66-14.
UM finished with 9 runs, 10 hits, and 1 error.
Rutgers finished the game with 3 runs, 11 hits and also 1 error.
Adrian Del Castillo concluded the weekend going 2-for-4 with 3 RBIs and a double.
Miami outscored Rutgers 35-7 this weekend.
Gus Bus Award
Anthony Vilar had an awesome day (And weekend), going a perfect 4-for-4 with four runs, an RBI and two doubles. Welcome to team Vilar!
You're Killing Me Smalls
He wasn't the only one going hitless in today's game but Isaac Quinones faces stiff competition for playing time from both Michael Amditis and Adrian Del Castillo. Going 0-for-3 did not help his cause.
Photo Credit | Vicky Alves
[envira-gallery id="15477″]
(Visited 187 times, 1 visits today)