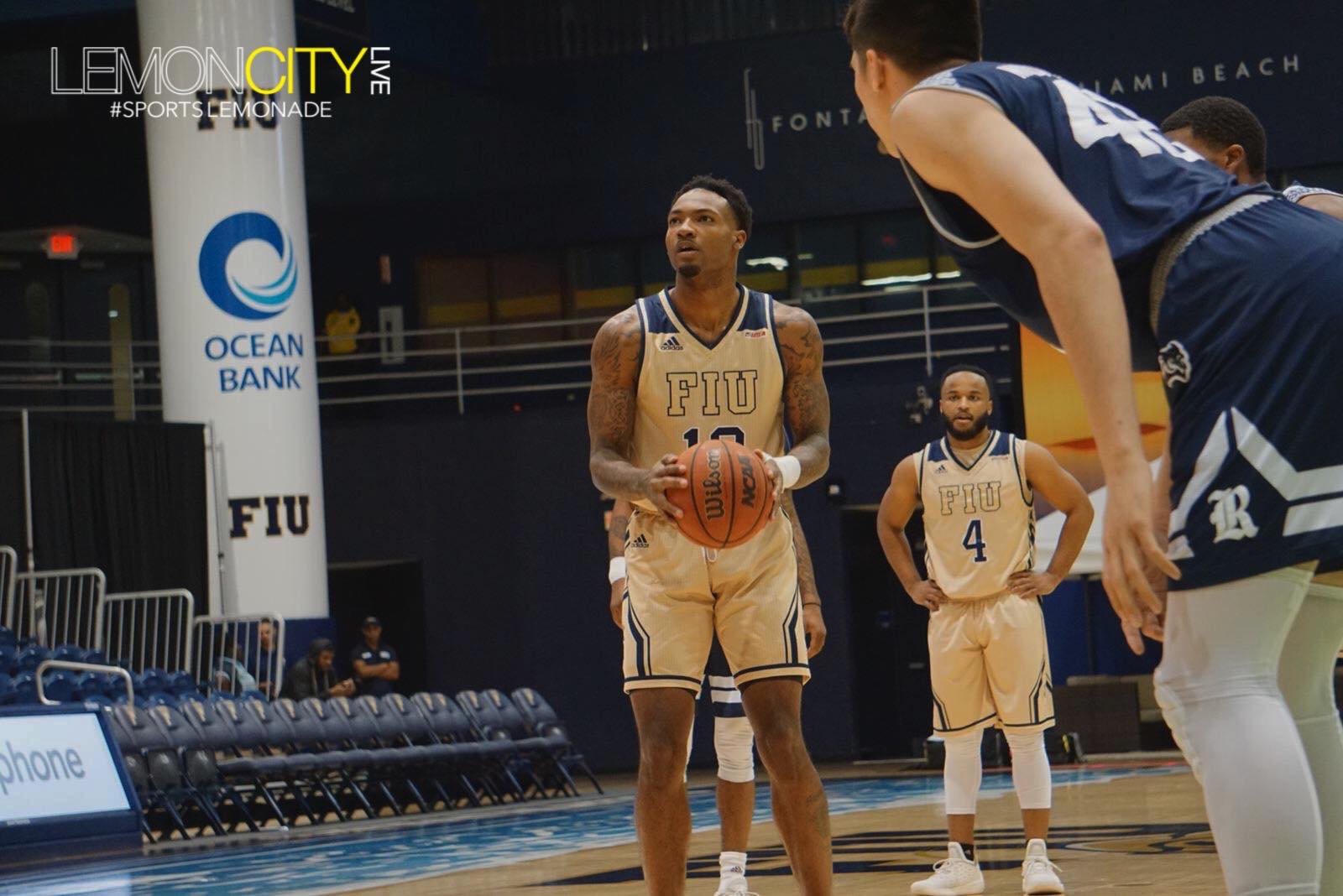 Miami, FL – After getting off to the greatest start in FIU Basketball history, conference play has not been nice to the Panthers. Coming into tonight's matchup vs. Rice, fresh off a two-game skid, FIU sat at 5-7 in Conference USA, leaving them in the bottom half of the conference standings. The last thing they want is to go streaking in the wrong direction. Guys, through the quad and into the gymnasium! With only one game remaining on the schedule, heading into the Conference USA tournament, tonight's 86-65 win over Rice was certainly welcomed.
While the Panthers have struggled as of late, it's easy to see the turnaround from previous seasons. The pace, the attention to defensive pressure, not to mention the team's increased presence with the media in the postgame press conferences, have all shown the growth that Coach Jeremy Ballard has instilled in this squad.
Through Feb. 12th, Brian Beard Jr. is once again top-five in the NCAA in steals with 76 total and averaging three per game. He had five steals tonight. Meanwhile, Osasumwen Osaghae sits at 7th in blocked shots with 2.7 per game. He had six tonight! The Panthers are also 10th in scoring in the nation, averaging 84.7, but that was mostly due to the early part of the schedule. Since opening up conference play, their average points have dipped to 69.6.
The @FIUHoops #Panthers are on 'em like white on Rice!
At the half, FIU leads @RiceBasketball 42-29, with 10 pts from Brian Beard Jr. & 13 pts from Devon Andrews.#PawsUp pic.twitter.com/dqwa05Nslq

— Lemon City Live (@LemonCityLive) February 15, 2019
Tonight's game saw the return of Phillip Smith to the Ocean Bank Convocation Center, who ended up scoring the last five points for FIU. He made his season debut on February 7th, at UTSA. He had been out throughout the season with an injury but couldn't have picked a better time to return, right before the Conference USA tournament. In his postgame press conference, Coach Jeremy Ballard said of Smith's return and how it benefits the team's depth, "I look at the minutes tonight, and we only had two guys over 30 minutes – That's Antonio Daye, right at 30 and Brian at 32, and those are good numbers for us. Everyone else under that 30-minute mark. And we want to try to come at people in waves, and I think we've lost that a little bit in the last month, so it was good to see a real swarm of guys coming in and there being no drop-off. And in fact, times when our subs came into the game and they lifted the energy and spirit of the game."
FIU Men's Basketball Coach Jeremy Ballard, Brian Beard Jr., and Devon Andrews following their 86-65 win over Rice.

Posted by Lemon City Live on Thursday, February 14, 2019
Shining for the Panthers lately has been Devon Andrews. He had 25 points tonight and 26 points in their last game this past Saturday in FIU's loss to UTEP. Devon (0.57) and the Beard (0.54) are the only players for FIU who average more than 0.5 points per minute played. However, Devon averages just under six minutes per game less than Brian. I think if FIU is going to make a run in the Conference USA tournament, his minutes need to increase, at least on par with Brian.
The biggest takeaway from today's game is that FIU forced Rice into 33 turnovers, while only turning the ball over 15 times themselves. This disparity gave FIU a 38-17 points-off-of-turnovers advantage. They also lapped them in the assist race, with 17 compared to eight for Rice.
The Panthers took the 86-65 win over an opponent that came into this game with the same conference record, so a lot was on the line. Only the top 12 teams advance to the Conference USA tournament, and now Rice has locked up the #11 seed. With a win this Saturday, the Panthers can potentially clinch the #6 seed if both LA Tech and UAB lose, which is possible as they're both playing higher ranked opponents, but so is FIU. Next up, the Panthers face North Texas at home on Saturday, 2 PM to close out the regular season.
The @FIUHoops #Panthers get back to their winning ways, defeating @RiceBasketball 86-65.
Devon Andrews led all scorers with 25 pts. Brian Beard Jr. had 18 pts, 5 asst, & 5 stl!
Next up, FIU hosts N. Texas, Saturday at 2pm.#PawsUp pic.twitter.com/Olxu29wkD5

— Lemon City Live (@LemonCityLive) February 15, 2019
📷Credit: Albert Palacio
[envira-gallery id="15385″]
(Visited 172 times, 1 visits today)