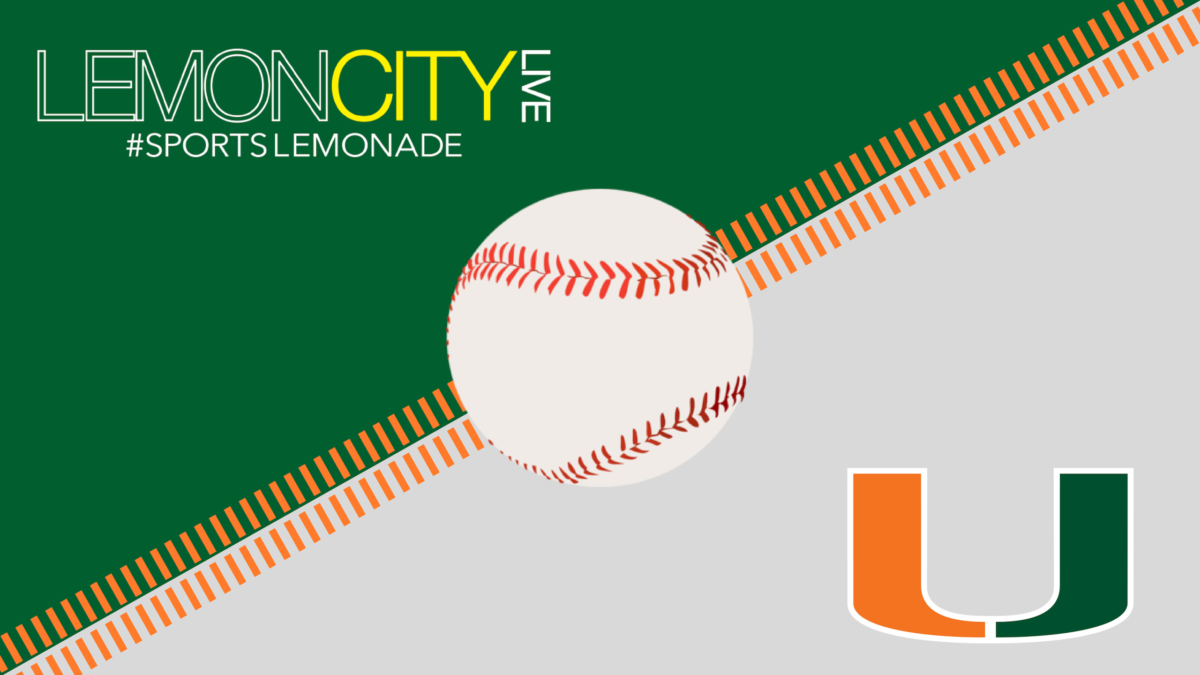 After our FIU preview, now it's time for the University of Miami to step up to the plate. Last season was a disappointing end to the Jim Morris Era. After 25 years, the University of Miami has a new skipper. Longtime assistant coach Gino DiMare now has the task of leading the U back to the promise land. For the past two seasons, the team has failed to make it to Omaha, snapping a 44-year success streak in the process. It was the longest playoff streak of any sport in college history. So now, we shall reintroduce ourselves to returning players and discover the new freshmen.
Baseball season is so close, you can almost taste the milkshakes!@freddy2z_ and the Canes officially open the 75th season in program history in TWO DAYS! pic.twitter.com/Z4FKRiNHMV

— Canes Baseball (@CanesBaseball) February 13, 2019
Returning Players
Mr. McKendry enjoyed a very productive season going 7-6 with a 3.52 ERA, leading the Canes with 114 strikeouts in 87 innings of work. He is the first Miami pitcher to compile a 100-strikeout season since 2014. In doing so McKendry has established himself as the team's ace and my favorite BULLY on the staff last season. He was named ACC Pitcher of the Week three times last season along with third-team All-ACC recognition. Considering he is now only in his second year of his college career, he might be just getting started. Here's hoping he's matched up against FIU's own ace when the two teams square off once more this year in another two-game season series.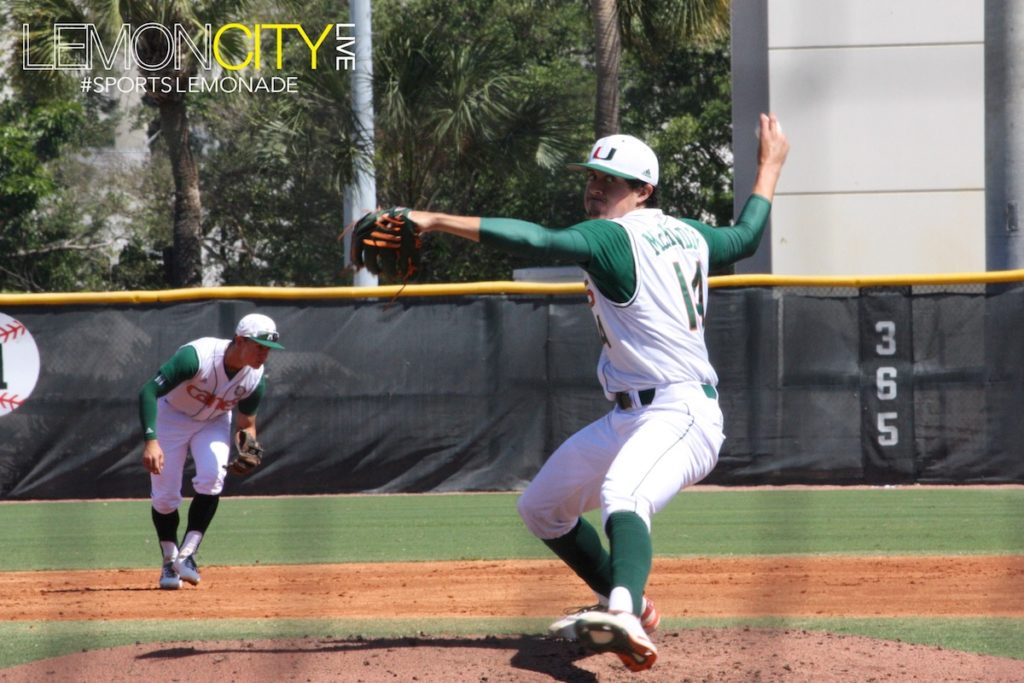 He earned his stripes in his freshman year, filling in for the injured Michael Amditis and then becoming the starting catcher for most of the season. His UM debut was against Maine, playing throughout the entire 15 inning marathon in a game that lasted six hours, recording the first-ever hit of his career, a double (He went 1-for-5). Quinones finished the season with a .291 batting average, 10 doubles and 24 RBIs. He went yard just once. During the 2018 campaign, he was on a roll, slashing a 14-game hitting streak which factored into continuing his starting role when Amditis returned from his hand injury. He was named the team's Rookie of the Year and led the squad with a .306 batting average in conference play. He'll look to improve his numbers further entering his sophomore year.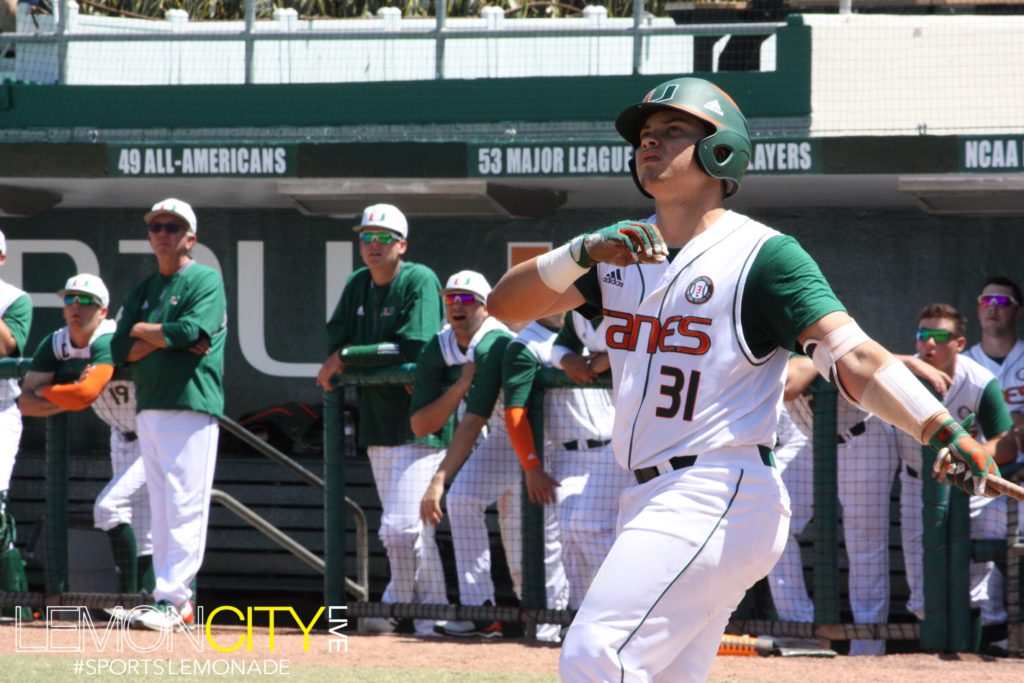 Another freshman standout, "Zam Zam" was the only player to start in ALL 54 games last year delivering a .303/1 HR/12 Double/28 RBI slash line. He was listed at the top in at-bats (211), hits (64), doubles (12), triples (four) and walks (24). Zamora was named to the ACC All-Freshman Team, an impressive feat that raises his expectations higher this year. He's also a speedster. Zamora swiped 20 bases last season and had 32 runs scored. When he gets on base, he's every catcher's nightmare as he'll make every effort to get himself in scoring position. He was one of the few bright spots of the offense last year that struggled mightily at the plate.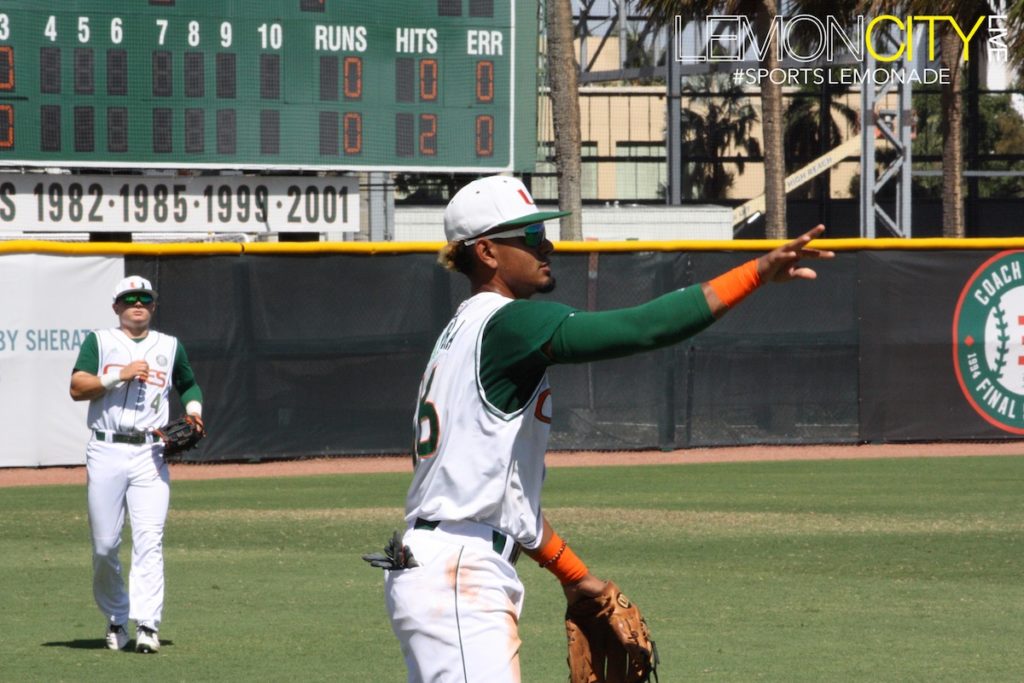 Willy meanwhile came up just one game shy of starting all last season, finishing the year with a .280 batting average, two round-trippers, six doubles and 11 RBIs. While not as sneaky as his teammate, Escala swiped seven bases himself. The second basemen had 51 hits and 25 runs, drawing 22 walks. Despite the decent numbers, plate discipline needs to be vastly improved. In the 53 games he started, Escala struck out a harrowing 64 times. He was also charged with eight errors. He did have 13 multi-hit games showing his potential to be an effective contact hitter. The Miami native can serve as a nice 1-2 punch with Zamora, depending on their place in the lineup.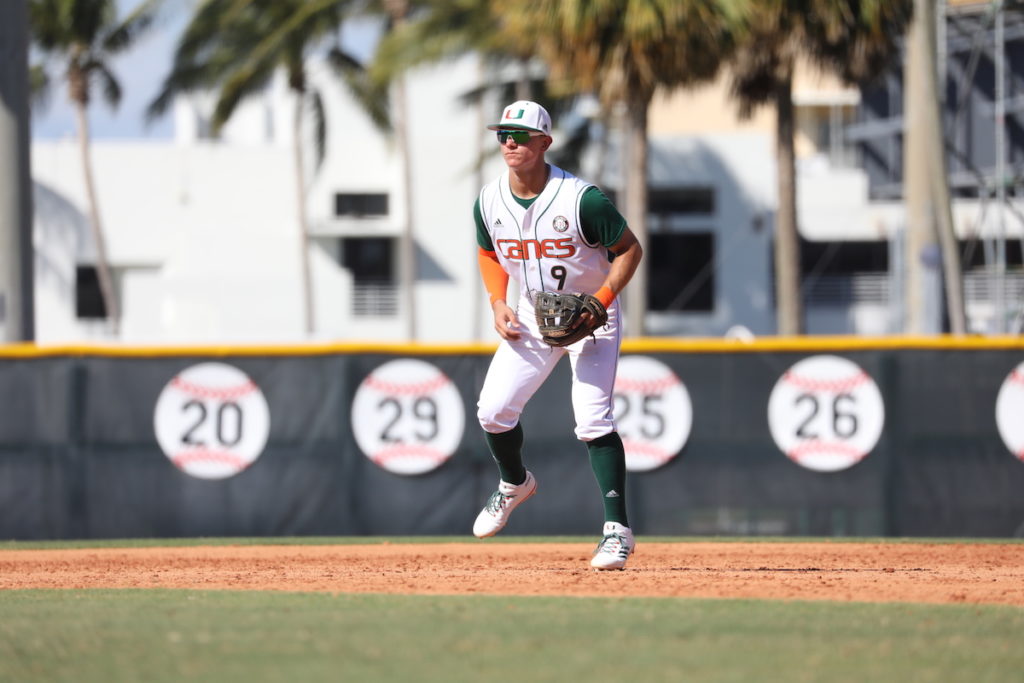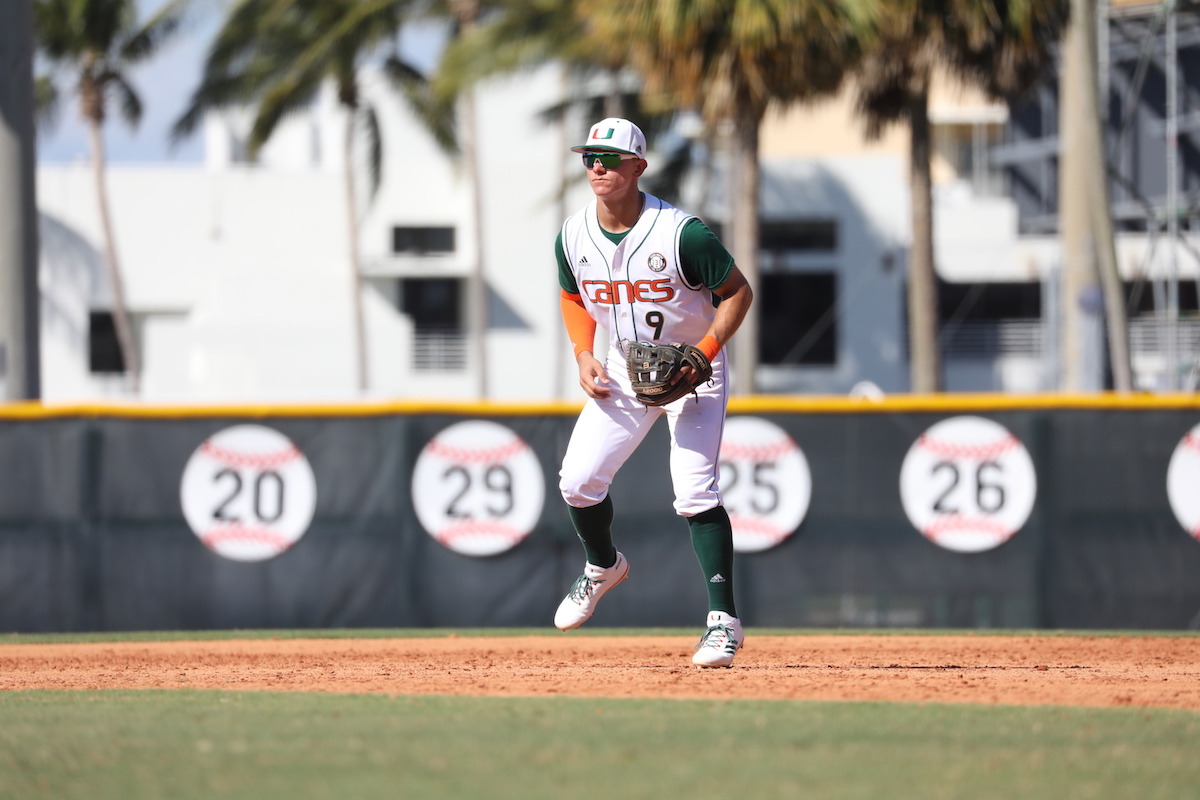 He was one of Miami's top pitchers last year, posting a 2-4 record (2.25 ERA) in 23 appearances and 60 innings of work. He victimized 54 batters and held opponents to a .203 batting average making him top-notch quality, be it as a starter or in relief. One shining example is when he faced off against an impressive Florida Gulf Coast team in late March. Federman pitched eight dominant innings allowing a single unearned run. Despite the 1-0 loss, he did manage to punch out seven hitters, showing off the potential he has to really be an anchor on the pitching staff.
These are just some of the veterans who are working on improving the team's fortunes this year. They're going to need some help and based on the incoming freshmen class, it's definitely here.
Freshmen
Hailing from Trinity Prep, Cecconi was selected in the 38th round of the 2018 Major League Baseball First-Year Player Draft by the Baltimore Orioles. He then decided to take his talents to Coral Gables. He was named 2018 Under Amour All-American, 2018 Perfect Game All-American and 2018 Rawlings First Team All-American. With accolades like these, the Canes have clearly added a promising arm to their pitching staff. Keep an eye on this fella throughout the season.
As Miami's own two-way player, Gates played all four years of his High School career at Nature Coast Tech. He played as team captain in 2017-2018 recording 10 doubles, 10 home runs and 48 RBI in 93 at-bats. Over on the mound, he posted a cool 1.05 ERA with a grand total of 135 strikeouts in over 80 innings of work. Yao-Za! Oh, it gets better, he won nine contests out of 14 starts and threw six complete games. This is another rookie we need to watch.
The Canes enter 2019 with some of the best freshmen in the country! Look for @slade_cecconi, @JPGates10 and @AdrianDelCast to do big things in their debut season! pic.twitter.com/kjus1LYdgv

— Canes Baseball (@CanesBaseball) February 13, 2019
Coming in from Gulliver Prep, the 2018 team captain finished his senior year with a .530 batting average, topping off with 15 home runs and 39 RBIs. To go back a bit further, he hit .435 as a junior and .449 as a sophomore, sprinkling 14 HRs in that time span. Talk about a hot bat. He was named All-Dade First Team in 2018 by the Miami Herald. If Del Castillo gets playing time, which I hope he does, he will be a strong candidate for Rookie of the Year in addition to making it to the Freshman All-ACC team.
Episode 2019: A New Hope
2019 marks a new chapter in UM Baseball's lore. As such, I'd like to introduce you to a man named Gino DiMare. Coach DiMare is well-known to the program. He played for the school's first legend Ron Fraser as an outfielder in the late 1980s and early 1990s and coached alongside the school's second legend, Jim Morris, as his assistant (19 years total: 1997-2008, 2012-2018). It's his show now and he faces a monumental task. After an absolutely incredible streak of 44 consecutive NCAA regionals (Playoffs), the team has endured two very disappointing seasons. One of the central reasons is the offense. Their team's hitting has been mediocre at best. They averaged .257 in 2018, putting them near the bottom of the ACC. Their 259 runs were the second-worst in the conference as were their home run total (23), RBIs (241) and slugging (.358). They also struck out an abysmal 528 times, the second-highest in the ACC. Ouch. There's a lot of work to be done.
Head coach Gino DiMare takes the podium to open up 2019 Media Day at The Light. pic.twitter.com/MwtWd0Qu00

— Canes Baseball (@CanesBaseball) February 12, 2019
DiMare looks to regain the program's national fame with a very young squad that has no seniors and only seven juniors. He'll also be without players like Romy Gonzalez, Jeb Bargfeldt, Michael Burns and Danny Reyes. UM will be relying heavily on its impressive pitching staff. Despite the obvious challenges the team faces both at the plate and on the mound, coach DiMare has high expectations for a program hungry for glory. And he should. According to Baseball America, UM's recruiting class is ranked 10th in the nation, a good start for the new DiMare Era. This will be key for not only this season but beyond, especially now that UM has fallen behind its rivals Florida State and Florida. Their 2018 recruiting class ranks third and fifth respectively.
For anyone curious about what he was like in his days as an athlete, look no further. DiMare played in 243 games with the Canes (1989-1992), tallying up a career batting average of .290. He stole a whopping  93 bases. In 1991 he was swinging the hot bat, finishing the season with a .353 average. The former outfielder played in two College World Series and is also the former recruiting coordinator and hitting coach. He helped mold several future major leaguers: Yonder Alonso, Ryan Braun, Gaby Sanchez and Jon Jay to name a few. When he was a junior he suffered a torn rotator cuff, curtailing his career. He signed as a free agent with the Boston Red Sox in the summer of 1992 but never made it to the Majors. This wasn't his only sport. While at Miami Westminster Christian, he not only starred in baseball but also in football and basketball too.
While UM's overall performance this season is an open question, one thing is for certain: DiMare has enormous shoes to fill. Fortunately, he seems undeterred, embracing the task with some of the best talents in the nation. Fans and alumni alike hope he can achieve what Morris did when he took over from Rob Fraser, the Wizard of College Baseball, and trailblaze his own path straight into Omaha. For all intents and purposes, the Canes seem to be in very good, capable hands.
Miami is one of the top programs in the country at producing impact MLB players, with a 99 total WAR since 1999. #MLBU pic.twitter.com/ddHq9kcBxP

— Canes Baseball (@CanesBaseball) February 8, 2019
Prediction
D1 Baseball predicts the University of Miami will finish the season 28-26 (16-13 ACC). They also projected them to be one of the nine regional teams. I am mostly in agreement with this, though I'll go a bit further and say they'll win 30 games and improve upon every offensive category: Runs, Batting Average and Home runs especially. I don't think they'll make it to the Super Regionals but they will make coach DiMare's first season an encouraging one so hang onto your hats Canes fans, good times are a'coming!
UM opens the season at home this weekend against Rutgers.
(Visited 152 times, 1 visits today)